Interview with VoiceFront CEO Shauli Mizrahi on the latest in using Voice in Commerce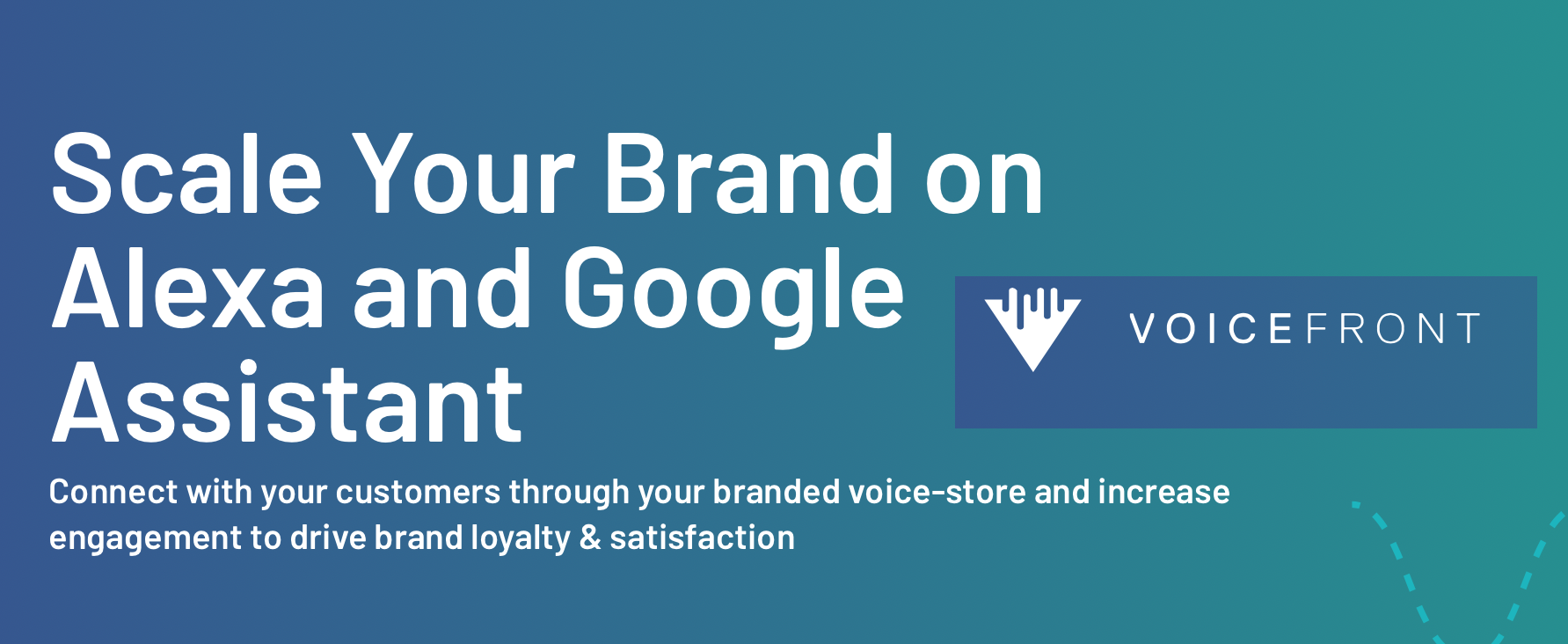 Interview with VoiceFront CEO Shauli Mizrahi on the latest in using Voice in Commerce
Darius 0:01 Welcome to the retail tech podcast. I'm your host various wasafi. And today we are speaking with Charlene Mizrahi from a company called voice front about the conversational AI, and voice shopping. So this interview is being recorded on clubhouse and will be published on retail tech podcast. And after the first set of questions, we will be answering audience questions. So if you're interested, please stay on. And in a few minutes, we'll give you the opportunity to come up and ask questions. How are you today, Sally?
Shauli 0:38 Great, great. Thanks for having me.
Darius 0:40 Thank you for joining me. So I think we met a few months ago, somewhere on the on the event. And I thought your startup was really interesting. And the topic is definitely something that retail is going to be working on dealing with. So wanted to get some more information. So maybe, maybe start with the background and how yourself got to this point to start the company. And then you know, we'll get into what voice prompts does, and how voice shopping is going to be a part of our lives?
Unknown Speaker 1:20 Yeah, sure. So the idea started about two and a half years ago, almost three years ago, when my co founder and I co founder, Yahoo, the CEO of the company, we're thinking of how is it possible that voice technology is not there for a lot of brands. So a lot of brands don't exist on smart assistants, such as Alexa and Google Assistant. And basically, it is no way to reach them on voice, although it's a really growing channel. And today, for example, over 40% of the households in the US already have an Alexa device. So it's really growing rapidly. And the fact is that brands are not there yet. Consumers are there. I know, a lot of people are asking Alexa questions, and are basically the spending time with Alexa. But brands have not yet realized that they you know, it's Miss, they're missing audience over there. So once we figure that out, we had a few conversations with our friends that own a few brands or work for a few bands. Some of them are, you know, top line CMOS for a few big brands. And we asked them that. And they said, Listen, this is a you know, something that we really want to get into, but we don't have the resources, the capacity to even experiment with that. And currently, there are no, no solutions in the market, no real that viable solutions in the market. So then we headed off to our direction and created a proof of concept. And it was very successful with our basic basically with our friends. And the rest is history. And now you know, full grown company with many, many customers that have consumer voice commerce solution, and it's going great.
Darius 3:01 Okay, awesome. So I think you have is in the audience. Should I bring him up? Maybe?
Shauli 3:07 Yeah, sure. Why not?
Darius 3:10 Come on out here. So. So this is interesting. The so are you? How are you off?
Yoav 3:21 Hi, how you doing?
Darius 3:22 Good. Good. Welcome. So we'll have we'll have you in the conversation as well. Nice to meet you.
Yoav 3:29 Nice to meet you.
Darius 3:30 So. So the the concept of voice apps, when we talk about that is basically voice assistant apps, right?
Unknown Speaker 3:43 Yes, yes, we're talking about talking about the devices that are growing right now, which are smart assistants. So it's those smart speakers that are in your home everywhere in every room. Even in your appliances like the microwave and oven today and smartwatch. They're everywhere. They're expanding. So these are the new devices will take control. And one day will be we believe will be stronger than the mobile. So yeah, so those those devices we're talking about, applications are no devices. Okay,
Darius 4:17 so what exactly does voice front do for its clients?
Unknown Speaker 4:23 Right, so we're a SaaS solution for enterprise clients, mainly enterprise brands and retailers. What will provide them is voice commerce capabilities. So what that means is either if it's our marketing solution, so the ability to be able to deliver marketing content to their customers on smart assistance, or the ability to enable shopping for the customers, on smart assistants as well, when we're talking about four voice checkouts, so that they can order and complete the checkout all through voice. So that's browsing Mark from a marketing perspective, through browsing for products, all the way through, checked all the way through the checkout. And also there then with customer care. So asking where my order is speaking to customer service. So all that through voice really, really replacing the whole marketing a sales funnel that exists today on the web, and bring it into voice.
Darius 5:26 Do you actually create the voice apps for the customers?
Unknown Speaker 5:31 We do it end to end. Yeah.
Darius 5:33 Okay. All right. So so you do you, you actually create the voice app and
Unknown Speaker 5:40 created we manage it? Yeah, we basically the brands, our customers, the brands and retailers don't have to do much, much we bring it all as a full, complete solution.
Darius 5:53 And is that only on Alexa or what? Which devices? Do you work with?
Unknown Speaker 5:58 Alexa and Google Assistant?
Darius 5:59 Right now? Those are the is Siri. Siri also in the picture or?
Unknown Speaker 6:06 So Siri? Siri currently is not an open, you don't have a marketplace. They don't have an app marketplace like Google does. And Alexa. And that's it's pretty much a problem for players like us to get in and, and create applications for for brands. But we believe that one day Apple will open it up for the for the market. And then then Siri will definitely be the first thing we'll go march into and create voice apps on Siri.
Darius 6:37 Okay. Yeah, I put yourself on mute, because of background noise. But feel free to jump in anytime you like. You have. I'll let you guys handle that. Sure, sure. No worries, no worries. We're all in our homes these days. So
Shauli 6:59 Exactly.
Darius 7:01 Dogs and construction and, you know, babies and the cats.
Unknown Speaker 7:07 Have my bit my baby right outside the door of my office. And you know, so he's going to scream every second, it's probably going to happen.
Darius 7:17 So, so so that's interesting. I can tell you that. I think it was in 2018. I created a voice app on Alexa for a news service that we have. And it was interesting. I learned a lot from going through and creating that Alexa voice app, because it's completely different from like building a website. It's like, writing a movie script is very,
Shauli 7:49 very different.
Unknown Speaker 7:50 Yeah.
Yoav 7:51 I liked it.
Shauli 7:54 Yeah, true.
Unknown Speaker 7:56 This is why our solution is also a solution for like enterprise brands. Because they need the help, the expertise, the knowledge beside that technology that we develop, to help them to build a great script, and both of our technologies to take all the marketing materials that they already have any content created even, you know, like kind of like marketing tools, and to enable them to voice and then the experience that the customers having is is more rich and interesting.
Unknown Speaker 8:33 Yeah, the power of the power of our technologies, actually, to take what you need to have on your website, take any content, blog posts, FAQs, all that and convert them to a conversational experience. So it's not a static, one way marketing, the way it goes today. And we the way we say it is that we convert one way marketing to a two way conversation so much. It's much richer, as you have said. And it's conversational, you you're responding and speaking back to the brand and the brand is speaking back to you and you're having a conversation. It's not just the brand offering something and you can click and then buy it or not, you can actually have a conversation speaking about certain topics speaking about either as if it's a promotion, speaking about tutorial, or an FAQ. So asking a question and getting getting response back and asking another question as a response. So it's a conversation.
Darius 9:30 Yeah, and you have to and I mean, really the other significant difference is that there is no screen so that you can explain things to people. So you can't assume that they also like remember all the commands. So that's that was the other challenging part for us is it has to be so self explanatory and simple, that you just cannot assume that people will remember what command to use.
Unknown Speaker 10:00 Exactly. So one of the challenges we had to overcome is how to how to make the conversation, the conversation experience conversational in a way where a man or a woman would interact in a very natural way. So we're always thinking, what would be natural? How would a person interact in a natural language so, so that's very important for us. So there's no programmed way of how to speak with with our solution. So you don't have to remember commands we just speak in your natural language, and our solution understands and knows how to respond the best way. So it is like speaking to another human being, you can say, and the human being understands you, because you're speaking the same language, you have the same culture. So the same lingo is being discussed. So same thing here. Our solution really understands what the user is saying, and knows how to respond in a way where it generates a natural conversation to respond back to.
Darius 11:08 So let's talk a little bit about Performance and Results. And I guess, get get some metrics on what is actually happening as far as shopping on these devices.
Unknown Speaker 11:22 Right, right. So. So regarding shopping, we see a high increase in attributed sales that we deliver brands and retailers. So even if the checkout is not completed via voice, still, the customers that engage with the brand on Alexa and Google Assistant are happier customers. There, it's easy to say easy to see that the customer satisfaction goes higher. And those specific customers or our voice customers over the brand's voice customers are in the end, customers that spend more money, this higher sales, higher average order value that comes from those customers, and longer lifetime value. So all in the in the end, the brand really benefits from having a voice experience. So there are a lot of voice sales, voice checkouts, you can say, but even even if they're even if they're like for customers that agree or like or decide to finish the checkout on boy, I'm sorry, on the website, it still accumulates to a higher and longer, long, lifetime value.
Unknown Speaker 12:31 It's also important to add that with a lot in the beginning when we started with a lot of problem with engagement or voice. And this has helped us to develop a lot of marketing tools in some of the platform to support the issues of engagement and how to improve it. And like today, we can see that in in brands using our solution more for marketing. You see I engagement and more and more repeating people coming back and using the application on the sales on the sell solution. We improved a lot of the feature that helped to sell the products and to remind the customers of the clients of the brands that they have a solution of a voice and we developed a lot of marketing tools. And part of it it's when everyone when a brand is onboarding to our platform, we're giving a full support, we have a dedicated customer success, that helping them and and using the tools for them and basically supporting them 24 seven.
Darius 13:42 Okay, the so what's the typical experience? Or the I guess, the purchase path for a voice application? So the customer let's say your customer has Alexa in their house? How do they actually make a purchase from one of your customers.
Unknown Speaker 14:05 So they have to invoke the name of the brand in order to start communicate communicate with brands same way as they do on the website when they want to get to the brand's website. They know how to type the brand's name on Google or they type it directly.
Darius 14:26 Oops, looks like Shelley's voice just got drawn right away. We lost your the last part of your sentence.
Unknown Speaker 14:35 Okay, so I'll be so as I said the same way that customers can you hear me? Yes, yes. Okay. The same way that customers consumers today they know how to get to the website, the brand's website through typing the brand's name and Google or going directly to the URL and getting to the website and shop through that. The same way to do that on Alexa, what They have to do is say Alexa open and then the name of the brand or Alexa, tell the name of the brand and I want to order x or tell them tell the name of the brand did I want to find that say I find my find that perfume? Okay? Just Just as an example, this is one of the one of the health and beauty brands that we work with. This is one of their main lines of of starting conversation, okay? So then that's what they advertise they advertise to their customers, you want to find your your next perfume. This is what you say to Alexa. And then you start a conversation and then it it brings them to one of our features. It's called product finder, where they are asked a few questions, it's like a quiz, they asked a few questions. And in the end, they're led to the right product for them. And this is a cool way to get a conversation into into that and get a get consumers to find the right product for them. So this is a cool way to get them through the shopping process. And then they're able to either complete the checkout on voice, are they able to get an SMS message, and then a completed checkout on the website, which is also fun. So there's two ways.
Darius 16:12 Okay, so. So the way that a customer finds out, for example, I don't know one of your customers. Is there anybody that like in the US that we can talk about? As an example?
Unknown Speaker 16:29 Yes, there's there's a few there's a brand called high key for example, we can talk about them. Okay, take a fresh roasted coffee, high key cells, protein bars, keto snacks.
Darius 16:42 Okay. So So somehow a like, owner needs to know that he has a voice app.
Unknown Speaker 16:52 Yes, yeah. high key needs to advertise the fact that Apple voice have the same way they would advertise and promote if they'd have a mobile app. So a mobile app is not something that that users would know about unless, unless the brand promotes it in a certain way. Same thing goes with a newsletter. Usual user would not know that a brand has a newsletter on this, the brand promotes subscribe to my newsletter. And then they would get weekly updates from all brands. So the same thing happens here, you can subscribe to get weekly promotions or weekly tutorials or weekly tips or whatever the brand wants, you can do that on voice so you can subscribe to notifications on voice. And then you'd get marketing content from the brand on a weekly basis on a daily basis, whatever the brand chooses.
Darius 17:45 So how do you get notifications on? Alexa? Does Alexa just come up and say something? Or is that through email? Alexa, she on a weekly basis says hi key has a new product.
Unknown Speaker 18:04 Basically, it says, Here's your reminder, just look for the new product from IKEA. Just say hi key, what's my new what's the what's the latest product, something like that? Basically, it's customizable by the brand but they can customize the the weekly reminder would come up and the user and it would come to the user, it will be pushed to the user, I'll explain what the user has to say is basically repeat the command line that that is offered to the user and then the conversation starts.
Darius 18:37 Okay, so that's an interesting one I have I mean, to be honest, I have like five Alexa's in my house. And I've disconnected all of them. Really, because I found that, you know, I found that the only thing I was using it for was asking for time, and then I got an Apple Watch. And I didn't need that anymore. So and it's probably more I mean, this is a really a challenge for me. And that's not necessarily the app itself. It's really for me and my use cases. So I think I wasn't using it correctly. And I tried to use like some news apps. And I, I wasn't probably I didn't have the right app. So I think on on on the app site. Definitely there is there's got to be maybe some more and again, it's been a while so i don't know i'm sure the Alexa team is working very hard, improving things. So that's reminds me I need to reconnect at least one of the devices and start using.
Unknown Speaker 19:43 You should you should you should. Yeah, so yeah, Alexa has improved dramatically through the last couple of years. So first of all, its ability to understand and convert the customer users of speech into into a real Understanding how to enter text and then understanding what the user said. So that's the first. The second is to really expand the marketplace, and giving features and capabilities to app developers to really utilize the whole experience and make it better. So one of the things, for example, is the ability to send notifications, which we're using, and we're seeing really high engagement from that way better than any, I would say any promotional newsletter is getting that that is being shoved into the spam folder, we're getting high engagement because of the modifications. experience of Alexa. So it's there does not a lot of it currently. So it's great. So every brand that uses our feeds, feature gets really high engagement, and it shows shows a lot of success.
Darius 20:54 So I think that's definitely one feature that I was not aware of. And so I'm definitely going to look into that because I think notifications are going to be interesting. The other thing with Alexa is that it's almost like really getting to the, to the to the Jetsons era of living, understanding the fact that there is somebody else in the room, even though it's not a body, there is somebody else in the room. And I understand that's already on the phone. But the phone is it's a little different experience, I mean series always looking and it's probably going to say something right now. But I was listening. And it's. So I think that's like the other part of it, which is really interesting. So what kind of so if we look at Do you have any data on? How, like aggregate how much shopping was done on Alexa, for example, in 2020?
Unknown Speaker 21:58 I think you always better with the numbers, but it is good to remember.
Unknown Speaker 22:05 I don't remember exactly what they read like, you know, Amazon not really like showing the results of how many people but like to Alexa, and there is also the showing, like mostly on Amazon himself. And the whole market.
Darius 22:24 They don't break it down to check it. Yeah, they don't break it down into which is which is really not good. I wish they would release more details on Alexa. So the so that's that's one part that I'm trying to like, I'd like to know like, what's the volume actually? So is this something that you can actually get from your own customers,
Unknown Speaker 22:48 I can tell you what we what what we see. You know, the statistics and the numbers that we see, everything that we build in the beginning was building for making everyone to buy products over voice to make sales auto voice. But when we start working with brands with that not only the brands more interesting on marketing and features that relate to marketing, as we said, like in the beginning, we said it also the consumers like everyone today already consume that content through voice if it's coming from clubhouse, or podcast audibel. Like those places. So with the first step is basically to give all those marketing all this content that already exists out there for the brands to help exactly as Julie said in the beginning of the call, like basically, to enable all the consumers to engage easily with all the content, FAQs, tutorials, info about product, everything that people are already used to ask because if you think about it, people already using voice like Siri, Alexa and google assistant to ask questions. So this is the first interaction. The second one is to make them come back after that, if they want to buy them the confidence. And again, trust with brand over voice, they will buy and shop. So we saw some some of the consumers of the brands that that we build technology for them making shopping through voice, but it took time. And it started from the marketing aspect. Yeah,
Unknown Speaker 24:29 marketing is definitely the place where we see the highest engagement, then shopping and browsing and unfortunately not yet but is checkout through voice. There's a lot of still a lot of consumers that are worried about about that process. You can even you know if you remember the early days of e commerce on the web, and people were a bit afraid to enter their credit card details. Although we're not asking for the credit card details. We're charging the user based on their Their Alexa wallet and the Amazon one. But still, there's a lot of bit of fear from cut from consumers regarding checking out through voice. There's SuperFerry doing that on what they they're used to. That's on the web. So that's why we're enabling brands to choose whether it's it's fast checkout on voice, or let's see, he said. Yeah, so it's still there. We're hoping that in the next few years, checkout through voice will be something more, you know, there will be more in use.
Darius 25:33 Okay, so So just to be clear checkout is enabled on let's get on the Alexa app. Right?
Unknown Speaker 25:40 Yeah, yeah,
Darius 25:41 yeah, we're gonna check out and it's reaching out, for example, that Alexa, add milk to my shopping list. Yo, that's what that's that does is that it? Just, it ought it probably automates a sequence to order the milk for the customer, right?
Unknown Speaker 26:03 So if you're talking about what amazon.com says, Does, you are able to use Alexa for Amazon amazon.com purchases, you're able to tell Alexa, you want to order a milk or add it to your cart. And we're able to also check out so once you checkout, once you complete the order you'll get. That's it, the checkout is complete, the order is complete, and you will get the product delivered to you. So this is something that we also enable for direct to consumer brands on Alexa. Okay, so we use Amazon pay capabilities to to do the same process to deliver the same process. And here's
Darius 26:38 Alexa, she is
Unknown Speaker 26:41 always happens. So
Darius 26:45 let's go to the brands with the same. We should invite Alexa to be a speaker.
Unknown Speaker 26:50 Sure. She loves that. So yeah, so we did that we enable brands with the same capability of of having a voice Checkout, all the way through, you know, through formatting to the cards all the way to actually ordering by voice. Okay, so
Darius 27:08 that's another part of it, I think that would be interesting to note is that if if a brand is only selling items on their own website, if they're like just direct to consumer, there's a different purchase path using voice. And also, if the brand is listening their products on Amazon itself, there's a different purchase path, correct?
Unknown Speaker 27:34 No. So so we're disconnected completely from the amazon.com marketplace. Since we're using Alexa as a third party app, it's completely disconnected. So whether the products are sold on amazon.com or not, it doesn't matter. We're providing a different purchase path where you're interacting with a DTC, you can say just the app seemed like you're interacting, did you see website so you can choose whether to buy straight from the brand, or you can choose whether to buy from the marketplace? amazon.com marketplace?
Darius 28:11 Okay, so so your your solution right now is mostly focused on the DTC path?
Unknown Speaker 28:20 Yes, it is the DDC back. Okay. It's exactly that.
Darius 28:24 I mean, so the company can also sell their products on Amazon. But then they would probably purchase that through the Amazon's own shopping. Alexa app. Right?
Unknown Speaker 28:37 Yeah, exactly exactly the same way they do on the website, they can choose to go to the brands website, or they can choose to go to amazon.com. So they have two ways of buying products. You can say if if the brand sells both on the to see or through Amazon,
Darius 28:55 right, right, which a lot of brands are doing that for various reasons. I mean, there's there are ways to actually use the Amazon Marketplace. And really even like drive traffic to your website. So yeah, that's another Brian's
Unknown Speaker 29:19 Yeah, there's a growing growing trend of moving out of Amazon. The whole direct to consumer trend that you can see it's it's growing rapidly. It's grew a lot faster than people expected, because maybe because of, but mainly because of COVID. So this is a lot of move outside of Amazon. Nikes not selling there anymore. For example, a lot of brands started selling there and in brands that still sell there, minimize the catalogue on amazon.com. So they have some sort of presence and Amazon and they're directing, sort of directing, as you said, they're directing traffic from Amazon to their website, because that's when they that's where they really want to sell. They want to cut the middleman. And that's part
Darius 30:06 of that whole trend. Yeah, it's almost like use it as a customer acquisition channel, like lead generation almost.
Shauli 30:17 Exactly, which I'm sure
Darius 30:19 Amazon is also looking. So I mean, the thing about Amazon is, itself is I think they provide a great value. The only missing piece is the relationship with the customer. And I heard that Amazon is actually adding a new way for, for people to send emails now. from Amazon to their Amazon customers, so that they're testing.
Unknown Speaker 30:45 Yeah, interesting, interesting. Still, what's what's missing is the brand experience, right? It's not the same, you know, when when you go to the website, not you're not only getting the branding, you're getting content that brand delivers, you can get to two sections, where you're reading about the products, they're there. The brand line tutorials, as I said, FAQs, there's a lot of content that a brand wants to deliver and the brand today there's a whole trend of, of making your customers, as a community can making your customers feel like a community, you can't do that through amazon.com. It doesn't, you know, it doesn't happen, you have to create a place where they can all go and be part of that. And that's what we were trying to do also on voice is letting customers directly interact with the brand. And the brand is speaking to their customers in their own in their own language in their own in their own slang in their own words. Our solution is fully customizable, for them for brands to bring in their own brand spirit. So that's something that's very important for brands, and being on amazon.com is just being another name on a huge list.
Darius 31:59 Run. Right? Yeah, I mean, it's it definitely has its. So one thing, that's for sure, for all the brands today is that they need to be on multiple channels now which ones they need to pick carefully. But you know, if you just are have your own website, you're not capturing you're not optimizing the entire web. So the question is, which, you know, how do you use Amazon? How you I mean, what do you go on on? For example, Instagram, Facebook, do you set up shop over there? And then how do you drive all of these somehow to your own website, so that you build a relationship?
Unknown Speaker 32:41 Yeah, that's true. By the way, Instagram and social media is a great place for for for branding, because you can post pictures and videos and and let customers interact with each other. So that would be a better place to to emphasize your brand way better than then being on amazon.com. And we're seeing ourselves as another social aspect we can interact, again, with with a brand and its own, and the brand has the ability to put their branding in. Same thing that it would do on the social on social media. It's very similar, but not in the marketplace, unfortunately.
Darius 33:22 Right. One question is, what is Facebook in this whole thing? Are they working on The Voice device or what's going on with them?
Unknown Speaker 33:33 So they they've they've had rumors over the years about a few of those devices? I don't think none of them actually realized something. Something real
Unknown Speaker 33:45 with the using Alexa.
Unknown Speaker 33:47 Today they have they they're selling a few products with smart assistants, their cold portal, Facebook portal, that's the line and they're using Amazon Alexa embedded inside those devices.
Darius 34:01 Oh, interesting. Okay, all right. Yeah.
Unknown Speaker 34:04 Yeah.
Darius 34:05 So So yeah, because I think they, they also are always looking to keep as much of the relationship and interaction internal to Facebook as possible. So but I hadn't heard anything on on that. So So let's talk about your so I see you have a couple of plants on the website, there is a basic and the premium. Yeah. How does the customer pick which one to choose?
Unknown Speaker 34:38 So the premium is more of the plan that fits most of the our customers. Most of our customers are enterprise brands, or mid market brands. And the custom the custom package actually has a few packages inside of it so you can choose which one is better for you. Does enterprise plan manages the advanced plan, it's less than that. And those are usually the plans that are being used by our customers. The basic plan is for SMBs. It's, it's very basic just to get your foot in the water, but most of our customers in the end migrates to, to one of the higher plants.
Darius 35:21 Okay. So what's the what's the cost structure? Can you share anything about like, Where? Where does the the cost actually start or
Unknown Speaker 35:33 so our plans, our custom plans, for sure, I can't reveal the pricing, build it with our customers. So the way it works is we see what kind of functionalities our customers need. We have inside of our custom plan has a few solutions is voice from marketing, force, front shopping voice when checkout and voice on customer care. So depending on the solution you choose, we build a plan for you and the pricing that will be beneficial for both sides.
Darius 36:07 It's a recurring like, fast format.
Unknown Speaker 36:11 Yeah. Yeah, subscription subscription, so monthly, or annually, and is the discount on annual subscription.
Darius 36:18 Okay? How so? what's the what's the sales pipe? flow? How long does it take to actually, you know, for somebody to from the start to actually start, you know, like an intro to actually start becoming a customer? Is that long or short or
Unknown Speaker 36:40 two, I really depends on the size of the customer. The smaller the brand, or retailer, the easiest, the easier the sales process, enterprise clients, you know, you have to go through many people in the organization in order to, for that to realize into into paying find. But yeah, so it varies really varies.
Darius 37:03 Okay, is there a, like a sales number or revenue number that you're looking for in customers? Like, are you looking at, for example, people with over 10 million in sales? In general, or?
Unknown Speaker 37:18 Yeah, we generally go to really the highest, the biggest names, because that's, that's where we see most value, we bringing more value to bigger brands, because bigger brands have the ability to actually promote their voice app, and really put energy time and money into it. The smaller the brand we see is just just less of a success in that sense. Because they're, they usually want to see really fast ROI. And, and something that's really direct to want to see direct sales. So we naturally approach bigger brands. And that's, that's where we see the highest success. So I said, Okay, enterprise brands and mid market.
Darius 38:03 All right now, about the company itself, your startup, of course. What's the fundraising history so far? Or are you raising money right now? What can you tell me more about that?
Unknown Speaker 38:19 Well, startup always raises money. We just completed around and we'll be raising more money in a few months.
Darius 38:30 Okay, so this is the startup fundraising is almost like elections, right? It never ends.
Unknown Speaker 38:39 It never ends.
Unknown Speaker 38:40 never ends. It's fine. Because when we started, it's like, it's our second startup. And we didn't plan to raise capital. We started the bootstrap. We believe that we can do that by ourselves. But as we go, we started potential. And then came the VCs and we raise capital, and it's really sad in a few months. We'll we'll do another one.
Darius 39:08 Okay, so did you raise a raise a pre seed round or seed round or anything publicly you can share?
Unknown Speaker 39:18 You can call it like a preset. prefix.
Darius 39:23 Okay. And then now the company is based out of Israel who right?
Yoav 39:30 Yeah, yeah,
Darius 39:31 Pisa, Tel Aviv. Tel Aviv. Okay. Yeah. There's a lot of really interesting, powerful companies coming out of Israel. Really impressive how the startup ecosystem has really, you know, it's become so strong over there.
Unknown Speaker 39:48 Yeah, it's, it's a it's a big community of startup entrepreneurs, helping each other VCs growing here as well. Um, so it's, it's really considered as you can see that too. So as you observed, we're a second time as we've been there before. And it's, you know, it helps when people help each other. And, and we see that other intrapreneurs that help us with introduction to either.
Darius 40:24 Whoops, see, we lost. Yeah. Okay, there you go. So, so yeah. Is Tel Aviv really like the startup capital of Israel?
Unknown Speaker 40:35 Oh, yeah, for sure. Okay. Yeah, Tel Aviv is the commercial company that capital of Israel for sure. And definitely to start capital.
Darius 40:43 Okay. How difficult is like finding team members? Do you? Do you like mostly are your like developers all there are new hire from other places in the world.
Unknown Speaker 40:58 So one of the one of the good things if you can say that came out of the situation of previously, which COVID is that everything became remote work became remote. So also, work became a road also conversations, meetings, everything became remote, right. And that led to all of a sudden, a, oh, we can hire everyone can hire any person from around the world. And we would be the same way as if we hired someone right next door, right? Because we're not in the office, and you're not in office anyhow. So what does it matter if we hire someone in Tel Aviv, or someone in Ukraine or in Amsterdam, so that that really allowed us to expand our company, and we have, actually people all over the world working for voice front, and we have a person in the US a person in New Amsterdam, as I said, team in Ukraine, and all that is, you know, we all work together, we all meet for meetings on zoom. And it seems like we're all in the same office. So. So yeah, that helped us really grow remotely.
Darius 42:17 Yeah, that's, that's really interesting on how, in a matter of year, I mean, we my own company, we weren't remote to begin with, but this just like, made it so much more. I guess effective. As far as working remote, so. And the expectations, the only challenge I have is the time zones and trying to keep up with people in different time zones and actually stay healthy. Get some sleep. Yeah,
Unknown Speaker 42:49 yeah. So feifei thing is, we in in Israel, we we got the almost entire population vaccinated. So life is actually back to normal here. So staying healthy is something we finally got. And we can say that, you know, figure that out. And yeah, working remotely became part of our, you know, part of our structure part of our, you know, part of the voice France spirits. So we don't see it actually gone back to the office, we really like it that way. So, let's see, everything can change.
Darius 43:28 Yeah, yeah. I mean, hopefully, hopefully, all these new variants of the virus are, I guess, managed correctly? I don't know. I mean, I keep hearing about the South African version and the Indian version and the American version. And,
Unknown Speaker 43:48 you know,
Darius 43:49 the UK version, and I don't know what the what's going on with all these different variations. And if the vaccines are effective, or do we need to, like keep coming up with new vaccines for each. So this, this is kind of, like an unknown part of all of our lives that we're trying to really try to figure out right now.
Unknown Speaker 44:14 Yeah, yeah. It's, it's, it's tough. It's tough. And I hope I hope humanity can prevail, and we'll get rid of that damn virus already. Yeah.
Darius 44:24 So 111 more question. Do you think that the, you know, clubhouse phenomenon has helped voice apps?
Unknown Speaker 44:35 So yes, we see those one big ecosystem. We see everyone as you have mentioned, everyone prefers all of a sudden, or just happened using their voice over, over texting. So you can see that on messenger apps. So like, for example, WhatsApp, people leave voice messages to each other. They're tired of texting So that happened. And then clubhouse already changed the way people interact in social media. And, and as you have also mentioned, people moved from reading books to listening to books. They want to have, we want not to type, they don't want to hold something, they want to be hands free, and they want to interact with voice. So it's all part of a shift, platform shift that's happening right now. And we believe that one day will be in those science fiction movies where you know, you won't touch a keyboard anymore. It'll just speak all the time. And you know, and listen to, to my boss that speaks to you that back.
Darius 45:43 Yeah, I'm looking forward to the day where I can speak to, I guess, my communicator, or whatever the device is watch or whatever. And then the screen is going to be what do you call it like this? I forget the name. Now. It's not actually a screen. It's Yeah. Yeah. So that's gonna be interesting. And then, you know, with your hand gestures, like on, do you see that? The Minority Report, Minority Report? And also, yeah, I mean, there's so that's like, with your hand gestures, you can move things and yeah, the expanse. How do you see the expanse? Do you watch the expanse? Yeah. I love the How to, like really moving the really bringing this hand gesture interaction? Giving it a really interesting look in that cereal.
Unknown Speaker 46:43 So for sure, for sure. And it's, it's, you know, it's already happening. I mean, if you look back at Minority Report, this was I think, before, iPads
Darius 46:53 over 10 years ago. Yeah.
Unknown Speaker 46:55 Yeah. And and that was shifted into what we do today. Today, we swipe and tap and all that is, it's very similar. Yes, the emoji report. They're doing it, you know, in midair. But but the whole swiping and tapping, this is something that we all do today. And it seems part of our normal lives to to swipe right. Or, you know, pinch to zoom. There's somebody that's already part of it. We all you're all aware of it all. We used to it. And it's, it's like it's never you know, it's always been part of our lives feels like it.
Darius 47:30 Yeah, yeah. Well, very interesting. Well, great meeting you, Charlene. And Yo, have you have a very interesting company. And I'm already thinking about how can we potentially use this for our own company. But let's stay connected in touch and maybe there's something that we might be able to do.
Unknown Speaker 47:57 Definitely sounds good. Sounds good. Sounds
Yoav 47:59 great.
Shauli 48:01 Thanks for having us.
Darius 48:01 Thank you so much. And thank you have a wonderful evening.
Unknown Speaker 48:07 Thank you. Have a good day. You too. Bye.