Interview with Ron Thurston Author of Retail Pride on How to Build Successful Store Teams in Retail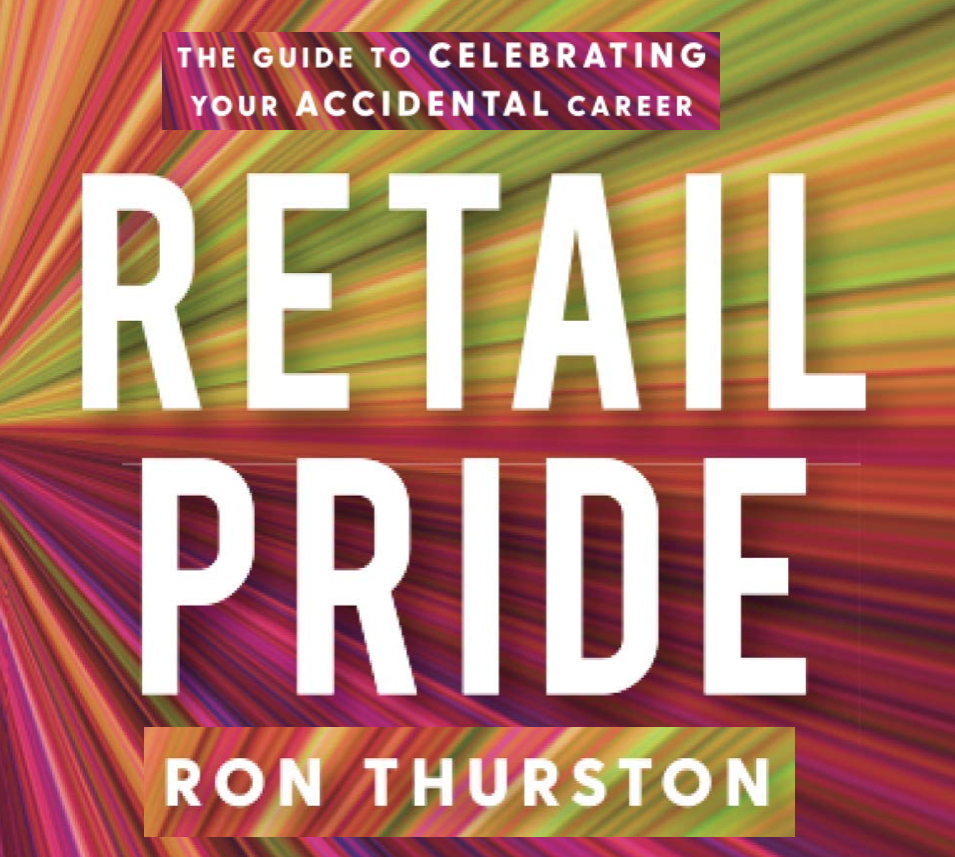 Interview with Ron Thurston Author of Retail Pride on How to Build Successful Store Teams in Retail
Make sure you get a copy of Ron's best seller book the Retail Pride.
TRANSCRIPT:
Darius 0:01 Welcome to the retail type podcast. My name is Darius Vasefi, managing partner of a startup studio called infiniventures labs and we specialize in retail tech, ecommerce and SaaS products. And I am also the host and producer of this podcast series called the retail tech podcast. This interview is on clubhouse it's being recorded. And we will be taking audience questions after the first set of questions. Today I am speaking with Ron Thurston. Ron, I don't know where to start, because his background in retail is just amazing. And it can be get pretty long. But he has worked for some of America's most prominent brands, inspired 1000s of store employees travel relentlessly across the country and the world and has a new book called the retail price. So today, I'm really excited to learn more about Ron's background, how he got to where he is in his amazing career right now and then get into that retail price and maybe some, some unannounced things that the initiatives that he's working on to welcome Ron, thank you so much. darious. I really appreciate it. This is going to be fine. Yes, yes. So let's start from maybe your your background, and how you got to this wonderful place in your life.
Ron Thurston 1:34 It is a wonderful place in my life. Thank you for saying that. I, I'll just briefly go through it. So I am from Northern California. I grew up in South Lake Tahoe. And I was part of a family of construction workers. And my grandfather owned a firm that built the first school house, the first grocery store, some custom homes, and it ended up being the primary construction firm that built all the Safeway grocery stores on the west coast. And I learned so much from him about leadership. But my path really took me into this journey that I knew I want him to be in this industry somehow, whether it was going to be in fashion design, or as a buyer, as a kind of business owner. As a retailer. I just knew I had to be in this industry. And so that's actually why study that fit them briefly in San Francisco, I moved to LA to get a second degree in retail administration, with in conjunction with my fashion design degree, and then kind of started out as a designer, but learned very quickly that retail is where all the real action happens. And began a career and kind of sales and leadership multistore leadership, corporate visual merchandising for gap, and then went on to lead some of the brands that you reference, like, I ran Tory Burch out of the West Coast for quite a long time I moved here in New York to help launch bonobos and the guide shop model that has been so well known. I ran Celeron for North and South America has kind of the pinnacle of luxury, and then had the opportunity to run intermix for the last about three and a half years until last week. I was I think that's where some of the surprise announcements may come from. But it's been a great, a really great journey and retail, a love of mine. This kind of underappreciated industry that we all don't I think don't spend enough time celebrating that 75% of the $4.2 trillion. I think now it's yesterday $4.2 trillion business that this is in this country, it's it's a really exciting time to be in brick and mortar retail.
Darius 4:06 Absolutely. So so I know you had to, you had to pretty much like shortened all the experience, you had to fit into the like, two minutes. Yeah, it's about like 40 years, or I know, I just turned 57. So So what I'm going to try to do, and you know, we'll also already have a hand race and we'll start bringing people up is start to get into some of the, some of the, you know, is I guess unique, more unique experiences, all of your experiences unique and then you know, tie that into, you know, where, you know, the book comes into play. So I mean, working at Apple, how was that like, I mean, that's like the top retail probably as far as like the performance per square foot in the world.
Ron Thurston 5:02 Yeah, so I, you're right, I did skip a few brands. So I, there were several people early in my career who I followed and, and gap the gap in kind of late 90s. When gap was really at its Pinnacle as far as the iconic brand and kind of American style that it was rooted in there were a significant number of really talented people in in leadership roles, store roles, senior leadership. And then one of them was Matt Mark cot, who was a regional, I think, regional manager at the time at gap, who I knew quite well who went on to become the vice president or senior vice president of stores in the US for Apple. And so I joined Apple, kind of under Matt's guidance that also then went on to run globally, Tory Burch on the retail side, which is also why I ended up at Tory Burch, but I joined Apple on the launch of iPhone two. And when I tell you, we had not yet figured out how to run a business at that kind of scale at that amount of traffic and demand, it was pretty incredible. And I remember very clearly, it was like my fourth day with the company. And that's when they would put blackout curtains across the front of the store because we didn't want anyone to see the product, and kind of peeking my head out from behind the curtain at six o'clock in the morning to see what my day was going to entail, and seeing 1000s of people in line to buy a phone that day. And that kind of the journey of how to run a business that is hundreds of employees in a store, running multimillion dollar businesses of high demand high tech, we weren't really sure how to solve all the problems with the phone at that time, there were still some nuances that things were being worked out. But I've thoroughly enjoyed my time and also launched the iPad and launched the MacBook Air. And still today have a strong love of of this of apple. But what they do, I think that I still today carry with me as they are masters at kind of culture. And I remember hiring people who couldn't ever think about working anywhere else except Apple, their dream was to be at Apple, and to hire people who were so committed to sharing that knowledge and educating customers about everything they knew about Apple. And many times the customer knew more than than we did, because there's so researched. And it was just a joy to be there. And to be part of this iconic business that has really changed, change the world. And to kind of introduce the iPhone at that time. I remember that that line in front of the store on that. I think it was a Friday morning. like walking through the line carrying the iPhone at that time and showing people what it was and many people because iPhone, the first iPhone was so unavailable, they've never really seen one in person, and to walk through the line and show them how to use it. And demo it myself was a super exciting time for me.
Darius 8:25 Yeah, that could have been also dangerous for you. That was pretty brave. Yeah, thank you. So, you know, when you say when you tell me that story, it also it tells me about like, here's apple at that point and icon, everybody. I mean, it had probably the most loyal audience of any brand. And still, they're launching things without 100% certainty of everything working and being comfortable with that. And the fact that hey, you know, we know we're going to we're going to fix things, we're going to learn things, and it'll be okay. And I mean, I say that myself, because I'm going through that myself right now. And I have many times in the past as like entrepreneurs and even for retailers. It's so important to not need certainty to try things.
Ron Thurston 9:27 It's that kind of test and learn and then try and learn again and be be honest about what, what's working and what doesn't and be willing to admit when it doesn't admit and change. And I think that if you think about culture, and how to lead it, kind of Apple out of take Apple out of the equation. I think there's real power when you create a culture that is honest and transparent and truthful. And you say you know what, I thought that was the best idea. I stood behind this idea. We capture feedback, and you know what it wasn't. And so thank you for showing us that it actually doesn't work. And we're going to try something new. And I think when leaders demonstrate that ability and articulate your own willingness to admit that maybe it didn't work, is a real way to create this idea of a great place to work or taking pride in what you do, and the pride of who you work for companies that that are transparent and honest. And, you know, Apple is certainly one of those all that they are much better today about introducing things that are at the highest level of perfection. But this was, these were very new devices, I remember how controversial the iPad was, at the time, the way it was the name itself, just like, hundreds of 1000s of blogs and posts, and you know about how ridiculous The name is, but here we are in 2022 2021. You know, and many of us, including myself, use an iPad every day. And it's still a beautiful piece of equipment. And I love this idea of just admitting when you need to evolve.
Darius 11:11 Yeah, I guess the you know, and showing your your vulnerability, and being okay with it. You know, it's I think that actually has more strength in it than showing that you are perfect. It you need to be stronger mentally, and characteristically, you know, with your character to show vulnerability.
Ron Thurston 11:38 And that I actually think you do it for yourself, of course, in the company, but you do it for your teams more than anything. If you show that vulnerability and willingness to admit mistakes and willingness to evolve based on feedback, that creates commitment of the team to work even harder for you. Because you showed your your you showed how to evolve based on the team feedback that creates great culture. And as I agree with you, I think it applies in a lot of things in life. And it certainly did at that moment. But just in general, we're always looking for ways to engage everyone around us at the highest level and, and vulnerability and transparency are a great way to start.
Darius 12:23 So let's, let's move to retail pride your book. When did you decide to write this book and why? Now? I'm glad that you did. But I want to go back into the lead a little bit into the history of it.
Ron Thurston 12:40 Yeah, so I, when several years ago, when this idea of kind of the retail apocalypse started to become a phenomenon and a headline. I, as someone who had worked in retail nearly my entire life, I took real offense to that, because I knew that there was this power that happened in retail teams that how much they love this business, how much I love this business. And so based on all of that feedback, I immediately started to write a blog, I had no intent of writing a book this was about four years ago, and wrote a blog called retail fitness at the time. And about this idea of what retail apocalypse we love working in retail here is the power that the industry has a lot of the things that I write about in my book. And I did that for several months, and captured just overall feedback and said, this is really helpful and fun, took it all down and saved it. And then I just I realized that at some point kind of mid 2019, that I I just had to do this, I had too much to say I had wanted to share with a bigger audience. And so put some more thought and work into it found a great publisher and a journey. And it took about a year from kind of outline to bookshelf in October of last year. And put a ton of effort into it. And I'm also really glad that I did because it's it's the first book of its kind that speaks directly to everyone that works in stores. And those millions of people it's not about how to change retail. It's how to celebrate the people that do the work. And they really appreciate it. And I get messages about it all the time that they really are proud to work in this industry. You know, pride, not just in June but in general is a bit of a controversial word, as we know, but I wanted to use that word intentionally to because there's nothing there's not a word that's stronger when you put retail and pride together. And that the cover is is an art piece. It's meant to celebrate our industry. It's meant to say retail is art. Art is it is an art. To do a great retail business to create one. And so all of those words together, as well as like celebrating the accidental career that most people have in this business was really important to me.
Darius 15:14 Yeah, I really personally can't find think of a better word than pride, I mean, to really to explain or this, you know, go through your journey and what working in retail is like, yeah, so, and I do agree, I mean, I, I personally have not heard of other books that cover working in retail, the way that you have done, you know, we've got a lot of books, which are great about how to make retail better how to make technologies better. But, you know, and my podcasts and my life, a lot of it is about technologies, but like, really, human beings are the first to first technology. And if we, if we can get, if we can get that that technology working, you know, really nothing else is gonna work in retail.
Ron Thurston 16:08 It won't, and I agree that there are incredible authors today and books out about the evolution of the industry, or how to create or evolve retail as an industry in a in an important way. And that's, that's also very helpful. But the but the majority, significant majority of people in stores are not changing the industry, they work in the industry and are only have the ability to impact it based on, on who they work for the brand, they work for the leaders that they surround themselves with. If those leaders are open to learn, then then industry can evolve. But there, they can't change the industry, but they can change the way they think about working in the industry, and that they can be celebrated and that the hard work is recognized and heard, and I've done it myself. And then they kind of feel they feel seen and heard, and that there's always a conversation about how to grow your career in retail, like what do I do? How do I get promoted. And so I put a lot of helpful hints in there that would say, you know, here's a concept for you. And here's how to put it to work. Here's another one, here's some, maybe you're not a leader today. But here's some leadership ideas that are important, and how to put it to work. So I wanted it to actually be a guide. at every level, part time stock, sales, management, multi store leadership, whatever your role is, the same principles apply great leadership applies no matter what role you play in a company.
Darius 17:51 Yeah, and, you know, I'm, I guess, speaking from my own experience right now, building, you know, our company called, you know, visual, and working with people that work in retail stores, having nowhere near the experience that you have, I'm like, already starting to see why some of the things in retail are, you know, definitely need to be changed, you know, like, what I'm realizing is that we expect so much from people that work in stores, and we yet we pay them so little, we compensate them so that we don't take care of them. And that's like one of the things that I think, you know, it's, it's not a, like completely aligned formula, because, you know, like, when you go to a retail store, you want the person to be happy and perky. And, you know, come up and ask you questions, and then, you know, you know, if they're making minimum wage and struggling, you know, how does that actually work? So I'm really interested to hear your thoughts about maybe you know, how compensation plays into and you know, the experience.
Ron Thurston 19:10 Yeah, this is a really interesting topic today. Because there there are states with different and higher in I live in New York City, higher minimum wages than other states, even minimum wage in New Jersey, is lower than the minimum wage in New York. But brands have chosen to, in some cases, take the high road and pay at the higher rate, just to retain people or more and more. But I think what has worked in the past, which is that everyone in a traditional to say, brick and mortar retail business, doesn't matter what you're selling, that everyone in the store is a generalist, and therefore everyone is paid similarly, so you have to be good at stock. You have to be good at merchandising, selling, being in the cashier, maybe a little bit of loss prevention mixed in that you have to be good At all of it. And I think the future looks a little bit more like those. Those entry level wages are great for entry level roles into the industry. And maybe its first job was in stock first jobs. And maybe it's in as a greeter as kind of new to the sales force should be an okay, pay that at a lower rate wage. But as your skills progress, you should become much more of a specialist, much more of an asset to the company and therefore compensated that much better. And I would just go back and reference Apple, that's the model that that they have built of kindness, generalists moving to a specialist, moving into a lead role moving in, then into a leadership role. And then each one of those comes with a compensation increase. It's the way to take it from, you know, everyone's kind of paid the same and may have average skills to really investing in certain people, providing additional training, providing resources moving their careers forward. And that, that that's when you choose, then it becomes less about an accident and more about an intentional career, because the company's also giving back what you are giving to them. And that I think has happened in the past in certain companies, but I believe it should be a much broader conversation of that investment you make certainly returns in in the dollars and the sales that come through, and it more than pays for itself on the p&l.
Darius 21:41 Right, right. So I mean, I mean, probably there are some really famous examples, of course, like, you know, Costco. And I mean that the people that work at Costco don't even sell, but they just work there, but they are in retail. So we have these examples. But yet, we also have the majority of retailers like really not seeing that, you know, if you actually pay people better, they will have a better experience. And that will result in higher sales. What's the missing piece here?
Ron Thurston 22:17 it I think it depends on the brand. But I would say sometimes the best example is to say, you know what, I'm going to take five stores, and I'm going to test a new model, a new compensation model, maybe a new structure, maybe have a different management headcount, like play with play with the org of the store, and the compensation model and see what happens. So you can test and learn in small ways. Before you roll out something to 1000s of locations that costs you millions of dollars. There are ways to do it on a smaller scale, with maybe in your best district manager, your best leader, and invest upfront, and then track and learn. And it may not work. And then then you say, Well, great, I'm glad we tested it, maybe we tweak it and we try something different. But you're always learning and should. Everything doesn't have to be such a huge kind of ship to turn you can. That's the beauty of retail that we work on our we jump up on our feet, and we run into it every day. And we can try new things. And we can try new new structures and models and always be testing and learning. And that's what I would encourage brands to do before before they decide No, it's too expensive. We can't do that. You might be very pleasantly surprised what happens when you make that investment.
Darius 23:51 Yeah, yeah. I mean, that's really interesting. Well, I'm going to start bringing up people to ask questions, and then you know, in that conversation, we're going to, you know, continue touching on other things. Great. I'd love to. Alright, so first we have let's see when Franco welcome.
Unknown Speaker 24:16 Yes. Hello, my name is Frank Leachman. Well, being honest, I was a great to come up my partner at hand right below me with a gray background. Just ping me and I just came into the room. I was just going to come in and say hi to you know, leave. I just want to see me so the reason that I came up I heard Ron's introduction earlier. And, and I just had to come up there, you know, then meet you guys. So, Ron, you and I, we have a lot of things in common. So it's very interesting that I never knew that. I was going to go into a room to find my twin brother. Oh, Wow. Amazing. The reason I say that let me share with you what you just said earlier and correct me if I'm mistaken. Okay, please. You mentioned San Francisco. Correct? Correct. I am in San Francisco. Now I do talk about construction. So you work with your father, correct. Grandfather, but yes, our grandfather Yeah. Family. Yes. Yep. So I met some of our contractors, originally from Istanbul, Turkey, and the biggest turkey you'll ever come across. I just checked this morning about 245 pounds. So what I'm trying to say is this, my father did amazing work. The last one that he did the stumble airport that I wrote. And that's what I flew out in 1985 to Kent, come came to San Francisco, California. So he was still working on that airport. Now. Poor guy when he passed away. Unfortunately, he didn't have any science behind to leave us. Beautiful. Guys,
Darius 26:10 Franco, we are losing your audio. Hello, sir, I just got to get out of Okay, get out of my Wi Fi. Now,
Unknown Speaker 26:21 I just don't want to take too much of your time. But let me just get to the next one. And design. He talked about design. And I went to Academy of Art in San Francisco, you probably know your data. Of course, I know exactly where that is all over the place right now. He is his daughter took it over, just went ballistic wood. So and I hired my teacher there that who was teaching me about product design. In my company called dollar concepts International. I used to do a lot of conversions of custom cars and exotic cars. So we did some great work there. And I design and I'm also in the fashion design that I brought some goods from overseas from Turkey, sold in Southern California in the market. So I wasn't the fashion when I first came to and I says as well, I you also said that you're 57 years old.
Darius 27:12 Okay. This is sorry. Yeah, brother. From his temple. There you go. No, I love it. Yeah.
Unknown Speaker 27:24 Well, the reason I say that 57 I said, Really? You look younger. My roommates Teach me secrets. I'm pleased to be here. You have great information. I really appreciate it. And I'm glad that I had just pinged me and, and let me just tell you a little bit about myself. And I'll be out of your fast. And my name is Franco. I'm a real estate agent. I'm an investor. partners, we have a product called pecan watch. We are in five continents and 16 countries is a chip. And our key uses it and some Walmart is acquiring it. We have an amazing product. I just wanted to share that with you as well. And I am going to follow this room. I love it. And Doris, you're great. Ron, you're wonderful. I wish we were roommates. And thank you for your opportunity to speak. But before I leave, can I crack a joke?
Darius 28:22 A quick one. Yes. Very quick one.
Unknown Speaker 28:24 What are the similarities between men and the parking spaces? Especially a married man? That's 50% of the answers. Man and the parking spaces? I don't know. I don't know that taken which is I'm married. The rest of them are all handicaps. Okay.
Darius 28:45 I guess we'll just leave it at that for now. Hey, nice to meet ya. Thank you so much Franco. pleasure meeting you guys as well. Thank you. Hi, Jeff.
Unknown Speaker 28:54 Hi, guys. I'm not sure how to follow that. Yeah. So So Ron, I'm just so happy to hear that you were you're one of the battlers of the retail apocalypse stupidity. And that's, that's great to hear. I'm curious why we don't see more retail executives doing exactly what you're doing defense in our industry. I mean, you're got to be the single most visible executive, seeing the most common sense things that, you know, we need to defend our industry we support literally every city, county town in the country. Without force people are employed. We train virtually every leader in every other industry that somehow started to retail and yet none of us seem to really claim you know, credit for what we're doing. You seem to be the only one why.
Ron Thurston 29:45 You know, I wish I knew the answer, Jeff, and I wish that more people did because it would give the power back to everyone that works in stores. If they heard that they heard people have a message similar to mine, or we're different, but it was very pro store. And when you do exactly to your point, when you read the facts, you realize the power of this industry, and the impact that it has on our economy. And then, and the number of people with this as as their first job that turns into careers, I mean, it's it goes on and on to why they don't do it. In a, certainly as many people know, getting a book out is not an easy journey. But you can find other ways to do that outside of a book. So I, I, maybe I could set the tone for future store leaders to do this. Because that's, there's plenty of space for all of us in this in this incredible conversation.
Darius 30:48 One follow up question, Gary. So my kids, of course.
Unknown Speaker 30:53 So what was it like being inside apple? When the iPad was launched? I was watching that.
Unknown Speaker 31:00 Steve Jobs, you know, keynote, and I certainly saw all the idiot, you know, analyst comments about the iPad name, literally laughing out loud. What was? What was it? Like? Sort of when all that noise? Was there any thought of like, Oh, my gosh, maybe we need to pull back or is it just forget it, let's just go ahead
Ron Thurston 31:18 from way did and I was, I was like called market leader. I ran the six stores in Houston. At the time, which was Houston Galleria was the number two highest volume store outside of the cube here on Fifth Avenue. It's an enormous business. And there was never a conversation of changing it. It was like, This is who we are. This is what we're doing this, this iPad is a whole new way to live, and work and, and just continued forward. And there was certainly controversy, but here we are today. And that's what I love about it.
Unknown Speaker 32:00 Yeah, well, I'm connecting to you on that iPad Pro. So it is an A fantastic piece of technology. Good stuff. I mean, just just keep screaming at the top of your lungs, and well echo anything any way I can. Because I think your messages, maybe one of the most important that coming out of the retail industry and an awful long time. Wow, good stuff.
Darius 32:20 Thank you. I really appreciate that. Definitely. Second dad. So, Ron, I was also really thinking about your experience at bonobos and the guide shop. Do you mind going into that experience a little bit more?
Ron Thurston 32:40 Yeah, I'd love to. So for those that don't know, Andy Dunn was the founder is the founder of bonobos, and really thought of it as kind of the best fitting pant for men kind of discovered he and his roommate at Stanford kind of discovered a better fitting pan for men, which was entirely planned on being a DTC business, no intent of retail. And what happened is their corporate offices here on sixth and 25th, in the city, and but it was before my time, but the way Andy describes it is that men were coming to the office, or they were calling customer service, which for them is the dojo, and all the ninjas that work in the dojo and say, Hey, I'd really love to come in and try these on before I order them. I'd like to see if there actually are the best fitting pants for men. And so they built kind of a mock store in the corporate office, here in New York, and then they set appointments and guys would just come in like touch field, try on made like a mock fitting room set up try on the clothes before they place their order. And and he kind of had this idea that this could be a new business model for retail, that it was about entirely committed to fit and service, high type service, client acquisition, but didn't carry any inventory. And he thought this could actually be something bigger. And so he opened a couple of tests, guide shops before he brought me in to build out what today is that model. And so the idea was exactly that. It is very much about discovering your perfect fit, making sure that you get your order in a timely manner that you become like a high quality, very qualified customer. But the service that you receive in a guide shop is probably the best service that you can receive when buying men's clothes. And so I took it upon myself to kind of establish what the store design should be with the fixture package should be. I was actually the only person at that time that worked in retail. I hired a head of HR a head of visual merchandising We started to build out a field team built the whole infrastructure. And today, it still sits as the only real business at scale that is entirely dedicated just to fit and service and everything is ordered through through E Comm. And so I'm really proud to build that business model that is still a very profitable part of the now Walmart family. And it's, for me, it's a lot of fun. I actually love selling clothes to men, because then most of the time don't know what they're doing. And so it's like it's an education process at the same time, where you can kind of teach them how their clothes should fit, and how to maybe get ready for for a new season.
Darius 35:49 Great. Yeah, I mean, that sort of the concept of mixing a retail location with an online b2c brand is definitely I think benefited a lot from bonobos, but really starting the bonobos. Yeah, really starting that. So I think that's like another area where I think coming up with experiments, having some metrics to measure and learning can benefit not just yourself, but the industry.
Ron Thurston 36:24 Very much. So hearing that that feedback. And certainly today, there's a lot of conversation about client acquisition, and the cost of acquisition through social channels. And what that means to DTC businesses and therefore, how important brick and mortar retail is. So it actually, again, we're back to this conversation of the importance of retail, in the, in the ecosystem of your business. And bonobos did that and could acquire very qualified customers who shopped more often who spent more money, who were very engaged with the brand. And today, there's, we're continuing to see this kind of brands that go into DTC brands that go into brick and mortar retail, because it's the ultimate expression of what you stand for. And that experience, and then when I take it one step further, and say, it's a great idea. But the ultimate expression of your brand only happens with incredible people who love what they do and are well trained, and engage at that level. And there was a point where we were opening a guide shop every two or three weeks, and I was traveling around the country and teaching training, teaching people how to sell, like cutting the ribbon, doing the press, and then move on to the next door because it was so important that it was very much I was engaged, I was part of that journey of, of that consistency around the country. Today, I can't really speak for it, because it's been quite a while now. But at the time, it was very founder LED and very, we're very in touch with how this business was going to scale.
Darius 38:06 Yeah, I mean, I will just make a recommendation or or, you know, user or fan request to make that the the topic of your next book service, or bonobos, how to how to build guide shops for the online you to see and the whole process of doing that. It's I think it's, you know, I mean, this is really something that the, you know, brands ecommerce brands need to learn a need to do. And I think it would benefit a lot of people.
Ron Thurston 38:44 Yeah, and it doesn't have to be a huge investment. Yeah. And so that's the low inventory levels or no, no inventory other than samples and a guide shop keeps the cost low. The build outs were relatively inexpensive. I created fixture package that when we just replicated again and again and again. And like kind of compensation models with that kind of combo, hourly commission structure, the team bonus structure. It doesn't have to cost a lot of money, but it needs to be done really well. With high type service. Yeah, I would love to. I can always talk about that or help other brands do that.
Darius 39:26 Great. Yeah. Well, maybe we'll talk we'll touch on that when we make the Yes, I guess, surprise announcement. All right. We had a couple of other friends on. Let's see if we can get the high cameras,
Unknown Speaker 39:44 either. Yes. Thank you. Thank you for the opportunity. Ron, I have two questions. So first of all, thank you so much for the inspiration that you give with your speeches, your interviews, and of course the books. We are here because we share the passion with you Thank you. The first question I have is, you know, I catered to the retailer's, I've been catering for close to 20 years now in different parts of the geography, us for the first 11 years, and now with some of the European countries for the past eight, nine years. What do you think are the most essential factors for our physical channels, while online always seems to be the most disrupting area? Of course, the customer experience, you know, how do we make the overall retail journey more rewarding, relevant and enriching the customer experience? But do you think, you know, from from a future standpoint, do you think there are specific areas that stores should be paying attention to to to stay relevant to the customers? That's my first question, please?
Ron Thurston 40:55 Sorry, comrades, you that stay had to stay more connected to the to the customer? is here.
Unknown Speaker 41:04 I mean, I was asking my question to the specific course. What do you think are the top three priority items for stores to stay relevant to the customer?
Ron Thurston 41:14 Thank you, thank you very much for clarifying that. So number one, you have to have a great product to sell. And whatever version that is, if you're in apparel, food and beverage, home, doesn't matter, you have to have a great product to sell. And then secondly, and equally important, in my opinion, is a team that is highly engaged and trained and can articulate why this brand exists. What is the story behind the brand? Why should you have this in your life? Why do you need it? What is the value behind it, the ability to everyone on the team in the store, the relevancy that you reference comes because you walk into a brick and mortar business and you walk out smarter and more more knowledgeable about why that brand exists. And that creates relevancy? Because then you want to go back for more, you know, when you think about banaba. So you say whether it's chinos and shirts, and it's really not that interesting. The reason it's interesting is because the team was really engaged in them. next season, you got more colors next summer, they do create prints for or unsure. It's like there's always this level of engagement. And that is, what creates relevancy and brick and mortar retail, when sometimes it needs to be highly tech, technology enabled. But most of the time, it's about the person standing in front of the customer that creates the most relevant and memorable experience possible. I hope that answers your question.
Unknown Speaker 42:51 Absolutely. Thank you for that. If I may ask one more question. Quick. Shout out, I'm often tempted to to give serious thought about some of the buzzwords that goes across in the industry. For example, the most recent one had been the hyper localization. The moment I hear AI colloquially localization, I start wondering, oh, this has to be the default state for us, isn't it? And why there is so much sentence stress on this particular term, because our default state of retail operations has to be high in all the hyper localized state. Do you think we should give any emphasis for this term? Or is it just another buzzword that comes and goes, or what in your view, is important about hyper localization?
Ron Thurston 43:43 That's a really interesting question. And you're right, it's a buzzword, but it's an important distinction in why brick and mortar is, is so important, that is localized. So when you think about that, the relationship and the reason that you go in, to go into a store, I can order everything online. That That might be true, and in some cases, but what you can't find is that localized kind of curated assortment that is that where you understand your clients so intently that you deliver Exactly. Because it's localized, maybe it's to the weather, it's to that particular part of the city. If there's a localization that's really important that makes you relevant to your local customer, and then when they know that they say this store was designed and merchandise and bought, and, and hired to exactly for me, that makes you feel really special. And in an Amazon world, you don't really feel that special. You're just one of millions of people trying to search for the products that you like, and a localized retail environment, it feels like it was made for you, and that they know you and they understand you, and they're providing things that are right for you. And maybe it's 80% of it is the same product in every location in the country. But 20% is localized and it feels special, it feels more human, it feels like you're actually paying attention to the people that are walking in the door. And coming from a brand like intermix, you know, I hand picked the assortment for 31 stores based on on them all being very localized and, and the designer matrix that was involved and the feedback from clients and feedback from teams. And while that is extraordinary work, it was really important to the success of the brand. So I am definitely a big believer in this buzzword, buzzword or not. Hope that helps. And frankly, don't
Unknown Speaker 45:55 thank you so much for the answer. And thanks. There is again for the opportunity.
Darius 45:58 Thank you comrades. Great questions. Michael, how are you today?
Unknown Speaker 46:04 Hey, what's going on everybody? Michael? What's up? Ron? are you? Great? Good. I don't think he's actually ever spoken. We always Yeah, essentially emails straight to exactly does his feelings feeling's mutual. And thanks for putting this together. derrius. And, Ron,
Unknown Speaker 46:22 always great to listen in. Just a question that I had was, you know, you've had kind of a varied career as it relates to, you know, the, the size of the brand and where they are as a brand, when you kind of join and take over the, the store Ops, right, so I was just wondering if you have kind of a different approach or, you know, strategic approach, when it's, you know, an apple or a YSL of the world versus like a Tory Burch, which was kind of, you know, moving into its Pinnacle, when you joined, you know, I, I just like to hear if there's, you know, strategies that you kind of apply across the board, regardless of the size or that, you know, are based around, you know, specific consumer expectations that you can say, Okay, this is definitely something that we want to, you know, be interested in, regardless of the size or the, you know, whatever other variables. So we just love to, you know, hear a little bit about your different approaches and different kinds of activations.
Ron Thurston 47:19 Thank you. Yeah, it's, it's difficult sometimes for me to give career advice, because I have jumped around to different kinds of industries. But I'll tell you, Michael, that I paid a lot of attention to what different brands are doing and where they are potentially, in their lifecycle. And I'll, and I've said, I'd like I'd love to be part of that and learn what they're doing and why they're doing it, and then want to be involved in it. And I kind of took out the average volume, the total company revenues, the kind of where the brand may have been, and like what's happening today, what, what do you want to achieve? What is your place in the, in the industry today? And what do you want to accomplish? And is that is that right for me? And you're right, like I was running, I 19. I think Tory Burch stores when I moved to New York for aminos. And I went from pretty significant volume to to zero, and then rebuilt it, and then joined Santa Ron for a very particular reason that they were really at their peak with Eddie's The man is the creative director, they were having the best business possible. And I had actually never run businesses in South America. And that actually, for much in Canada, it gave me the opportunity to learn how to open stores in Mexico City and Brazil, and learn that market more deeply and, and expand my skill set. And so I've actually taken each brand has like this individual moment in time, and say, What are you doing? Where do you want to go? How is this how can I help you? And how can you help me grow my skills? And it's, it's been actually quite intentional to work in, in clothing and tech and home, and luxury. It's been intentional for me just to be the best version of a retailer that I could be. Awesome. Appreciate that, Ron. Thanks.
Darius 49:31 Thanks, Michael. Yeah, I mean, it's interesting. You said that, you, you don't feel like giving too much career advice, because you've moved around so much, but I think you actually have the best career being so well rounded in different parts of retail, as opposed to being in one place for 25 years. Yeah, it's,
Ron Thurston 49:58 you can look at it both ways. I think having began my career at gap gap is and is a company that often has very tenured people. And I remember, you know, as a young man, being a district manager, I think it was like 28, I think I was a young district manager, like learning how to how to how to lead multiple stores, like learning how to be a leader, but and I had a peer group of District managers, and then today, a lot of those same people are still at gap. And that would, my advice would be like, hey, you probably should have moved a couple of times, because every new company gives you a new skill set, it expands your reach, and your network, of course, and the nuances of every brand, do make you a better leader, because you have to navigate the particular culture and infrastructure and different leaders. And so I don't think that's always the right choice to stay somewhere too long. And but there's, there's of course, a healthy balance.
Darius 51:07 Yeah, I mean, especially in today's world, where retail of all industries is changing so much, and so quickly. I think that diversity of experience is really interesting. So so let's go into your your amazing, new future chapter of your work and career and talk about these. Surprise, I guess, as we can call it.
Ron Thurston 51:37 I don't know if it's a surprise. But yeah, so I have formerly left intermix just as of last week to launch my own brand. So it will be under the umbrella of take pride today is a trademark of take pride today. And the reason I chose those three words, very specifically pride based on on my first book, retail pride, but then how all of us, retail and other industries, really choose to take pride today and something in how you show up, and how you engaged what you did, that maybe it's a customer experience, you just showed a conversation you had with someone take pride today, and one thing at least every day, and I really do believe that that's true, it's and as I said, that take pride umbrella today, for me will be a consultancy business. Definitely some more books, and, and a speaking business. So thank you very much for sharing that I'm really excited on this kind of next path after all these years to continue to elevate and shout from the rooftops kind of to Jeff's point of like, why aren't more people doing it, we need to do this in order to continue people to choose retail as a career, and that they can take pride and they can take pride in today. And the fact that you are making a difference in people's lives, and that you are a really critical component to the success of every brand out there and in every mall in this country and all over the world. And that that's a joy that I want to continue to share and and hopefully inspire some people to choose this as a career for decades to come.
Darius 53:38 Absolutely, I'm sure that you will be able to do that. No problem at all. So when you get into consulting, have you done consulting before? Or is that a new experience for you?
Ron Thurston 53:52 And not not formally? So it will be a relatively new experience. But okay, I definitely have a lot of skills that I know some brands are looking for.
Darius 54:01 Oh, absolutely. The skills are you you have more than you know, people can handle I can say, but it's just a work of consulting is different where you you don't necessarily have the, you know, the power to make the change that you're recommending. So you have to really work with the with the teams to to help them want to do it themselves. Yeah, I'm pretty influential. Yeah, we'll see. Well, I mean, that goes into selecting, yeah. That goes into selecting the right customers, right. So I'm sure you're, you're gonna have more than you can handle of requests. So the question is, and I don't want to like maybe I'm putting you on the spotlights who would be some of the few brands that you would really think that you would want to help. I don't know if you want to answer that or not.
Ron Thurston 55:05 Yeah, I don't know that I have an answer to that yet. derrius To be honest, I think it's, I want to be able to help brands make the positive impact on the industry, that, that they should. And maybe that is about store design, maybe that is about real estate, maybe that is about people and training and culture, and, and how to actually motivate a team and bring them forward, maybe have a great stores, and an incredible product. But the team needs a different different kind of training or store culture. I think it's navigating. Where's the opportunity? And how can I support you? And I think different brands need different things at different times. And it's it's not always about product or store. It's almost always about people, which is what I love to talk about every day.
Darius 56:04 Right. So are you interested more in working with brands and retailers? Or how about like, with startups?
Ron Thurston 56:14 Yeah, both both startups that are interested, maybe have a DTC business and want to go into brick and mortar, I would love to have those conversations, and potentially existing that are kind of stuck and don't know how to dig themselves out. I'd love to have those conversations too.
Darius 56:34 Okay, that's good. Yeah. I mean, that's like one of the, what I mean, people that are starting and in their earlier stages, they need even more help, and they can really make an impact when they become successful. So yeah. Awesome.
Ron Thurston 56:51 Thank you so much for for putting me on stage and shouting me out. I really appreciate it. darious. Thank
Darius 56:56 you so much, Ron, for taking time out of your valuable schedule to come and talk to me. I learn every time I listen to you and look forward to continued success for you.
Ron Thurston 57:09 Thank you. Thanks. And thanks, everyone for joining today. I really appreciate it. It's humbling.
Darius 57:14 Thank you so much. Thanks, Jeff. Michael Franco and comrades also for coming up. And I'm sure we'll see most of you in the room soon. Great. Thank you. Have a great day. Have a great day, guys. Thank you guys.