Interview with Michelle Grant SalesForce Sr. Manager of Retail Strategy Commerce Cloud and other Retail Solutions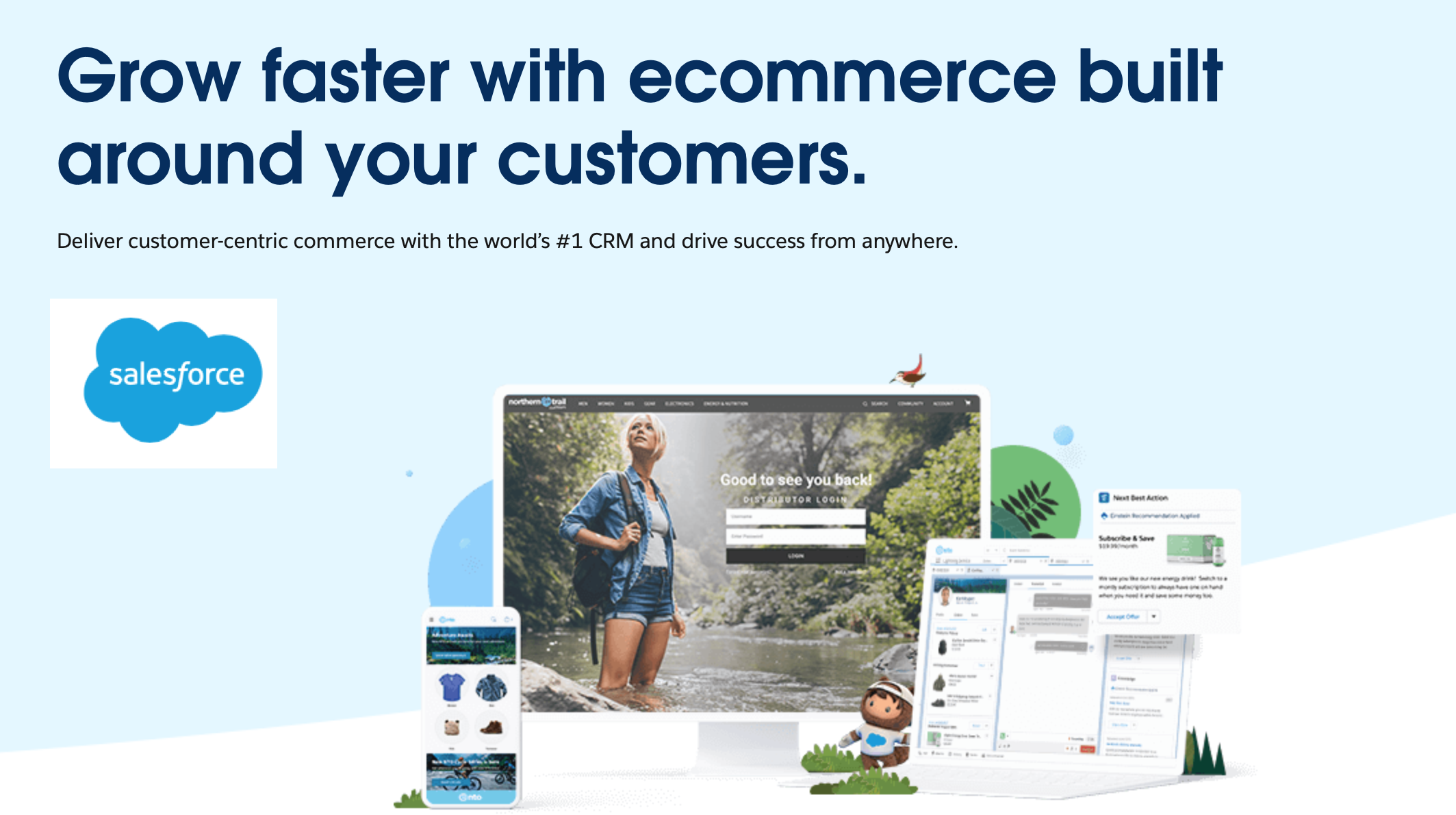 Today I'm speaking with Michelle Grant Senior Manager, Strategy and Insights, Retail and Consumer Goods at Salesforce.
Michelle is a seasoned researcher who helps global organizations build the future of their business. At Salesforce, she blends data and analysis to explore how digital transformation will impact the consumer goods and retail industries.
OVERVIEW:
Retail Reopening Landscape
Last year, loyalty was defined by convenience, safety and trust
What we're seeing and talking to execs about has been around how will they handle the volume, this surge of consumers returning to the store, while maintaining convenience, safety, trust and good service across online channels and in-store. Digitally there was about 40% YoY growth of net new digital shoppers, shaping new shopping behaviors and expectations last year
In the first half of this year, consumers will be testing the waters of returning to stores but in the second half, we expect a surge in consumers returning to stores as they release pent up demand for in-store shopping experiences. Businesses need to continue digitally transforming while leveraging integrated customer data to become more responsive, resilient, and efficient
Daily online spending in the U.S. peaked for Q1 on March 17, growing 117% YoY , coinciding with the official payment date for the first batch of stimulus checks distributed to approximately 90 million Americans.
Global digital revenue grew by 58% year over year (YoY) globally in Q1, driven by a combination of online traffic growth (27%) and an increase in the amount of money spent by shoppers per site visit (31%)
Digital revenue in the U.S. grew by 45% YoY in Q1, which is still well above pre-pandemic levels and slightly up from Q4 (43%).
Product categories with the most growth in Q1 YoY:
Sporting goods (101%)
Home appliances (96%)
Luxury handbags (95%)
Product categories with the least growth YoY:
Active apparel (42%)
Home, dining, art & decor (40%)
General handbags & luggage (8%
PRODUCTS DISCUSSED:
- Salesforce Commerce Cloud
- Salesforce Loyalty Management
- Partners
- Customer 360
TRANSCRIPT:
Darius 0:03 Welcome to the retail tech podcast. My name is Darius Vasefi managing partner of a startup studio called infiniventures labs and we specialize in retail tech, ecommerce and SAS products and technologies. This interview is on clubhouse and is being recorded. We'll be taking audience questions after the first set of questions. Today I'm speaking with Michelle Gran, Senior Manager strategy and insights, retail and consumer goods at Salesforce. Michelle is a seasoned researcher who helps global organizations build the future of their business at Salesforce. She blends data and analysis to explore how digital transformation will impact the consumer goods and retail industries. Welcome, Michelle. Thank you for having me. I'm excited to be here. Likewise, likewise, I've been meaning to get you on the podcast for a while and you're super busy. So I'm glad we finally made the time. I appreciate your patience. Yes. So the piano. So there's a lot going on. I think last time I spoke with you, you were not at Salesforce. But that was a couple of years ago, I released probably at one of the trade shows. And you know, a lot of things are new. So let's, let's just go into a little background of how you ended up at Salesforce. And then we'll get into all the cool things that are happening at Salesforce.
Michelle Grant 1:38 Definitely, yes, when we met, I was the head of retailing at your monitor International. Your monitor is a market research firm. And I lead our research program on the retailing industry. And what that means is that I oversaw the research done by our analysts in over 100 are in about 100 countries. They use different types of data sources to estimate market sizes, market shares, market forecasts for 30 different retail channels, including e commerce. And the point of that data was to help consumer goods and retail companies plan their international expansion and monitor their international business. So a lot of the data and analysis that I was involved in had that global focus. But of course, a lot of questions that we kept getting were around technology, especially as e commerce grew to be a sizable portion of the retail market. And that sort of led me to look at other opportunities in the technology space, right, I could see the data, I could see where things are headed. And I wanted to be a part of that. It's very fascinating. So I was very lucky to be able to join Salesforce in March of 2020, a month that I don't think anyone will ever forget, I had one week in the office before we all started working remotely. And here, it's still source, I use my research skills to study technology trends, both for consumer goods and retail to understand how that will change those businesses. And we use that insight and data to both help our clients and prospects prepare for that future, but also, you know, internally to help our account executives to speak the right language with our clients and inform our product roadmap. So it's been great to be able to use my research skills in this capacity and study the retail industry through the technology lens, as opposed to having an international focus.
Darius 3:53 Yeah, that's pretty interesting. I mean, you know, what about what a timing 2020? Yeah. The
Michelle Grant 4:03 digital technology company when everyone went digital first, in the same month was just incredible.
Darius 4:11 Did you go to that amazing new office tower in San Francisco? Is that where you work?
Michelle Grant 4:17 No, I'm based in Chicago. But we are building a Salesforce tower here in Chicago. It's still on track. Should be finished in about two years now. So I'm excited for that to open and obviously I have dreams of traveling again to San Francisco. I have not seen our headquarters yet.
Darius 4:38 Okay. Yeah, it's it's kind of interesting how, you know, you open up that wonderful, you know, building and then everything's shut down. And now. We're trying to figure out how to go back. That's the that's the next challenge of the next at least one or two years, I think for a lot of businesses.
Michelle Grant 4:59 I agree. Oh, We have, we're very, very lucky in our some of our colleagues in San Francisco have volunteered to reopen the office and they just went back this week. So I'm seeing their their tweets about the experience, which is great. Looks like it's a safe and fun environment.
Darius 5:17 Yeah, I, you know, I think everybody's excited to get into the office at some capacity. Maybe not 100% all the time yet, but you know, people want to get out of the house.
Michelle Grant 5:30 Yes. I miss my colleagues and I missed the snacks. Right? I want my pantry is not as well stocked. pantry.
Darius 5:41 Yeah, we can talk about the Salesforce snacks. I've probably just devoted an entire podcast to that. So with that, with that actually conversation, we can get started with your your next point of what you wanted to talk about is the retail reopening landscape.
Michelle Grant 6:03 Yeah, definitely. So one of the advantages that Salesforce has and is, we have our proprietary data set, we call it the shopping index. And it is data that we are able to see going through our commerce cloud platform, obviously, we made changes to the data to clean it to make sure that it's standardized. But it gives us a great look into what is happening when it comes to digital commerce in multiple countries and multiple verticals. And again, so great timing to be starting in March of 2020. When everything went digital over night, and it's been it was an incredible year last year for e commerce sales. And according to our data, you know, we saw a 40% growth year over year of net new digital shoppers. So a lot of people embraced e commerce for the first time last year. And then as we kind of transitioned in to 2021. We're sort of at a another pivot point where stores are reopening people are getting vaccinated. And and so it's kind of we're kind of waiting to see how much of that that digital sales actually sticks. But at least when it comes to q1 2021, we still saw a really strong growth in the US. In fact, we saw a peak happen on March 17, with sales growing of almost 120% as people started getting their first stimulus checks. And then overall for the quarter, the US was up by 45% in q1 of this year of 2021. So really still very strong growth in the US. But it was actually even stronger. globally. Europe and Canada, both still had to deal with lockdowns because of the virus. So we saw overall growth on a global level go up by 58% in q1. So again, even without the holiday spending that we saw in q4, still a very strong year quarter for for q1. But what's really interesting is when we started diving into what product categories were doing well, you can see the consumers are getting ready to you know, reopen and go out and see their friends. We saw that sporting goods did really well, in q1 home appliances. So people are still investing in their homes, still spending a lot of time there, but are eager to sort of get out and do recreation for the summer. So stocking up on product for that. But then the third top performing category was luxury handbags. So again, there's that hint that, you know, people are buying now to be able to go out go to restaurants. So we see a lot of growth in apparel and cosmetics going forward. So we're really sorry about this transition point. And it'll be interesting to see how much of this online behavior sticks over the summer, versus people going back into the stores now that it's safer with high vaccination rates.
Darius 9:24 Are you seeing differences between different product categories? As far as for example, the growth that we saw last year, over last, you know, the 40% growth, which categories are seeing the most growth.
Michelle Grant 9:44 So those would be sporting goods, home appliances and luxury handbags. Those are the top performers and the product categories with the least growth and I'm going to use the data points because at least growth is still really high in this type. For the environment, so active apparel was grew by 42%. And that's considered a poor performance compared to the other product categories, and then we have home dining are in decor of only 40%. And then general handbags and luxury of only a percent. So those would be those are the six categories at the top at the bottom.
Darius 10:27 Okay, that's, that's pretty amazing that an 8% growth would put you at the bottom. Yes, exactly. I don't think we're gonna see these these kind of numbers again, I mean, this kind of, you know, I mean, just compare comparisons. But that's pretty interesting. So, what's the what's the situation, right now for the rest of the year, as you're seeing from the data,
Michelle Grant 10:56 we're, we're very optimistic for the rest of the year, there's a lot of pent up demand for products still, especially in those categories, and enable people to, you know, have their best time out, right, so people are returning to restaurants or traveling. So that means categories like apparel, you know, makeup, you know, luxury handbags, all of those things are doing well. Going forward. And we expect that to continue. We're also very bullish, you know, for all of these celebrations that we had to put on hold last year, there weren't any, you know, Memorial Day parties or certainly weren't Fourth of July here in the US celebrations, everything was very muted, you couldn't congregate. So we have a feeling that people are going to be on a shopping spree to make the most of those holidays, this year and and see people in greater numbers and really throw amazing celebrations, which is exciting. We're also very bullish on the back to school season, again, wasn't the same. That has been because many students did not go back to school, in person. So like things like backpacks didn't do very well. But we're pretty confident that by September, most people, most school districts will be in person. And there will be a lot of purchases related to that. And then overall, again, with the stimulus and the high savings rate, there's a lot of income available for spending in these in the short term on, like I said, the summer holidays and the back to school, but looking further out for the rest of the year. We're very bullish on holiday as well, because again, people will likely, you know, we can't really forecast the behavior of COVID. But if we continue on the same track, the rest of the year is likely to be a year in which we're able to meet with people and travel again. So holiday is probably going to be very special with a lot of spending happening at that time. So we're very bullish overall at the retail industry will continue to do well.
Darius 13:27 Do you have any breakdown between online and offline numbers?
Michelle Grant 13:33 We don't we only track you yo commerce that goes through a website. But that does include any sort of transaction where you're picking up at stores, we've definitely saw that feature outperform last year compared to companies that only had a website. So if you had a store, I don't have the data in front of me. So I won't quote it exactly. But they grew at a faster rate than those that didn't have a store for fulfillment. So people really did grow accustomed to either the curbside or buy online pick up in store. And that was an advantage for people to get their products, you know, same day on, you know, while going out for air and so that that that's something that we do keep an eye on, but we do not have visibility into how much was spent offline.
Darius 14:30 Okay, that's pretty interesting. So that your data shows that companies with physical locations actually grew faster. Yes. Okay. I definitely be interested to see if you know if you can, like, you know, give me some of that information later on. And I don't I know you don't have you right now but any that's very interesting because that's, that's one of the one of the questions in a lot of, you know, online commerce companies and a lot of them Or I mean, I don't know if a lot is, is a good word actually, but quite a few are actually starting up local presence.
Michelle Grant 15:12 Definitely, that's another trend that we're keeping our eye on, you know, Coresight research is estimating that there will be more stores opening this year than closing, which has, you know, been, I can't remember last time where we didn't have store shrink happening. So people are optimistic that, you know, in this environment, you the power is with the retailers of the brands, now they can negotiate more favorable leases, there's a lot of real estate, prime real estate still available. So their risk of signing a lease, you know, not short term, and maybe it's a cut of your revenues, you makes it much more flexible for the retailer or brand to take that risk in opening a physical presence, and so many are taking advantage of that. This year. So yeah, the store is not dead.
Darius 16:07 Yeah, I mean, it's this is one of the the key themes around that people are asking, you know, what's the future of the shopping malls, for example, what's the future of the we are actually, I'm a part of the shopping mall group as well. And we have a room to this afternoon where we talk, you know, about the shopping center business, our, you know, one of our companies in the studio is specifically about local e commerce using live video. So that's near and dear to my life. So I'm very interested in how the, you know that how retail is going to cope with the fast adoption of online commerce, where people are actually not coming to the store as much. But there is a distinct, distinct, in a competitive advantage of having a local store. So that's a very interesting dynamic, like, you know, people are just not coming to the store. But it is better if you have a local store. So how does, how do these? What it may sound like counter argue, you know, you know, points are actually putting, you know, it's like, one plus one is like three or something like that.
Michelle Grant 17:25 Yeah, yes, definitely, I think, you know, we've seen in the data, usually, when you open a store, your online sales go up as well, right? If people are walking or driving by the store, constantly, it serves as a billboard. And people you know, they don't see channels they want to buy online returned in the store, they want to buy online pick up in the store, you know, and I think a lot of people underestimate the power of shopping as a leisure activity, you want something to do. So you go to a store, to you know, check out the new merchandise, you know, be inspired, discover new things. So yeah, the store isn't isn't going away. And for some categories, the bar is much higher to get people to come into your store, but people still do and want to. So that's, yeah, you really, you know, there's, as everything is, you know, it's complicated, and you have to think about what's best for your brand. But overall, I do think that, you know, the store coupled with e commerce is sort of your best bet to be successful.
Darius 18:31 Great. So let's talk about Salesforce, and what Salesforce what software and solutions that Salesforce has for retailers.
Michelle Grant 18:42 Yes, certainly, this is exciting. Um, so the the main product that we have for retailers and brands is commerce cloud. And so that's quite simply the website that you see to make a purchase. So some examples of our clients are Adidas, Kellogg's, Cargill, elf cosmetics. So if you go to their websites, that's actually Salesforce technology that's powering those web sites.
Darius 19:15 So can we talk a little bit more about what actually is commerce cloud, actually, how does it work? What what's included in it?
Michelle Grant 19:26 Certainly, so there are, we sort of talk about three main differentiators about our product and the first one is that it enables you to have a single source of truth about your customer. Your Salesforce originally started out as a client relationship management software and we're the world's number one CRM, and to commerce cloud, you know is built on that is plugged into that so we're able to really connect your your your commerce experience with other types. Have services like your marketing, sales, service or management. So it all comes bundled can come bundled together. And that'll give you a more complete tech stack for your your commerce. But speaking about that, that single source of truth, it really gives you a complete real time view of your customer and how they're behaving, and then how you can optimize that behavior to to grow your sales. Another really cool part about commerce cloud is that it comes embedded with artificial intelligence. And we hear a lot about that. And what you're able to do with commerce cloud is pretty spectacular. It's great, great functionality to deliver the best in class commerce experience. And the first is your product recommendations. So using all of the data on Commerce cloud, to make sure that you're recommending products accurately to your customers, which increases average value, average order value, and, you know, keeps people coming back. The other thing for that commerce experiences that we have intelligence search. So when you're typing in and looking for a product, that artificial intelligence can predict accurately the you know, the product that that person is really looking for. And that's a very complicated problem to solve for, especially as you expand the number of products you sell on a website. So that's great that it actually comes with the website. And then finally, you know, we're all about data here at Salesforce and having access to it and then making sure that it's accurate and clean. So there's a commerce insights, component to the product that allows you to really analyze what's going on, to better optimize your website. So yeah, there's lots of great things that come without artificial intelligence component within commerce cloud. And then one thing that we maybe you know, it's kind of like boring and dry, but really important and extremely important last year, when your stores closed was that we have a 99.99% historical uptime. So when, you know all of these people flooded in to make their purchases online, because stores are closed, you know, the commerce cloud did not fail, it did not go out of service, people can transact. So the whole system is built to be scalable, based on your demand and very fast. And then overall, to sort of wrap things up is innovation is one of sales forces has key values. And so we release new functionality three times a year. So commerce cloud is always evolving, it's always changing to make sure that we are meeting our customers needs and helping them be successful.
Darius 23:01 So that's, that's pretty interesting. Is commerce, commerce cloud is all. It's a cloud based now, correct?
Michelle Grant 23:09 Yes, it is so known, you don't have to deal with servers, you don't have to worry about your own capacity. It's It's all in the cloud. So again, really pivotable, pivotal, pivotal, when things shut down, and people had to work from anywhere right? To where you didn't have to have like an IT person sort of in the server room, making sure it didn't crash and burn, because of all this overwhelming demand. Yeah, I
Darius 23:33 think in general, all retailers, even the, you know, really large ones are mostly on the cloud these days. But they're still I think, some that have physical location. So that's why I was asking the and then so is the commerce cloud is actually built inside of Salesforce. Correct? Or was it purchased?
Michelle Grant 23:58 Oh, yeah. So commerce cloud was originally called demandware. Okay, so the purchase happened about five years ago. So yes, it's an acquisition, but were well integrated into the Salesforce ecosystem. Now,
Darius 24:13 do customers need to be a Salesforce customer back on the CRM side to use a commerce cloud?
Michelle Grant 24:21 No, not at all. Everything is built to be standalone. So you can have commerce cloud, but you don't need a CRM and you don't need our markets, Marketing Cloud, you can, you know, pick and choose what which of our products to use, which is great. So there's a lot of flexibility and customization that can go into it so that it's so your tech stack is best suited for your needs. And I will also say that we work with companies of all sizes, you know, we call it commerce. But you know, we have you we work with small enterprises All the way to the large, large enterprises across verticals, we're obviously we're focused on retail and consumer goods here. But commerce is, you know, pretty broad topic. And like I said, even Cargill runs on Commerce cloud. So it's not even, you know, it can be applied across different verticals.
Darius 25:22 Okay. So let's go to the next product, which I believe is the loyalty management.
Michelle Grant 25:30 Yes. So this is exciting. I've always had a passion for loyalty, even at my research days at your monitor, because it impacts all of these different industries. And it's just a really critical tool for retailers and brands to be leveraging, in general, but even more so now. So we launched the product at the beginning of 2021. And like I said, I've been spending a lot of time in this space. And again, the imperative to have a loyalty program is even more important. now than ever, we saw in 2020, according to McKinsey, that a third of customers tried new brands, because of supply chain issues. So if your preferred brand was in there, you were, you were buying a substitute, and then 80% of those people intend on sticking with that brand. So there's a lot of, you know, there's a lot of I mean, it's great, there's a lot of Competition and Consumer Goods and with retailers, that people shop around the internet allows that to happen very easily. So having a loyalty program is is critical in order to you know, keep your is one of the tools to keep customers loyal to you. So we've launched this new end to end solution that really allows our customers to keep track of their customers and manage the loyalty program. And really what I mean by manage it is it allows you to set up membership tiers offer personalized promotions, and really track the program very closely to make sure it's successful.
Darius 27:16 Is this an add on to the to the Commerce cloud?
Michelle Grant 27:21 No, again, it's completely standalone. So if you have a different commerce provider or different marketing provider, you can still purchase our, our loyalty program and benefit from that, because we can use API's to integrate with anything.
Darius 27:39 Okay, that's very interesting. I like the fact that it is these these products are independent. And of course, if you have more than one of them, they probably integrate more deeply together. Right? Oh, no, I would,
Michelle Grant 27:59 I wouldn't. I mean, I think there's probably some synergies, but I wouldn't go too far in saying that. I mean, mule soft, which is one of our products is is one of the best integration companies out there. So they do excellent work to make sure that everything works together across different types of products.
Darius 28:19 Okay, great. Well, yeah, I mean, there is, there is definitely a lot of information on what's going on. And you know, we don't have a lot of time. So I'm going to move through this pretty quick right now. Maybe we'll come back to them later, at some point of time. The next one is I think, the partner program.
Michelle Grant 28:41 So yeah, so I just talked about two products that are, obviously can be used across industries, but are particularly relevant for retailers and brands. But at Salesforce, we know that we're not, you know, solving for every problem. So we have a partner ecosystem. And we have two types of partners. The first is a consulting partnership or agency partnership. So that is a company that takes an advisory role on digital transformation for a retailer or brand and they're well versed in the Salesforce product. So they'll guide the their their client on their roadmap for technology. And if Salesforce is the chosen technology stack, that consultant will help them implement the Salesforce technology. So you get that sort of holistic view on how to plan your entire digital transformation, and then use it you know, Salesforce products to achieve that. And then the second type of partner is a technology partner. So for example, we work with avalara and they specialize in online tax compliance, both globally and in the US. So we you know, don't have a tax compliance engine, per se. So avalara is really good at knowing what kind of sales tax, a company needs to remit to the government. And so you can go and you can work with avalara and plug them into, you know, our commerce cloud so that your tax issues are you know, you don't have to think about that, you have a service to do that. So we have these two types of partners. And then our customers can find them on our app exchange, which is the world's leading enterprise cloud marketplace. So that's a great way to both extend sort of the best way to implement a Salesforce product and find technology or new products and services that we don't necessarily cover but will integrate with.
Darius 30:49 Okay, that's interesting. The second one, the app exchange is of interest for myself, as we actually just our company, visional just got accepted into the Microsoft for startups program. And we're looking at some of the integrations with them. But, you know, I think that the key for for any new software, and regardless of the size of the company these days is to play with others. Well, you can't just have a closed system, you. So that's what we're trying to do. I think I'm interested to look into the app exchange. So yeah, I mean, you have to be open.
Michelle Grant 31:32 Yes, I agree. And I think and yeah, a lot of our partners, you know, we're not, there's no exclusivity, so they'll integrate with Microsoft, or, you know, big commerce or Shopify. So they all have this, this app ecosystem themselves. And so our partners, you know, we've worked with them to, to get accepted to, you know, integrate with with their customers. So yeah, so if you're a small technology partner that specializes in a part of the commerce ecosystem, you should be looking at all of the different big platform players like Salesforce commerce, to integrate with to grow your business.
Darius 32:12 Okay. That's, that's good to know. Now, let's talk about commerce 360. So commerce 360 is a combination of all of these together.
Michelle Grant 32:26 Right, so I am taking you through a few of the core products, but overall, Salesforce, his mantra is customer 360. Because we have a suite of products that allow you to engage with your customer at every touchpoint every part of their their purchasing journey. So customer 360 is sort of our shorthand, let you know that we have a Marketing Cloud, a Sales Cloud, the commerce cloud, and the Service Cloud. And those are just broad classifications about what all of those clouds are, they obviously have very detailed use cases. But again, the premise is that you can build your full technology stack on Salesforce products, and that enables, you know, one sort of system maybe easier for for the end users, and all of the data is one in one place is accessible to everyone. So that makes it a lot easier internally, right? If you're only accessing, you know, one sort of point of single source of truth. So yeah, that's just sort of a kind of a general overview that sales versus is a very big company with a lot of products. And the aim is all of these products are geared towards every sort of use case, you would want to interact with your own customers from marketing all the way to service.
Darius 33:53 So when when you look at the the ecosystem of all the different things that retailers have to deal with, when they you know what I mean, today, in today's world, right, you know, you have an online store, as well as maybe local stores. what's the what's the biggest, I guess, missing piece in the solutions that they're being provided? Right? I mean, you know, ecommerce platforms have been around for a long time. So that's, you know, that everybody knows what those are. And, you know, analytics, also, there's, you know, there's analytic software. What's, what's the, I guess, the least known part of the puzzle that retailers really need to get good at?
Michelle Grant 34:48 Actually, you know, I would say analytics with our tableau. You know, obviously, we acquired Tableau and that is, you know, best in class when it comes to analytics. In our discussions with retailers, they understand the need for data. But there is a lot of hurdles in actually making the data actionable. So that I think is something that I've learned in my discussions with retailers, from anything from marketers, to service people to store operations to supply chain is, yes, they have a lot of data, especially if you're a large retailer, but it's coming from different sources. It may not be clean and standardized. There's still a lot of hiccups in like making sure that the data is inputted properly. And then how do you organize it in a way that all of the relevant units in the business can access it? And then how can they make it you know, actionable? How are they actioning on it, you know, as retailers get so big, and so cross functional, just the organization and accessibility of the data is very difficult. And so that's something that Salesforce is working on with a lot of clients is to sort of have that data strategy plan. So first, you have a data strategy of like, what sort of data are you going to collect? How are you going to clean it? Where do you centralize it? Who do you give access to? And then how do you make it actionable. So I think that's been the most surprising, and maybe underlooked topic of the day for retailers is really how to use all of this great data in order to be more efficient and drive top line revenue using using that data.
Darius 36:43 Okay, so just a quick reset, I am speaking with Michelle grant, co manager of strategy and insights for retail and consumer goods at Salesforce. If anybody has a question, please raise your hand. And in a couple of minutes, I'll you know, bring people up if there are any additional questions for Michelle. So, the reason I asked that question, Michelle, is that for me, it's almost like the loyalty management part. And almost the like the the beetus See, CRM is, is a really big gap right now. And it's something that is just like really evolving at a pace that we don't know how to handle it. So maybe we can talk about that a little bit more like, you know, what is a CRM system, for example, that a b2c company should be using? And how, how does that CRM system actually tap into all of the different I guess, touchpoints, with the customer, you know, with prospects and with customers, and then how does that all, you know, wrap up into this holy grail of loyalty?
Michelle Grant 38:07 Right? So let's start with the CRM. And what you would, what a good CRM would do is, you'd have a customer record. And in that customer record, you would have the name, address it based on their shipping needs, maybe some, so let's just start with the basically the customer record of name, address, it's probably the most basic that you'll get, just by having a transaction happen. And then if it's united with other services, you would know I should say, the physical and the email address, maybe you've asked for a text message for tracking and you would put the phone number in there. And a excellent CRM will then build in other types of data about that customer. So any sort of, you know, Id from you know, their marketing processes, then you would know they've opened this email, or they open these types of emails, they don't open, you know, they're more interested in the promotional emails, and the sort of branding or new product emails they don't respond to. It would also include service records. So if they had to return an item, or they had a problem with something and they called the agent or the email does that would also be loaded in the customer records. So you would be looking at no matter where you were, if you wanted to look at a client, you'd have every sort of interaction that customer had with your company in one record, so you're not, you know, looking through different systems to find it. So the marketing activities aren't siloed into that marketing database. The service is in activities aren't just you know, available to those in the call centers. For service people in the store, it's all brought together in one place. And then you're able to action that data in those different types of,
you know, use cases. So you would say, Okay, well, this person is an opening these types of emails, let's take them off of this customer journey that we have them for, so that they are more, you know, they're slotted into this audience segment of discount only type of email journeys, if they have a lot of, you know, service issues, and the service agent knows, okay, well, we've really, you know, kind of like messed up with over the past, we should treat them with greater care that we maybe normally would have. So you have all of that sort of great information already. Again, if you've done your data strategy, right, you have the right place, the right, the right structure set up, and you're it. But then we're the loyalty program really comes in and makes it even stronger is that, you know, there's a couple of sort of major trends around loyalty. The first is that the, the ways that we track people online are going away. So the cookie for the browser is going away, Apple is in now, not allowing you asking, if you open an app, you have to opt into tracking, as opposed to opting in on your own in some sort of settings very deep within your phone. So the ability for marketers in particular is harder to find information out about their customer. So a loyalty program becomes even more important, because that's a way that you're able to get a lot of information that the customer gives you in exchange for for points. So our loyalty system will then upload that data into the CRM, so that you can keep an eye and have more information about that customer than you would have normally. And then the second thing that's really driving loyalty is that it's just a really competitive marketplace out there. I mean, Amazon has over 400 million skews Walmart's expanding its selection in pretty much you can find any product that you want online now. So what helps you keep your customer coming back to you. And one of those levers is a loyalty that you get rewarded for consolidating your spend at a certain brand or retailer. So it's a competitive advantage of done right. And so our loyalty program is definitely there to integrate with our whole ecosystem. Ours, you know, obviously, I have a bias. So we obviously want you to have the whole Salesforce ecosystem. But again, it's a standalone product, and it can integrate with any other type of system. And that, again, allows you to really understand your customer at a deeper level, because you have more information about them, that they volunteered for you. And then that means that you can market to them better. So you know, your VIPs you understand sort of what their behaviors are. So you can tailor your marketing messages to them. You can also enable your store associates who say you're a high end retailer, you can keep track of your VIP spending. And so that store associate knows when you walk into the store that you are a VIP and know should get get, you know, like immaculate service, because the likelihood is that they're going to spend a lot of money in the store visit. So it's all in one place, you really get this deep understanding of your customer. And then in return, you're offering them rewards and adept redemptions that that drive their loyalty. And that's one of the things that we found when we're doing research around loyalty is in a lot of the technologies is dated, and it's set up for simple earning and redeeming of points, which is how loyalty programs got started. But consumers especially younger consumers want more experiential rewards they want community they want an event that they want to redeem with partners and and the technology as it exists in the marketplace, in our view just wasn't up to that use case. So that's also what is built into our loyalty management is the ability to be flexible and evolve your loyalty program to meet the customer's needs.
Darius 44:38 Okay, that's great that yeah, I think one of the things that the parts that is key is having a single customer profile, which we you know, you started talking about is where you or anybody can go and find out everything about that customer, all of their past behavior. You know, Any any service issues purchases from online in store. And that's such a powerful thing to do. And it's not easy. It requires integration into so many different systems. And, and that's, that's like one of the key things for. And you know, a lot of times that can also turn into an account where you can engage customers even more by upselling things to them in the account and offering even loyalty options to them. I mean, amazon prime is probably, you know, probably the biggest loyalty program right now. And that's how they, they optimize that by getting people get into the the prime account and showing them all the different benefits.
Michelle Grant 45:50 Yeah, exactly. And that's another trend where we see a lot of retailers trying, or not even trying at this point, but offering there Oh, well, some are trying like, you know, Best Buy is piloting a paid for membership. So you get access to certain services and, you know, product repair, to see if people are willing to, you know, pay for that type of service. And then obviously, keep them locked into the Best Buy ecosystem. Another retailer that's had success, a great success with their membership program is Restoration Hardware. Which is, you know, one of the benefits is if you're a member, you get lower prices, and the membership only costs $100 which is not a lot of money for people who have Restoration Hardware for luxury furnishing store. So yeah, that's a Oh, Amazon Prime obviously changed the game and what loyalty could be your people paying for a set amount of services and you know, that that that keeps them loyal to the brand and yeah, that's certainly something that you know, our platform would would help with too. It's it's meant to be extremely flexible.
Darius 47:01 Great. Well, we have a somebody Mustafa on the on the call. How are you a stuffer? Hello, how are you? Good. Thank you. What? Thank you. I want to get happy about this. Your your audio is very noisy. Are you on speaker knows better? Yes, yes. But I have an echo. Sorry. I can hear my voice. So somehow. Okay, I can I will change your mind. Okay.
The challenges of, you know, today's technology.
Michelle Grant 47:57 No, I agree. Yes. That's why we did a little soundcheck before and it always even still after, what a year over a year working from home, it doesn't always work the same way that you expected to.
Darius 48:11 Right. Right. So. So yeah, this is this is very interesting. I mean, this whole concept of loyalty is do you think the loyalty is going to be a bigger part of the, you know, what, you know, retailers offer? Or is it going to stay at the same rate? Like just a few people trying it out?
Michelle Grant 48:34 No, I think I think loyalty. I think, I think because of the changes and how we track I shouldn't because of those changes online that I said about the the cookies and the apple changes. First party data is is just critical. And so I think everyone will try to have loyalty program. When it comes to you sign up your account, they asked you a few questions about yourself. And I think i think i think that people will all try it. Now. Whether or not it'll be successful is another story. But I did read. So Maybelline, for example, launched a loyalty program late last year, because they're predominantly wholesale brand. And they didn't have any real data on their customers, because they're just selling through retailers. And they had you know, people are loyal to enabling you there. They're probably your most loyal customers are likely to sign up that loyalty program and give you information about them and then stick with you. Because, you know, they're loyal to the brand. They we obviously want product exclusives and points to redeem for things. So I do think that every brand and retailer that sells to a customer, whether it's a consumer or even a business will have a loyalty program and It'll be imperative to structure in such a way that it does be successful and reward your your loyal customers and it'll be interesting to see if it can move the needle on someone like obviously like if you're loyal to a brand, you're going to sign up for the program, you're probably going to keep your spending and maybe spend more with them because the loyalty program incentivizes that behavior. Well we'll be interesting is that if you can convert some casual shoppers of your brand to more brand advocacies because of that loyalty program, so I think that that will be the challenge where some of the retailers or brands that don't have a high amount of loyalty may struggle and may shut down loyalty programs or really strip them back to the bare basics but I do think even if they aren't successful necessarily in driving different behaviors they are important for information gathering about your customer.
Darius 51:02 Okay, great. Thank you so looks like we have one suffer back let's see if his audio is working good. Yes, I will try now. No, it's okay. Okay, it's much better Yes.
Unknown Speaker 51:13 Yeah. Okay, thank you what I really hear to your fight and you really value this kind of discussions about the analysis of retail and the comments in general and the I will talk about two point the effective of data analysis and retail and the I already I worked before as a sales in offline store in Dubai landmark company and I was see effective of Zelo reality card how it was helping is a combined to reach the customer need as much as they can because they can track what which kind of customer like to buy the group of items and also which she is in summons is traffic of customers in the store it's higher which she days through it's helping too much that availity car and this is a great example of using this kind of options to come and go much better in e commerce so websites like Amazon i think is a use this tools but but by another way by artificial intelligence way not like the old school because we can see about the eligibility card for some physical store it's like old school or the old the wave or for tracking discussed my first point is as as
Michelle Grant 53:07 I just wanted to say that I agree with you and that is also an important point is that the loyalty program when you use in store gives you also a lot more visibility into their customers behavior, right? So online has been easier because you can actually track everyone's movements on your website what they're putting into car what they're taking out of their car, what they're pausing on. And then that's LinkedIn ID that you can monitor but you know when someone's in store and and paying in cash you know you're not you don't have any visibility unless it is linked to the loyalty card numbers so great point.
Unknown Speaker 53:48 Right? Yes, yes. The toy is like tracing the development of online business and these are ecommerce it's becoming more faster and mature with the reasons our offline store
Darius 54:04 Yes, definitely. I think it's a good point. So what kind of products did you sell? Mustapha? Was it like high end fashion or
Unknown Speaker 54:14 it was like a peak loss plus fashion. Okay, some time it's been between of a class and the B class. Okay. And I was working this company called landmark z call it in Middle East is a retailer school.
Darius 54:32 Okay, so they have multiple,
Unknown Speaker 54:35 too much training about with as a retailer.
Darius 54:39 Okay,
Unknown Speaker 54:40 this is helping me too much to learn about retail. And they at this time it was around 2015. There is no too much a tools of analysis and visualization to help these companies to have a right decision for investment. At this time. We will do it manually by Excel to come no every week what is the best selling? What is the what is to selling? What is the best selling in each area and in each store? And also service to selling before which we which? We do we did all of this manually. Wow. But now with some set of some programs like Salesforce and Tableau and Power BI, this kind of programs, the helping too much. And you want I have a questions here about the hiring of data analytics and the sales analysis of the company for companies. Okay. My question is most of those companies ask for computer science background. And the my, my opinion in this point, z should be retailer bank. So we're helping the business too much and helping the company too much. When the analysis name calling from the same school as the ceiling, the bank wants you to tell Nichols then you hire a computer science background, and it gives him some information about
Darius 56:21 that's an interesting point. Yeah, it's an interesting point, Michelle, what what's what makes the best analyst somebody with the retail experience? Or a tech experience?
Michelle Grant 56:35 and sorting? So I yeah, I think Well, obviously, in my opinion with both is, is great. Um, and I think first of all, I want to do a little plug. Salesforce has a program called trailhead, where you can get certified to be a Salesforce admin or a data analyst through our own program. So whatever your background is, it does not matter because you can learn online through trailhead to learn those skills. In fact, I and then, you know, for Tableau for data analysis, I am starting my Tableau classes next week. So I knew enough about Tableau to be dangerous. I use it obviously, to crunch our numbers. But I am taking classes this summer to upskill in tableau. So Salesforce, like a lot of tech companies now are really embracing the idea that a lot of these skills can be taught, you know, online and at your own pace. And you can get certified like that. And that certification is valuable in a lot of different parts of the Salesforce ecosystem. So my recommendation is if you're looking at Salesforce, definitely go to trailhead comm and see what kind of certifications are out there. That might be interesting to you to you know, enhance your skills at whatever company you're at, or, you know, come to apply for jobs at Salesforce or even our competitors. I'm sure I think Google has a program as well now for different certifications. So I do think that the blend of these types of certifications coming from the companies themselves with a retail background is powerful. And I agree, you don't have to come from computer science. I don't actually a lot of my team has come from the retail world and, you know, are now in the technology space. So I do think that there's that, in general, I think people should be looking outside of the box and not have these preconceived connote notions of what what kind of background makes a good employee. But then there's all these additional resources now to get those skills. You know, obviously, you know, if you really want to work for Salesforce, trailhead is going to stand out you want to go for for Google, their certification programs would stand out, I'm sure the same for Microsoft. So I encourage you to anyone to look at those resources to upskill and see what opportunities there are to work in the tech world without having studied computer science. We know I mean, there's, we even have a Twitter handle about trailblazers about a bunch of different people who would work as Salesforce admins and didn't study computer science. So I think that a requirement is going away. The other thing I will say is that the retail industry has had to invest heavily in technology. And so there's quite a few people within the retail industry that I'm sure didn't study that studied retail that didn't stay Computer Science but learned on the job about the technology and you see them now, you know, flitting in between tech and the retail world. So there's a great a lot of opportunity for people who, who, who didn't study computer science. In fact, I was, there's a wall street journal article about Levi's, who is paying for people's education in data science to get them upskilled to help the Levi's business. So I think the mindset is changing. And there are companies that are open to people of all different backgrounds and are willing to invest in them to get the skills that they need.
Darius 1:00:38 Yeah, that's a really good point. Good questions. Mustapha. Appreciate it. So with, with Yeah, with this, we are going to end the room. If you want to stay in the in the loop, please follow the retail Tech Club. You see the name on the top of the name of the room. And you know, I have different different rooms over the week talking about different parts of retail, we actually have an open conversation room tomorrow on Friday mornings. So love to get people come in and have the conversations over there. Thank you. Thank you so much. Thank you, Michelle. And yeah, Mustafa. And, you know, look forward to follow up and see you know, how things What are predictions for the rest of the year how they help hold up? Yes, definitely. So exciting part of the job. Yeah. All right. Thank you so much. Have a great day. Michelle, and everybody else here. I appreciate it.