Interview with JLL Director of Retail Research James Cook on the latest in Shopping Center Tech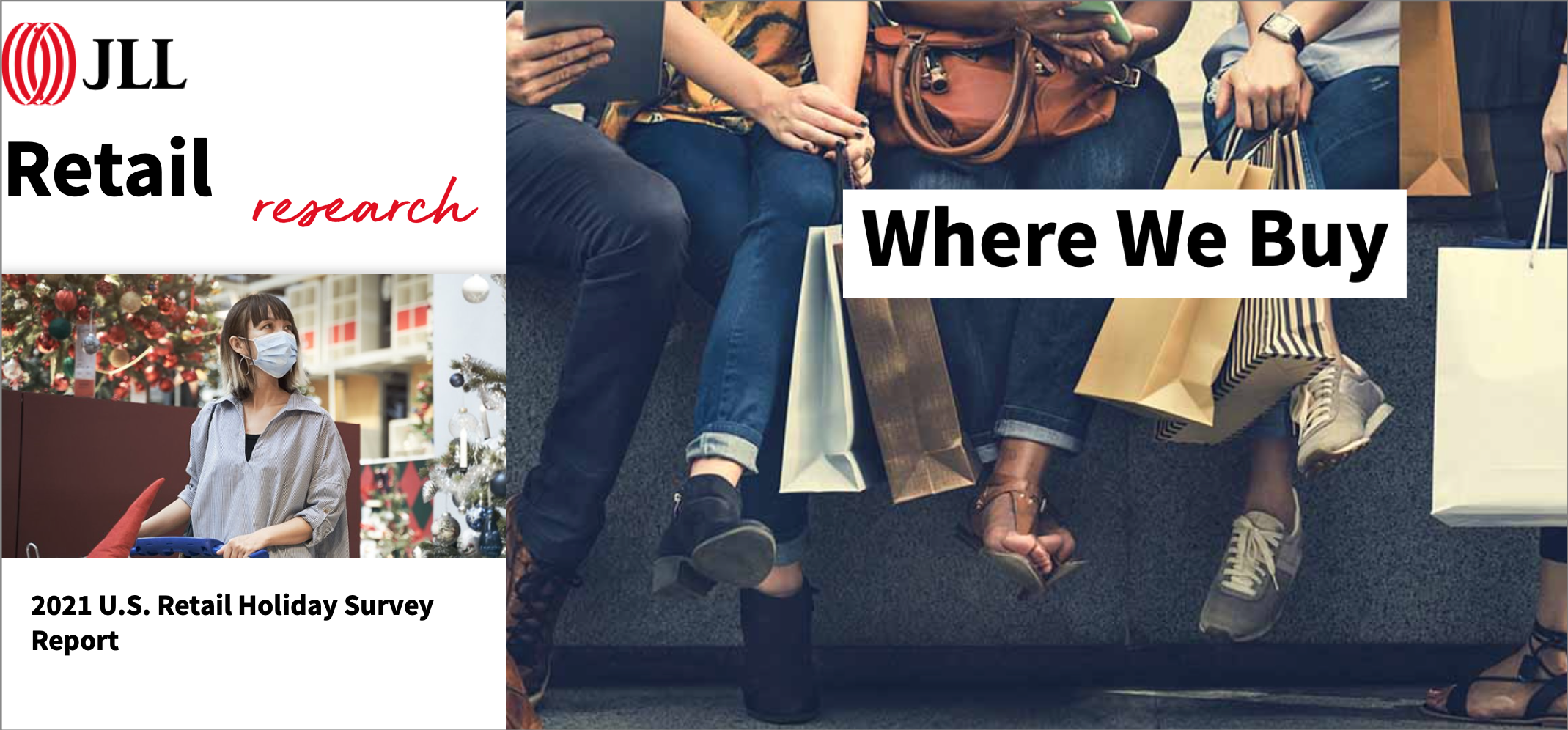 In this interview Darius spoke with James Cook, Director of Retail Research at JLL the commercial property development and management company. It was a great conversation centered around the shopping center and retail side of JLL.
You can find links to other JLL resources at the bottom of the notes as well as how to connect with James.
TRANSCRIPT:
Darius Vasefi 0:00 Welcome to the retail tech podcast. My name is stereospecific, producer and host. Today my guest is James Cook from a company called JLL. They do a lot of different things with properties. And it's a very important topic right now, especially after the pandemic. Good morning, James.
James Cook 0:18 Good morning, darious. It's great to talk to you.
Darius Vasefi 0:20 Likewise. Thank you for joining me. So what can you do a proper intro.
James Cook 0:25 So I'm a retail researcher, I lead jails, North America retail research. And so that is really about physical retail space. So shopping centers, high streets, malls, grocery stores, all of that stuff my team does research about, I like to say that our job is to think about the future of retail and retail real estate. And gll is just a global property services company. So we manage in the retail world, we manage shopping centers, we help retailers, open stores, we design stores, and then we also do lots of stuff in office and industrial. And we're kind of all over the place when it comes to commercial real estate.
Darius Vasefi 1:17 Okay, yeah, I mean, that's the company is really very impressive. And the way I found out about you is your podcast with I think what I found on Apple, which was really well done, and one of the things that I think is missing is information sharing in this retail industry, by people that are actually doing the work, not just like, you know, talking about it, which is okay, too. But like people who do it have a very interesting perspective that we don't hear enough about. So I was really impressed when I saw your podcast, and in the guests, and the quality was really good. So I mean, the topic of retail and the future of retail, it's probably one of the most talked about topics in this today's world, especially after the pandemic. So I mean, we could talk hours. Let's talk about let's start with talking about shopping centers. That's, that's a key focus for us right now. And everybody's asking, what's the future of the shopping center? Very big questions, very complex. But maybe we can start maybe digging in a little bit more from your point of view on what you're saying.
James Cook 2:36 Yeah, so when we use the term shopping center, there's actually a couple of different categories that go into that. So there's the you know, what you would call like the daily needs Center, which might have a grocery store or a, you know, a drug store, and those through the pandemic of foot traffic was through the roof. We actually saw historically, for the past, I'm going to say five or six years, Americans, now we're spending more on eating out than they were at the grocery store and the pandemic hit, and that totally flipped. And you know, for that, to say 12 month period, Americans were again spending more at the grocery store. And that's really where they were going to the grocery store, Walmart, Target, and then everything else was online. So those places were dealing with unprecedented foot traffic and unprecedented online orders. People you know, clicking you know, buy online pick up in store grocery stores like they've never seen before. So the future for those centers is kind of dealing with this new reality. This new omni channel reality where a lot of shoppers are now expecting the center to be designed in such a way where they can quickly get in and pick up the online orders. And the the stores themselves have had to be redesigned in order to fulfill those online orders. But then you have enclosed malls, and they've really suffered through the pandemic, there's just no way around it. People just weren't going to the mall. Since restrictions have been lifted and people started to feel safer. We've seen foot traffic really start to recover at the enclosed malls. But the pandemic revealed this huge disparity. I'm sure you've heard a lot of department stores closed. re some retailers went bankrupt. If you own a not great mall, and you now have a huge vacant, say 100,000 square feet of space. You might not be able to find anybody to lease that space you so now you've got a corner of your mall that's completely dead. Now if you own what we call an a mall, which is the good malls that have you know you're in a name or if it's got say a Tesla dealership or an apple store. William Sonoma, if you're in in a mall, and you lose a department store, you know what you can figure out something to do with it, maybe put in a food haul a restaurant, you know, some new cool internet, you know, digital native concept. There's ways to use that space. So it's not the death of the mall by any means. But what's happened because of COVID is a total bifurcation, where we've got just a handful of these great a malls that I think are just chugging along and recovering quite nicely. And then what we would call like a sea mall, which is now really struggling.
Darius Vasefi 5:35 Okay, so that's a good differentiation. As you know, when we say started shopping center, not all of them are the same. So. So that's really good, too, to think about, but this trade is really not new. For the pandemic, right? Well, except maybe traffic to the smaller and grocery that's really picked up. But the downtrend to the large malls is not new, it just got accelerated. Is that correct?
James Cook 6:02 Yeah, that's absolutely right. It's a trend we've been seeing for. Boy, I want to say maybe 15 years now. But it's been a slow burn. And the pandemic just clicked it into high gear. And you know, we just saw all these bankruptcy announcements. All these announced, you know, especially the department stores, those are the toughest closures for malls to handle because, you know, we call them anchors, because they really do anchor the traffic to the mall and create it for what it is. And honestly, malls going forward, they're going to have to reinvent what that anchor is because you don't, there's not going to be a need for say three or even two department stores often in in a mall. So you got to figure out what's gonna be that new draw of foot traffic of shoppers.
Darius Vasefi 6:53 I think that's a really good phrase reinventing the mall. And they have to reinvent themselves in many different ways. And from my experience, it seems like their lack of probably more like familiarity and usage of technology, modern technology is probably their biggest Achilles heel and that's where it even affects their revenues, their leasing just their customer acquisition traffic everything so let's dig in and talk a little bit about technologies that you see being used in the malls that are more successful. Yeah, good.
James Cook 7:37 Yeah, it's absolutely the case that the model of the mall was invented in the 1950s and it really hasn't changed all that much. And sort of you know, there's been a haphazard approach to testing out technologies now many many mall owners are very forward looking and are experimenting with all kinds of different stuff and you're gonna see that most again I'm gonna use this term a mall. The the best malls are the places where they have the capital to experiment and invest in new technologies. And you can see that in a variety of different ways, even from parking technologies, you know, installing sensors and parking structures, so that you could look on an app and see what were the open spaces are in the in the parking structure at the mall, or, you know, they'll there'll be a digital sign at the entrance that says where you can go to park, little things like that, you know, having Wayfinding within the mall using an app. Something a little bit better than that traditional static store directory that everybody's standing around looking at. One of the I think one of the interesting ones is Mall of America, which is one of if not the kind of top us mall, it's certainly in in terms of foot traffic. It's it's one of the biggest, the biggest destinations at least in the Midwest, the Mall of America is experimenting. They just partnered with a company called adapt mind. I don't know if you've heard of them. But they basically the Mall of America website is now also a shoppable e commerce website where you can both see the inventory like of what products are in all the stores. You can also buy that inventory for either click and collect like you can buy it and then go to the store and pick it up or pick it up in front of the mall. Or buy it for delivery will the welder do a ship from store, and that's really that component has always been missing. So the fact that they're figuring out how to do that I think that can be really successful.
Darius Vasefi 9:57 So the malls are getting into e commerce
James Cook 10:01 Starting to yeah a handful adapt mine and I think there's another company that's also offering this as a service to malls I mean it's there's there's some I'm sure there's some fee involved that's part of the marketing budget of the mall but yeah in essence you know I could you know look at you know I'm saying looking for a pair of jeans I can search the mall website in advance to see all the stores that have jeans in my size and what the styles are so I'm really now very purposefully driven and I know exactly what I'm what I'm going to find at the mall
Darius Vasefi 10:38 Okay, how does that play into the financial arrangement of leases?
James Cook 10:48 That's a great question. So that sale let's say I searched for jeans and I don't know if they're lucky jeans that's a jeans brand right? And so if I said okay, I'm going to go buy jeans from lucky if I just go into the mall and buy them they're the ones that I found obviously that cell goes to lucky if I buy it through the website it's still a sale to lucky jeans because I'm doing a click and collect where I'm going to pay for it in advance and then go pick it up at the mall or they'll do ship from store and that's done centrally. I think the way it works is you know the gene store wouldn't ship it themselves. There's somebody who works with the mall doing that fulfillment you know, in some centralized location so there's a cost around that the sale goes to the retailer and then I believe and don't quote me on this because I don't know exactly how it works but my guess is that there's some kind of monthly fee that goes to the service provider who's offering that click and collect service and I would imagine the cost of that gets folded into the marketing budget for the mall and that would get paid ultimately by the tenants.
Darius Vasefi 12:09 Okay, so that's very interesting. I've seen it in a couple of different places as well. The integration has traditionally been a challenge where you see malls are doing like what looks like ecommerce but when you click on something it takes you to a different website so the question is as a and this is like probably a question we don't have an answer yet because we're experimenting but how does that work into the brand recognition of the retailer versus the mall itself long term? Is the customer becoming more loyal to the mall or to the brand when you make it that same seamless who do they know better? is a mall becoming the next marketplace online marketplace
James Cook 13:01 yeah if you ask them all owner they would like that you know they would they would like and and some malls. You know I think about for example are you Where are you based out of
Darius Vasefi 13:14 Orange County California
James Cook 13:15 Okay, okay, so let's think about in LA like the grove like the grove in LA very popular very well known if not just regionally but probably a lot of people not outside of LA and that's its own brand and you know or speak of brand Americana at brand you know, like those those are both Caruso properties that are their own unique brand and people don't go to well they they go to specific stores when they say go to the grove but a lot of times you're just going there to go there if you've got a good collection of both food and shopping and entertainment and you're not really sure you what you want to do on a Friday night but you know that this one place has a collection of cool things and you'll find something then that's when branding is really important and that's what distinguishes I'm going to go back to this a malls that's what distinguishes the a mall they have the brands it's the beam all that's a collection of stores that's exactly like every other mall that that there it is the individual store brands that really count at those be malls
Darius Vasefi 14:26 Yeah, I mean I definitely agree with those examples like you know, the the grove, the Americana brand. Westfield Century City, I mean la it has no shortage of amazing malls and orange counties like South Coast Plaza Irvine spectrum, fashion Island, I mean these are like amazing experiences. So the question that I have, which remains to be seen, but based on how we see things play out is that the difference between the physical experience and the digital experience so physical experience Yes, I Go to the mall, and it is an experience. But when I go to the website of the mall is just like Amazon or another, you know, I mean, so that experience aspects of the physical experience aspect of the mall, which is so important is really lost when you go online and to just a ecommerce website. So that's the question. And I mean, I'm not saying don't you know, it's not it's not good or doesn't work. But that's a question that I personally have is that how does that translate to the to the future?
James Cook 15:35 It's a great question. I mean, I think most malls would love at least have their websites be as good as an e commerce website, because most malls websites are like a list of stores and like, the store hours and their phone numbers, and then they'll be like, I don't know, well, most of all, websites are pretty basic. So just to get to that level, where you can do similar things to ecommerce websites, and just have visibility to inventory to the inventory of the stores at the mall. That's pretty awesome. Now to your question of how do you distinguish yourself online, when you're just like every other ecommerce website? I don't know if you can do it, I think you're really distinguishing yourself by your physical space. I think that's what distinguishes you. Because I wouldn't. Yeah, I mean, the reason why I would shop online for malls, if I knew it was in my neighborhood, and I knew I could get that item in an hour. That's why I would do it. So it's that physical location that distinguishes it.
Darius Vasefi 16:39 Right. So for customers, the reason they shop online, or they select where to shop online is probably the product selection, price, and access to inventory now, which is becoming actually more, you know, with the supply chain issues, having local inventory is like really important these days. And my theory remains to be so for the next couple of years. So, you know, hopefully things get better. Yeah, so so I think that's like one of the questions. And I mean, in general malls, shopping centers, they are selling traffic, is that a good really high level? I guess value proposition for a retailer that they just want traffic, right? That's why they go to the mall. That's a different type of traffic, right?
James Cook 17:30 Yeah, well, that's a good point. I mean, at the end of the day, what you're doing is selling feet walking in front of your store, and then you're you as a retailer have to convert those feet. First two people that walk through the door, and then in the sales, I mean, the metric, it's still old fashioned, but the metric we use in the mall world is, is sales per square foot. So the higher a sales per square foot that you've got at a mall, the more usually the more rent, you can charge as the the owner of that mall. Because not that means not only do you have large foot traffic, but you've also got people who are spending a lot of money. So it's really, it's two things, it's the people and then the cash that they're spending and that's how we're going to judge sort of the success of the mall. But that I mean, that can change. I mean, if you think about a future where stores become more for branding than for sales, we're gonna have to come up with new metrics you know, if you learn about my cool electric scooter brand at a store at the mall, but then you buy it online. It's still very valuable because you learn about it by seeing it in person at at that mall.
Darius Vasefi 18:47 Yeah, yeah. I mean, that's, that's the whole other side of what's going on is how the retail stores are changing. And we, you know, I guess, are we going towards the Tesla Model of retail stores where you just see and touch things in a store, and then you get it delivered later. That's an interesting, interesting concept. I mean, if you look at that model, a lot of like, direct to consumer brands are trying to and Tesla, but it hasn't like really exploded yet. So the question is, how is that going to evolve in the future and as a consumer, which what's a better experience for you? Like if you go to a store, and you want to buy eyeglasses, and you can just look at them and you can actually pick one up? Is that a better experience or a worse experience then? Like, you know, so what's the consumer? What's that? I know what's so a lot of times what i what i hear right now is that what's good for the retail to make the retail store formula work better. But the the success of Online Shopping is that they thought about what's good for consumers first, not what's good for the e commerce website. I mean, if you go to Amazon consumer is the number one concern that they have. It's not like, you know, how, what, what's good for me? So when we, I mean, you know, retailers and shopping centers really should think about what's good for the experience of the consumer.
James Cook 20:23 Yeah, well, I'll tell you what, I think there's a happy medium there, between just pure showroom, which irks me sometimes, because I've been in a couple of situations where I just want to grab something at a store. When I'm thinking, I want to buy a belt, and they're like, Oh, yeah, yeah, we're, we're just a showroom. You can try it on, but then you're gonna have to buy it online, and we're mail it to you. And I'm like, I need this belt, like now, right? So that seems silly. To me, it also seems silly to me to have the super big box as warehouse that has a million things that just seems unnecessary. So there's like a happy medium there, where they're carrying enough goods on hand, that most of the time, you can walk away with what you want. But there's, you know, maybe different sizes and models that are less popular, that now they can fulfill that online. So I think more people are happy, you get the most people happy that way.
Darius Vasefi 21:21 Yeah, I think that is a happy medium is is a good, good goal to work towards. One of the other things that I've seen is, you know, you know, Dick's Sporting Goods. And so what happened a few years ago is that most of the local sporting stores closed except the big five. So and I mean, I'm in sports. And I love going to the store and touching things, I want to buy racket, I want to do this, you know, I mean, again, you know, I like I buy stuff online, too. But that experience of going to the store is just different. And I was like kind of pissed off myself that everybody's closing, I can't even go pick up like racquetball balls. Just if I need them on my way to the game or something. I've ordered them online, I'm waiting all the time. Now, Dick's Sporting Goods is that massive store, and they are opening up all over the place in Southern California, they're filling that gap. And I don't know how they're doing. But like in a mall that really close to me. Shops had Mission Viejo, which is the assignment mall, they just replaced. Probably the one of the bigger anchor, like, you know, used to be Saxton forever 21. Okay, and now the X is over there. And it's a much better fit for that space, in my, my opinion. So that could be the other there could be like, two extremes of really large, have everything you need. Just go there type of experience. And then it's just the showroom type of experience. And what remains to be in the middle is kind of interesting.
James Cook 23:05 And well, and what, what's unique about Dick's too, is that it's not really, it's a it's a collection, that's just really a collection of small categories. So like, I'm a runner, so when I go to Dick's I'm not looking at all of Dick's I'm just going to this, like, looking at this one selection of shoes, and this one selection of like running clothes, you know, so you know, if I played baseball, I'd be looking at this one small area. So I think Dick's is unique in that sense that I don't really think of it as a huge warehouse with every skew across sporting goods. I think that they do have a pretty good collection organized around a whole variety of different sporting activities.
Darius Vasefi 23:51 Yeah, it's almost like the concept of the theoretical marketplace, right where you go and you have different stores. And even like retail stores are testing that, like we target bringing in other retailers or brands to have their own stores. Which is kind of interesting, too.
James Cook 24:13 Yeah, yeah, I mean targets done a few partnerships. They've got a number of Disney Store in stores that have been really popular. And then Ulta is the big one. And I think that's going to really knock it out of the park because often times I see the target shopper also cross shopping to Ulta. And the fact that now that's available right within the targets are not the same size, not same amount of selection, but having that they're available. I yeah, I think it's great in that whole concept of store in stores, has really kind of it's been bubbling up a lot, I would say over the past like maybe 10 years or so, but we've seen a lot more of it. Just Just recently with kind of retailer wanting to grab on to other popular brands and pull people into the store as a draw.
Darius Vasefi 25:09 Yeah, I mean, it's all about, you know, customer acquisition costs, right? CAC, what do you shop? Do you advertise, you know, on paid advertising you do you know, like organic content. And then partnerships. These are all like partnerships that I think you have to pay for customer acquisition costs one way or another. The question is, how do you do it? And how do you minimize it? And where do you get the customer that can actually build out to be a long term? Like more loyal? Because one of the one of the problems with online is that customers are just not loyal. Right? It's very hard to get the loyalty. I mean, some companies do really good, maybe like Amazon with loyalty programs, and you know, but that's the that's the, I guess that's the holy grail is what how do you get your customers at a cost and quality? And I think that same goes with shopping centers, right?
James Cook 26:14 Yeah, yeah, well, if the barrier of entry is low, and you've got a ton of choice, so that's he caught, you know, shopping online. But the barrier entry of entry in the physical world in the real estate world is very high. And, you know, it's difficult for there to be so much competition. Also, the physical location of a store actually helps to earn that brands loyalty for me, like if there could be two stores and one is awesome, and one's just okay, but the just Okay, one is 20 minutes closer to me, they may have earned my loyalty just out of my laziness. I guess my point here is, I don't think the value of having a physical store network for retail brands is going away, I think that it just plays such an important role in like, I don't know too much about e commerce, I'm really more based in the physical world, but I know that that customer acquisition cost that's got to be higher online, right than it is in the physical world.
Darius Vasefi 27:21 Um, yeah, I don't know enough about the physical size to make that determination myself. So that's actually one of the things that I deal with in my business right now is that we worked with shopping centers and retailers to bring a different form of online shopper to them using with live video is private live video. It's not like one too many, like QVC stuff is private one on one, live video sales. And that point, you know, the point of customer acquisition cost is really important for the mall, the shopping center. And that's something that I'm actually learning more about. So I don't know what the, I don't think they even measure it. I don't think shopping centers. So that's like, one of the things I was going to talk about is like, other than technology, there are other things like experience like experiences of the like the staff and the teams that they have, that really need to get upgraded with shopping centers, like their marketing, which is really important for acquiring new customers and building the loyalty for them. Really, they need to become more like online marketers. So they they pay a lot more attention to these metrics. like looking at analytics and looking at where the traffic is coming because traffic is really two ways now it's not just foot traffic in the store. It's also online traffic. So they need to expand to look at traffic in both ways. So that's like a very I mean, really good question. I personally don't know enough about the mall side but it is something that I'm interested to learn more about is what are mall so a malls, as you said, probably are doing a lot better than that. Is better in marketing? Yeah,
James Cook 29:12 the so I have very good I have very sophisticated tools around foot traffic. So I can see, you know, where people are coming from not individuals, but an aggregate. You know, for example, if a lot of people are coming from one neighborhood to a mall or two or even a certain store at a certain time, I can see those flows. What I can't see is if somebody learned about something online, and then came to check it out in the store, like that, connecting the dots, even the basketballs I don't think you're doing that because I just don't know. I don't think anybody's figured out how to do
Darius Vasefi 29:56 well, you know, they probably need something like a physical takes
James Cook 30:00 Yeah. Right. Right. And, and, yeah, and that is it's interesting because there is a big debate around, you know, just privacy, especially you're based in California, very strict privacy laws there. And I'm in favor. I like marketing information. But I'm also very much a privacy advocate. So there's got to be a happy medium there, too. So all the data that I work with is very aggregated, I don't see any individual information. But yeah, I don't know. Or you you can use a panel of people who've opted in and you pay them for your person their personal information as a sample set? I don't know. But it's a great question as to where your traffic is coming from as a mall owner, you really need to be aware of that and be thinking about it.
Darius Vasefi 30:49 Yeah, yeah. So and then, you know, the other part of it is the question about leasing leases. A lot of like, especially in property, the aim of leases have an aspect of revenues in them, right?
James Cook 31:04 It depends, but most model leases do have a percentage component to it. So basically, there's a base rent, that's kind of the minimum rent that you're going to pay. And I should say, this is for inline tenants, this does not apply to the anchor tenants, there's a different structure there. For the inline tenants, you're gonna pay a base rent, and then a percentage of sales, once you hit a, what they call a breakpoint. So your sales get to a certain number that's been pre negotiated between the tenant and the landlord, when it gets beyond that, then you're, you're paying a small percentage of those sales as a part of your rent. Because of that, landlords have really good visibility to what many of their tenants are doing. And so they can see they have to report their sales month, month to month. And so landlords often have great data around, you know, just month to month how every individual retailer in their center is doing. And it's a, it's interesting information. The question is like, how do you? How do you act on that? How do you make that actionable?
Darius Vasefi 32:14 Yeah, and then how does a showroom store play into that?
James Cook 32:19 That's right. So that's the other thing is, and we've been dealing with that for a number of years now, too. And in those cases, it's just got to be market rents, it's got to be, you're gonna negotiate a flat rent with the landlord. And that's the only way to do it. We've had many discussions about well, you know, if you could figure out how many, whatever the metric is, like, if they have a, if you added so many people to your mailing list, or if we could track what sales of say, goods were originated in that store, but a lot of these stores are just pure branding place, and and there's not even a sale associated with them. There's no way to have a rent tied to that. And so in those cases, it's really just you're gonna negotiate a monthly rent with your, between the retailer and the landlord.
Darius Vasefi 33:16 Yeah. And then, you know, for, like, the bullpen buy online pick up in store, you are buying online, but you're taking the inventory from the store. So whose sale is that? And does that have to go to the formula.
James Cook 33:35 So that all has to be you know, the discussions around that all have to be negotiated as a part of the leases now. And in most cases, the landlord is going to argue, well, you made that sale because of your physical store. So it should be attributed to the store. Most cases that is happening, where those sales are attributed to the store. Now, conversely, a lot of times people will return online items to physical stores, traditionally, that's gone as a negative against that stores for wall revenue. But there's a good argument to be made against that because now the landlord might be losing rent, because, you know, I'm buying 100 shirts online, and then returning them all to this one store. So it's an open discussion, and there aren't, in most cases, there aren't national standards around this. It's like landlords are kind of figuring it out for themselves.
Darius Vasefi 34:36 Yeah, that's one of the I think one of the changes in the reinvention of the shopping center on his on the financial formula. So Oh, well. Let's talk a little bit about what you do. In your daily work, maybe give us some examples of some of the work that you do and how we translate it. into gll.
James Cook 35:02 Sure. So in the kind of the retail world of Jayla, which is my little world, we make our money by helping retailers find store locations. So a national retailer says, Hey, we want to open up five new stores in Chicago, we're gonna go find those stores for them. Conversely, we also manage and lease malls and shopping centers. So say you own a mall, but you don't want to deal with it, we'll go in as a third party, manage them all for you, and lease out the spaces. So we're going to go find local and national retailers to fill out those spaces. And then we also help people buy and sell properties. So if you owned say you own a grocery center, and you want to sell it, we would be the ones who had to handle that marketing and the sale of that property. And so in all of those different businesses, I play a supporting role. And it could be, you know, for example, there might be a local or regional restaurant chain that was thinking about going national. And so I'll go in with a meeting with them, and come up with some metrics that we think represent their best customers. And then we'll look at national markets and flag which national markets, we think they should take a closer look at for their expansion, expansion. And we may even, you know, we may even tear them and say, here's the first three cities you should go to, here's the next three. And then once you dive in at the city level, then it's your start talking about neighborhoods, and so there's a whole expansion plan around that. So that's retailers with shopping centers. trying to think of different stuff we've done. Well, okay, so there is a company, yeah, this is public, I can talk about this. There's a company called Philips Addison Pico, and they own I'm gonna say about 300 shopping centers are mostly grocery anchored centers in the US. And they went public, so they were privately owned, and they just went public. And so my I will, I was part of a research team that did all of the third party analysis of their portfolio that went into their sec findings. So basically, benchmarking the performance of their centers event against all of their competitors. And so this is getting a little in the weeds. This isn't as exciting. It's a bunch of data. You know, there's probably like five analysts in the world that actually read what we wrote. But you know, it was a public filing. So we're really excited about
Darius Vasefi 37:48 it. matter.
James Cook 37:52 Yeah. But I would say the most fun thing that I do is, you know, I say My job is to think about the future of retail. And we have a lot of clients who all want to hear about what's going on across the retail spectrum. And so I do a lot of one on one meetings with clients, both in person and over zoom. And then I do a lot of speaking at events, too. So I'm sort of the public face of retail research gll. And so in conferences, were on pause, but they're starting back up again, I was at a conference two weeks ago speaking, I've got two more coming up through the end of the year. And I'm pretty excited. And then of course, we do podcasts. And we also do like a weekly live stream video as well. So there's a good strong marketing components what I do,
Darius Vasefi 38:38 yeah, I mean, you're busy. That's great.
James Cook 38:43 Oh, that's why I'm tired all the time. I just described stuff that I do. And it's too much. Yeah, if
Darius Vasefi 38:48 you go back and listen and make a list, you'll understand why. So talking about the conferences, what's the one that you just went to?
James Cook 38:59 Okay, yeah, fun. It was called grocery shop. And, yeah, in Vegas, right? in Vegas. Yeah. And it was, you know, apart from excellent content, learned a lot was there to speak about, mostly about how the physical grocery store is changing. And a good chunk of that is about how they're reconfiguring for buy online pick up in store. So I was there to speak. But also there's an attendee to learn. It was cool. Everybody was in a mask, which was weird, because I didn't recognize anybody. I don't have great eyesight to begin with. And that made it all the more difficult, especially when these are people you probably haven't seen in person for a few years now. But overall, was a very positive, positive experience. You had to be vaccinated in order to attend so I felt pretty safe about it.
Darius Vasefi 39:50 Okay. Yeah. So that's one of the big questions of, you know, as we get back to whatever normal is that The The is the physical in person conferences. What do you think about? So what are the some of the big ones that you're going to? You're planning for ICSC in December, right?
James Cook 40:14 Yeah. So for folks not familiar with our little shopping center world, ICSC is the trade group and their big conference annual conferences in Las Vegas. Traditionally, it's been in March. Yeah, March. And it got canceled, of course, because of COVID. And so they're doing a smaller kind of let's get back to Vegas one in December. I want to see historically, that conference would hit like 30,000 attendees. I don't know what their numbers are going to be. But my guess, is probably they'll at least do like 1010 or 15,000. Like I'm talking to people. It sounds like a lot of people are going.
Darius Vasefi 40:56 Okay, yeah. So that's, that's an interesting one that I've heard about. I've never been there, but I'm looking into going there. And then NRF, what do you think about NRF? In January?
James Cook 41:08 Yeah. And that's retails Big Show. That's the big one. I don't typically go to NRF. Because my world is is kind of this hybrid of retail and real estate. So I'm going to, I'm going to usually go where there's a physical, there's an orientation towards like physical retail. It's changing now it's all hybrid. I probably benefit from going to NRF. Yeah, I think that, you know, that's the big one. And if that is successful, you know, in January, I mean, that's going to be a real return to kind of the conference world.
Darius Vasefi 41:48 Yeah, I think, you know, a lot of it is expectations. You know, if we expect that we're just going to be back to what it was before, I think we'll all be disappointed. And I think that's we just need to reset our expectations. And so you know, we're slowly getting back into it. And if we look at it, from that point of view, I think we'll definitely have a better experience.
James Cook 42:11 Yeah, so Yeah, I agree. I'm expecting I think we did have this illusion where everything was gonna get back to exactly the way it was. And that's just not the case. And I think we accept resetting your expectations is definitely the healthy way to way to go.
Darius Vasefi 42:28 So let's talk a little bit about your podcasts and your YouTube. What's your experience doing those? And are you finding, I mean, what's interesting that you didn't expect before you started to do these things?
James Cook 42:44 Yeah, so the two kind of our two major outlets is the podcast called where we buy, and that's on whatever podcast app you might want to check out. It's also on the web at where we buy dot show. And then we do a weekly live video for half an hour every Thursday at noon, Eastern, that's nine Pacific. And we go live on YouTube. And we also go live on LinkedIn live simultaneously. And if you go to everything we know dot show, that'll take you to the page on YouTube. So the podcast, the audio podcast has been around longer, we're almost at 200 episodes now. And that started out as a pure experiment like me recording talking into my iPhone for five minutes, you know, just pure experiment, and then evolved into a I don't think I've ever said this to anybody. But I'll tell you what, in my mind, I'd love it to be considered another radio show fresh air. on NPR. I want it to be the fresh air of retail and retail real estate. That's a little secret. I never told anybody.
Darius Vasefi 43:53 When I listened to add the quality, and you know, the production is very good.
James Cook 43:59 Okay, cool. Well, thank you. Yeah. So anyway, in depth stories. And what I love what I've learned that I didn't expect is it's really helped me to grow connections with people. I, it's a great I've always loved talking to people, and a podcast is a great excuse, as you know, to talk to people. That's what I love about it most. The other weird thing is that I think no one listens to it. Of course, I see the number so I know a handful of people do, but then I'll go to like a conference like ICSC. And I've had people hear my voice and say, Oh, are you James Cook? And I was like, Yeah, I don't know. You, like recognize my voice and be a fan of the show. Which is weird, but cool. I mean, it also makes me realize I'm glad I'm glad I'm not famous because I'd hate to have that happen all the time. But it's neat if it happens occasionally.
Darius Vasefi 44:58 Right? Right. Well, I'll put a link to both of those in the show notes. I think they're, they're good and I haven't seen the YouTube one yet. So I'm looking forward to put that on my calendar and hopefully join when I can so well thank you so much, James. It's been a pleasure to speak with you and learn from your experience and look forward to continuing our conversations maybe in the future.
James Cook 45:27 Thank you very much. darious This has been fun.
LINKS:
http://wherewebuy.show/ podcast
http://everythingweknow.show/ podcast
https://buildingplaces.show/ podcast