Interview with Hilary Murdock from Threekit on using 3D product experiences in ecommerce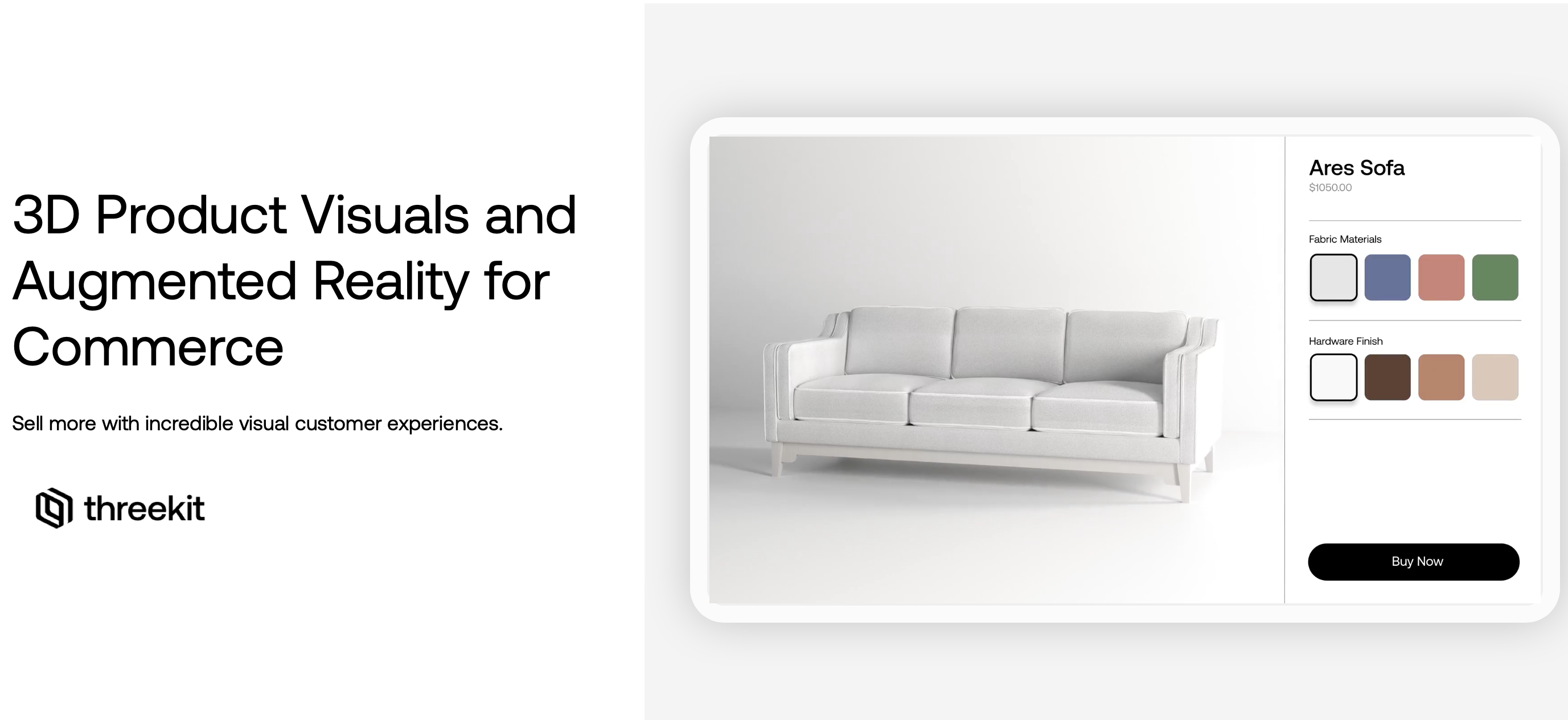 Interview with Hilary Murdock from Threekit on using 3D product experiences in ecommerce
Transcript:
Darius 0:01 Welcome to the retail type podcast where we speak with leaders and entrepreneurs is involved in all aspects of retail and commerce. My name is Darius Vasefi, and the host and producer of the show, this interview is being recorded on clubhouse and will be published on retail tech podcast.com. And today I am speaking with Hilary Murdock, the head of marketing at three kit. Three kit is a company that is in the the 3d, an AR space for retail. So we're going to learn more about the company and also get into some of the potential use cases of this with customers. Welcome to the show, Hilary. Thanks, Tara,
Hilary 0:52 so glad to be here.
Darius 0:54 So let's start with a brief intro about maybe yourself and the company.
Unknown Speaker 1:03 Sure, so I run Product Marketing. At three kids, I came from a more traditional kind of brand agency background doing positioning for brands across industries, everything from CPG, to
Unknown Speaker 1:20 auto,
Unknown Speaker 1:23 kind of you name it over the course of my career. And then as the blade, you know, living in Chicago kind of witnessing, from afar kind of burgeoning tech scene and a lot of the really new offerings coming out of the area, you know, working pro bono on some projects, for some startups
Unknown Speaker 1:45 really got
Unknown Speaker 1:45 interested in the space and the possibilities of the space. And three kick came into my orbit about two years ago, as I was actually working with clients on a specific challenge that they have, which is when you make custom goods, configurable goods, or when you have a really large portfolio of products, it is really difficult logistically and financially to visually represent all of those products. And the traditional way of doing that, right is producer and manufacturing all of your products, and then doing a traditional photoshoot of those and then using those assets online or in store or wherever you're marketing your products, right. But when you make configurable goods, or when you have really large portfolio, it's difficult to do that. Financially logistically, gathering and making all those good gathering them all in one space and getting really good visuals. And what three kids I noticed was solving for was doing this via 3d. And what 3d does is it enables you to create one model of a particular product. And then through logic in the software, be able to different patterns, accessories, etc.
Unknown Speaker 3:07 and allow
Unknown Speaker 3:08 users online on an e commerce site to configure that good in real time. And so they had an opening for a product marketer, I definitely saw the product market fit and the need for the product. And that's when I move over to three kit. And that's what we work on every day is 3d and augmented reality for products across industries.
Darius 3:30 Okay, great. That's, that's a great story. And it seems like you have also been been bitten by the startup. But
Unknown Speaker 3:39 yes, for better and for worse, right. It's a can be a tough slog sometimes. But look, it's a really exciting space, and we get to come into work every day and invest in a product that we really believe in and that we're seeing is helping our customers. So, you know, it's worth that.
Darius 3:57 Yeah. So now, I guess full disclosure, I've, I've interviewed like two other companies just in the recent weeks that are in the same space, and I know of probably a few other ones. So is this is this big? I mean, is this space or the solution? How large is it as a as an industry itself?
Unknown Speaker 4:24 Well,
Unknown Speaker 4:26 the blessing and the curse is that the TAM or the total addressable market for this is we believe massive. I mean, we there are definitely companies that are focusing in on specific industries say furniture when it comes to 3d and AR because it's such a perfect use case, right? You are a company that has maybe 10 to 20 different types of products, the sofa, side, chair, side table, etc. Each one of those products is customizable. And also you want customers to be able to shop for those online and potentially placed them in their space because we know how important dimension and fit is when it comes to furniture, you don't want to order something online that's not going to fit. So, you know, furniture is a great use case and where a lot of companies I think are focusing, but truth be told, if you are any industry that does configurable products, or customizable products, apparel, which is coming becoming more made to order manufacturing, very, very complex, very expensive, high functioning products, that companies need to buy, you know, an entire fleet of, for example, you want to be able to customize that product to your specifications online, actually be able to see it, to be confident that you're buying the right thing, and be able to order it in a pretty seamless product process.
Unknown Speaker 5:56 So we believe it is ultimately the future of how companies, manufacturers and brands are going to market. Any any product to be honest with you. So the we believe the opportunities is huge, which is why you're probably seeing a lot of companies pop up in this space.
Darius 6:16 Okay. Yeah, I mean, it. It definitely I think the metrics show a positive outcome, when 3d versions of the products are being presented to the customers. So it just makes sense to to do that for for retailers and like brands.
Unknown Speaker 6:37 Yeah, I mean, what we've seen is that, you know, there are a couple things kind of driving this market, one of which is customers, consumers, right, so we're inundated every day with a wide range of media, we are online, almost constantly. We are experiencing 3d almost routinely, through movies, CGI effects, that's actually where our founder got his start, oddly enough. We are experiencing it through video games we're experiencing in media ads, etc. And it's kind of become an expectation. So we did a poll with Harris about several months ago. And 66% of consumers said they want to experience products online, specifically in e commerce, both in 3d and AR that is a superior experience that gives them more confidence in buying and gives them a better idea of perspective of what the product is, allows them to have their two cents and configuring products online and ordering products. So on that consumer side, we're seeing a lot more demand. This is the type of spheres experience people want. Then there's the kind of tech Titans side of things where Apple is investing and LIDAR scanners which will make AR and 3d much more accessible and routine for consumers where Facebook is now. I think something like at least 10% 30%, maybe of their workforce, I'd have to double check on that a huge jump in their workforce is now dedicated to working on matters of 3d AR and VR. I think Zuckerberg recently tweeted something out about you know, glasses, actually, you know, the promise of Google Glass coming to life and those uniting in that uniting the virtual and real worlds with a piece of hardware. So we see tech Titans investing massively in this space. The area where we see that needs a little bit to do a little bit more catch up is really when it comes to manufacturers and brands and understanding that the old way of doing things, taking traditional photo shoots
Unknown Speaker 9:02 or
Unknown Speaker 9:04 allowing customers to fill out, you know, a form on a website with the specifications that they want, but not necessarily being able to see that product come to life in real time. That is kind of the standard mode for a lot of e commerce brands and manufacturers today. And you know what this technology is going to allow is for them to take advantage of all these technology investments that big brands are making that you know big tech conglomerates are making, but also more importantly to meet customer expectations. So we are that middle resource that can help brands and manufacturers get there.
Darius 9:45 So from a brand or customer's point of view, this is another cost correct?
Unknown Speaker 9:55 Certainly Yes. As all marketing are
Darius 9:58 right now asset creation is So they just need to, they need to better understand the impact and prioritize it properly so that they can actually start investing in it.
Unknown Speaker 10:12 Yeah, I mean, that is, we're seeing a lot of that right? brands and manufacturers expressing interest in this. But, you know, in the old way of budgeting or forecasting for the year, they're not necessarily thinking, you know, what's our 3d or augmented reality?
Unknown Speaker 10:31 forecasts, right?
Unknown Speaker 10:31 Like, what, how much are we going to lock to that. And as we know, marketing is often driven by you know, what budgets are and how you allocate prior to the upcoming fiscal year. So that's what we're trying to get ahead of right. Think about, we're pushing brands and manufacturers to think about what are you investing in today? And what's your ROI on that? Where are you investing, say, in your photoshoots, when you come out with a new line of products, you have to manufacture every single version of that product, if you want to faithfully represented online, if the manufacturer it, you have to schedule photoshoots, you have to ship the product, you have to get, you know, the best photographer, etc, you know, that kind of cost adds up. Or you could invest in 3d resource and software that will help you do that digitally. And it is not free of cost to get that set up. We wouldn't pretend to this, right. It's all about getting 3d models. It's about setting yourself up in the system. The beautiful thing is over time, though, once that 3d model of a given product is in a software platform like three kit, it's there forever. And as you iterate on that product, as you add different kinds of patterns fabrics, as you want to present accessories that go with that, that products always there, and it's just about iterating and adding on to not starting from scratch, and having to produce a whole new product with the new pattern in order to represent it. It's very much a product that promises unprecedented scale, and certainly cost money to get up and going. But once you do, the efficiencies that companies can see over time, are, are massive.
Darius 12:24 Let's talk about the getting set up and going part. What is that like?
Unknown Speaker 12:33 Well, I'm not the tech guru, certainly, but I can certainly talk about it from in broad strokes. You know, everything in this space starts with a 3d model. Some companies that are you know, a little bit more innovative or newer, have already started to design their products in in 3d and have models right, right off the bat, we have some customers come to us and said we've actually had we have 3d models created as of our products, that makes our job really easy. Because essentially, like I said, once you have that model, it's a matter of getting it into the system with all the logic, the different iterations. And it's very easy to get up and going. The truth of the matter is for the majority of prospects who come to us, they don't have a 3d model handy. So that's the first always the first step in the process, we can kind of start from anywhere, it's just a matter of how long it will take to get from our starting point to the 3d models, we can start from CAD designs and drawings, which CAD is kind of a standard when it comes to product design, those companies have something like that on hand. And from there, you know, we work with partners to develop those 3d models for all the products, we can even frankly, start from an image or a photograph takes a little longer takes a little bit more work to get that into 3d model format. But again, once we do, you know, you're you're pretty much up and running with with all the logic and the different customizations that we have possible. It's it's really a matter of like I said, we work with each prospect to come in, just meet them where they are, figure out how to solve for that 3d model, issue and get them into the system. Once the models are in, I mean, again, it kind of all runs on like a lot of software runs on rules and logic that you enter into the system that kind of Garner, what is a configurable aspect of each product. You know what you can do and can't do.
Unknown Speaker 14:36 And,
Unknown Speaker 14:37 again, that that is something that we help with. But frankly, one of the beauties of three kit is that it allows brands and manufacturers to be self sufficient to you know, add new iterations as they come in, to really guide and manage their own own portfolio if that's the way that they want to operate. So that's okay that high level overview of of how the Get up and running.
Darius 15:01 Okay. Yeah. So I guess my question, one of my questions is that, so when somebody signs up with three kids, they will get have an account on your platform? And then do they upload product photos? Or do they send you the product and you scan it? Or does the software do that?
Unknown Speaker 15:25 The software works with 3d models. So we need to solve first for that 3d model issue. And that's something that we help guide them on, it's not as easy as just scanning it into the system, what we do is work with them to source a 3d model, 3d artist, which there are a lot more of those cropping up every day, and that 3d artist is the one that creates the model, once we have the model, and we work with them to create that model, that's what gets gets put into the platform.
Darius 15:58 Okay, and then that's where the customer can actually get, like a variation of sizes and colors.
Unknown Speaker 16:05 Absolutely. So that's where once it's in there, you can, you know, we have what we call parametric configuration, which in real time, you know, based on the rules and logic that you enter, can change the entire dimension of a given product all at once based on your measurements, etc. That's where the customer can actually say I want a product, you know, this, this dimension, this width, and see that come to life. That's where the customer can, you know, decide which fabrics they want to offer the product in. And all that is entered into the system. And ultimately, the end uses his customers online, being able to customize products in real time with different, you know, fabrics, dimensions, hardware, finishes, colors, etc.
Darius 16:57 Okay. What do you think this, the 3d version of like, the customer experience is moving towards? Let's say in the next two to three years? Are we going to see some major changes in the way consumers digest 3d products?
Unknown Speaker 17:20 That's the bad, right. And, and again, from the preliminary research we've done because, you know, 3d used to be like a super futuristic thing, right? You think back to the 80s and 90s, where people's perspective, or their notion of 3d was putting on glasses and going to a movie theater and feeling like, you know, like the the characters are jumping out towards them. And it felt, you know, really kind of nice, right? And the truth is, it's come So, so far in, you know, even the past 10 years that again, it's somewhat routine for people to experience in other categories and industries, right, specifically entertainment. So again, I think that's what's driving some of the desire and the comfort with the technology and people saying, I want this type of experience in other realms, specifically, you know, e commerce. And when I shop for goods, a because it's more interactive, right? It's interesting when I get to have it put into what a product is going to be. It's immersive, a price confidence in purchase. It's just more fun, right? So I think, like I said, with, with some of the more, you know, the big names in tech kind of leading the way and making this really accessible, I think you're going to see even more demand for these types of experiences. And the good news is, it's not, you know, the fear was something like this is always that like, well, is it just a gimmick to have, you know, a 3d representation of a product on a website and enable people to customize. The truth is like, it's bearing itself out for brands with the RFI that they are experiencing. So our customers see, you know, on average, 20 to 30% increase of conversions when they offer a 3d Configurator experience, versus just an experience where customers, you know, see static images of a product. They experience more traffic to their website. And the reason for that is people are spending when shoppers come to the website, they're spending more time on the website, that is something that Google notices and says, okay, people really like spending time here. We're gonna send more traffic over here to this site. So they're experiencing not just higher conversion, but more shoppers in general. So, yes, we're seeing customers Enjoy this experience, and I think want more of it. And I think, again, the more ROI and benefits that the brands get out of this, the more brands are going to want to jump on board. And it's kind of that, you know, cycle of customer driving brands experience and brands wanting to provide more for customer.
Darius 20:25 So this is definitely something that the sales cycle on on this on this product is not short, correct.
Unknown Speaker 20:36 This sales cycle of You mean, selling to our customers?
Darius 20:41 Yes.
Unknown Speaker 20:42 Um, our average deal cycle. You know, I think it sits around 90 days maybe. So, it's not it's not a it's not a quick sell for sure. And I think one of the reasons for that is, this is still an emerging industry. There's a lot of education that needs to be done, because like I said, we're, we're changing, it requires the customer to change the way they think of their product, visuals and the way they've always done things. And that's not just a matter of, hey, we're going to provide a more interesting experience and a more interesting version of your products online. They also need to understand well, how is that going to change the way that my organization works? How are we going to work with this software? How does it look when we're planning for 3d product visuals
Unknown Speaker 21:35 versus photoshoots?
Unknown Speaker 21:37 And I think anytime you have, again, kind of a green industry, the sales cycles are going to be longer, because you're not just selling in the traditional sense. You're also doing
Unknown Speaker 21:49 a lot of education.
Darius 21:51 Yeah, the education part definitely had to the, to the process.
Unknown Speaker 21:56 Yeah. And I mean, the good news is, you know, even the deals that we don't necessarily close, we're educating the market, right?
Unknown Speaker 22:04 We're,
Unknown Speaker 22:04 we're having really good conversations with big brands about what the future is going to look like. We believe the future of commerce is 3d and augmented reality, of course, those are really fun, interesting conversations to have. And we're seeing, regardless of readiness, right now, at this point, for every single big brand manufacturer out there, we're seeing a lot of interest in having the conversation. And so we think that bodes well, if not for this year, you know, for these big brands, you know, into the future, we're definitely something that's on their mind.
Darius 22:40 So, as a, as a retailer or a brand, what are the key questions, they should be asking when they talk to companies that provide the service? And how should they make a decision?
Unknown Speaker 22:57 Well, I think the number one key question with with purchase like this, or with an investment, like this is like, you know, what are your goals? Why did you decide that other than 3d is pretty cool? And perhaps the wave of the future? Why today? Did you decide to enquire with a company like three kids? And typically, what we find is those who are ready to move now, it's because they have some really significant pain points. What are your pain points around your marketing assets? Where do you get stuck? Where do you go over budget? Where are you not able to provide the experience the most optimal experience for the customer? And I think for us, what we've seen is, the brands that move forward are the ones who are saying, Listen, the the bread and butter of my business, now and into the future, is going to be providing customized configurable goods
Unknown Speaker 23:58 for my customers.
Unknown Speaker 24:00 And these are not just brands, that are manufacturers that have always provided custom goods, you know, we're seeing For example, one of our customers is tailor made golf, and we developed a 3d Configurator for a custom golf send to golf driver. Now, they had never, you know, they sell, they sell, you know, some goods that you can get, you know, some some drivers or clothing, etc, that you can get in different colors, styles, etc. But they had never offered a product that had so many customization options. And the engagement that they saw on their site after this thing went live was was massive. And so it's kind of a signal to the market. People want more custom experiences, they want me to order for them. And so this pain point we solved is we were we enabled them to actually show this process In real time, give the customers a really good idea of what exactly was going to look and feel like. And, you know, help them to make the purchase of a product that is not insignificant in terms of cost, right, you're more likely to make a high end purchase, if you really feel like you're looking exactly at what you're going to get. So again, I would just say, number one, just try to figure out the problem that you're solving for. And if customization and configuration in real time for customers, is, could be the first step in helping to solve that, then, you know, a 3d software solution is probably the right direction to go. And then on top of that, you know, we can help solve a lot of problems on the back end with the software, you know, the fact that once a customer creates something that can be integrated directly into your order processing, you take away the the possible human error that happens when when you're doing a to order process, made to order processing, we solve a lot of problems on the back end as well. So just be really clear on what your goals are.
Darius 26:15 It seems like you have your hands full with your your part of the business. It's gonna be Yeah, I mean, that's an exciting part of like, really, you know, living in the startup world, is you're charting new new ways really, in to, you know, fresh snow almost.
Unknown Speaker 26:40 Yes. I mean, I can't complain, certainly, I think marketing is the fun part, right? We're the ones out there who are trying to understand what the real needs of the customers are. And we know we have fans, like fantastic technology, the basis of the product is so sound, it's up to us to go out there and make sure that the folks who need it or can really benefit,
Unknown Speaker 27:05 know, without it.
Unknown Speaker 27:08 And that happens in all kinds of ways. You know, it happens via providing really interesting content, helping to another really cool thing about being in an emerging space is that you're kind of establishing the language for the space, you know, our our bread and butter is 3d configurators for websites, right? Well, there's not one way to talk about a 3d Configurator because the category seven Yeah, so some would call it a product customizer, some will call it a product configurator someone would call it you know, a 360 degree product, fewer, you know, there are all these different ways that people are talking about it. So we get to take advantage and have conversations using all those different terms as as conversation starters, that's a really cool aspect of it.
Unknown Speaker 27:57 The good news is,
Unknown Speaker 27:58 you know, again, the products pretty, pretty cool in once people experience it, they think it's, it's fun, and it's interesting, they want to keep talking about it. You know, they want to talk about it in terms of the future of their businesses. And it's up to us kind of as a marketing team to make sure we are part of those conversations.
Darius 28:18 Yeah, although I think it would be good that we do form around a common term. So that when you say something the customer doesn't have to, like think too hard about what is this? Exactly?
Unknown Speaker 28:34 Yeah, I mean, that's what we're driving for. Right? We spend as a marketer, I spend a lot of my time looking at tools like sem rush and spend a lot of time on Google and Google Analytics, trying to determine where the trends are, and then also try to help lead that conversation. Right. about, you know, how do we talk about this? How do we talk about visual customer experience as a category? And what are the, you know, specific names for each one of those solutions? From our perspective, it's 3d Configurator. It's augmented reality for e commerce, it's virtual photographer, which is our product that takes 3d and makes it most, you know, photorealistic indistinguishable from a natural photograph. Those are the three that were kind of, you know, promoting, certainly. But, you know, we hope to continue to lead the conversation to to establish a more common vernacular.
Darius 29:38 Right. So, last question, as a b2b marketer, what channels are you finding more effective in finding the right, you know, prospects customers?
Unknown Speaker 29:53 You know, it's interesting, I would have to say, more than just being a b2b marketer being a b2b SaaS marketer has specific challenges, right?
Unknown Speaker 30:06 Your,
Unknown Speaker 30:08 you know, software is is coming up with new ways to solve problems that people used to do by hand or less, right. So we need to find places where people are in a really specific mindset about, you know, their industry and their product and make our software and our solution really, really relevant to them, so that they can kind of start to find the paradise, which in their own mind in terms of how they're going to do things going forward. One of the things that we've had some success with is going really hard into specific trade magazines, you know, there's, we've discovered, you know, again, our total addressable market is massive, but there are lots of niche industries within it. So whether it be again, furniture, auto, building, materials, apparel, etc. Getting into those spaces where we can speak specifically to the industry and how our software can speak to those pain points with really good relevant examples has been pretty successful for us. doing that through trade, magazine, display, and email, etc, getting that really captive audience has been, it's been good for us, I would say, the number one thing, and the thing that I would keep in mind for anyone who is in an emerging category is really, really try to capture as many hand raisers as you possibly can, because you spoke earlier to the longer sales cycle, you are much further ahead with someone who has looked for someone who is already in their minds decided, hey, I need something around product customization, I need something around 3d configuration, I'm gonna start looking for this thing. So SEO, and sem have been really critical for us to gather those people to reach out to those people through remarketing and Google ads, and say, Hey, we know you're kind of interested in this, come take a look at us. And those people already kind of understand what we are and what we're talking about. Much more difficult. I think for those, you know, frankly, like, paid display advertisements on, you know, social, for example, on any display media, where customers aren't exactly sure even what they're looking at when they see your ad, they may think it's interesting, because it's 3d. And it's AR right. And like any given person can have some interest in that, because it's kind of cool, right? But the truth is, I mean, the odds of us being right for their business, and their use case at this given point of time, when they haven't already been searching for us is, is much less likely. So our goal is always to get those customers were a little further down in the funnel, who know at least a little bit about what it is we do, and just go hard as hard as we possibly can to kind of get their attention.
Darius 33:12 This is fascinating. I mean, it's, I mean, this, the marketing side of the business is both art and science. And just with how, how the channels are changing almost like weekly. This is, this is a job that will definitely keep you young, in the mind.
Unknown Speaker 33:35 You say that it's I think it's aged me. Two years, almost two years I've worked here. No, I mean, your point is well taken. I think we've learned never to get too comfortable, right? Like we're constantly taking big swings and learning from those big swings and then optimizing. And, you know, there is no silver bullet. So we're constantly turning the dials. And if nothing else, it definitely keeps us busy. super interesting. super challenging, but also a lot of fun.
Darius 34:13 Yeah, well, it's been a pleasure speaking, Hillary and all the best in your adventures. Let's connect with the you know, on that on the NFT idea to
Unknown Speaker 34:29 absolutely get you in touch with that or founder. He's the definitely the resource on that. I mean, talk about just the whole other can of worms to open when it comes to digital assets in 3d. You guys will have a really great conversation, I think.
Darius 34:47 Yeah, definitely. And I'll also send you I think, I don't know if I did that or not, but everybody who I interview I have a I'm starting a Friday morning pacific time. Like, recap of retail rule. Nice, and you're welcome to join if you have time. There's other people from the business and customers also. I mean, I'd love to do that. Yeah. So I'll let you know, I'll add you to that room and you can, you know, it's not required. But if you can, I think it could be interesting to have you in there as well. Definitely.
Unknown Speaker 35:26 Love to thanks so much for thinking of me.
Darius 35:28 Sure. Well, thank you so much, Hillary. We will talk to you again soon, hopefully.
Unknown Speaker 35:35 Alright, thanks. Have a good day. You too.