Interview with A.J. Hernandez CEO of SkyPostal on Latin America ecommerce Shipping and Logistics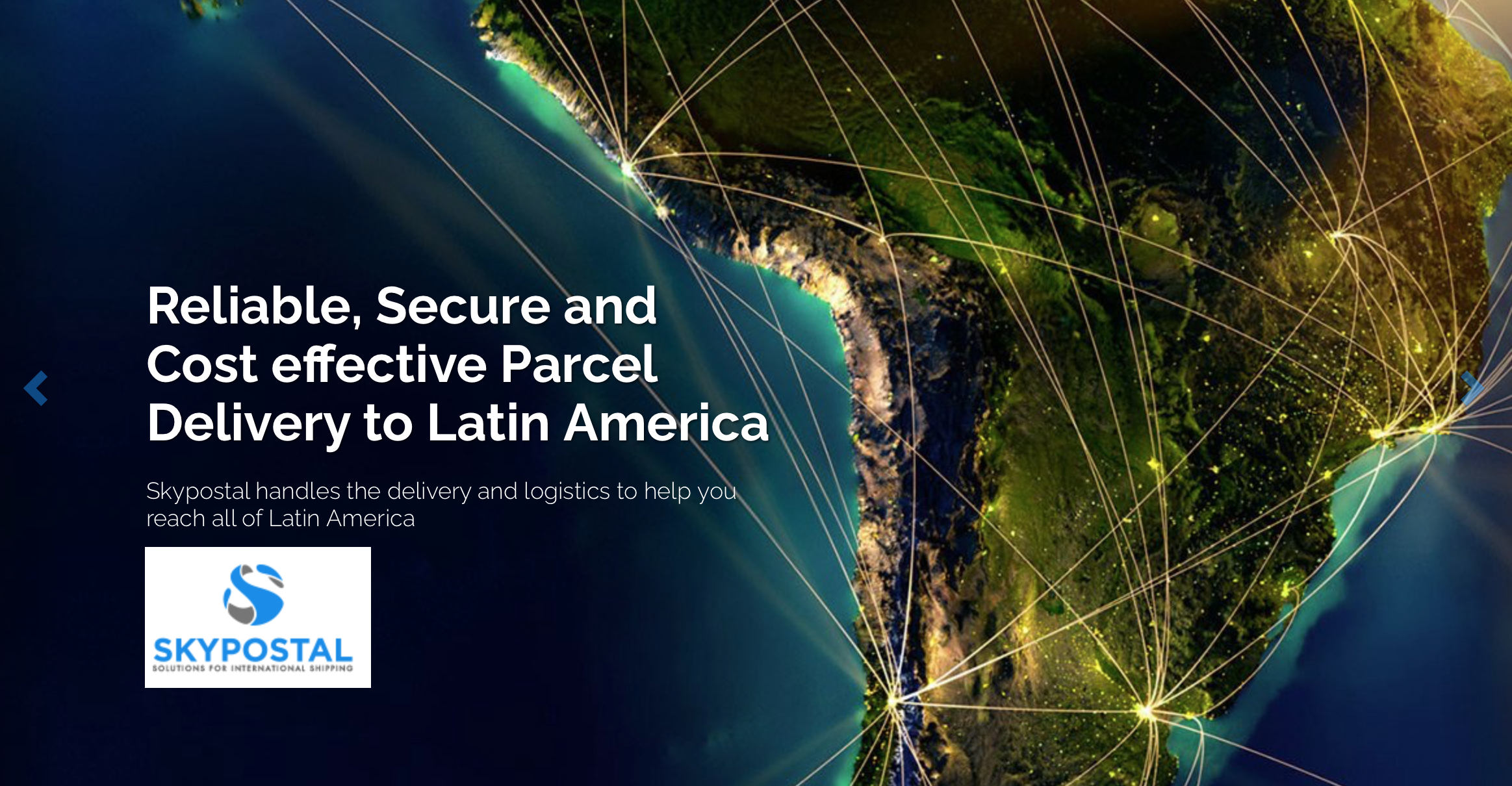 Interview with A.J. Hernandez CEO of SkyPostal on Latin America ecommerce Shipping and Logistics
Transcript: (unedited)
Darius 0:02 Welcome to the retail tech podcast where we speak with leaders and entrepreneurs involved in all aspects of retail, and e commerce. I'm various with Sufi host and producer, and this interview is being recorded on clubhouse and will be published on retail tech podcast. Today I'm speaking with AJ Hernandez, CEO of a company called sky postal. And they are in the business of managing logistics for companies selling to Latin America. How are you today, AJ?
A. J. Hernandez 0:39 I'm great, Doris, thank you for having me on.
Darius 0:41 Awesome. Thank you for joining me. So maybe we can start from a quick intro on yourself. And then we get into what sky postal does.
A. J. Hernandez 0:53 So I'm AJ Hernandez, and I'm the CEO of sky postal. We are a company dedicated to cross border b2c delivery, last mile customs clearance and transport. We do work for many of the largest marketplaces and the biggest retailers in the world, as well as many small sellers on Amazon, eBay, and other marketplaces. We're focused on Latin America, but we also have expanded our reach in the last 12 months to include the US and Canada. So we're really now focused on the Americas. I'm happy to say and we've had fantastic growth in both of those new regions for us.
Darius 1:39 Well, that's great. So I didn't know that you had expanded to the US and Canada as well. That's great.
A. J. Hernandez 1:51 Yes, as as a bonded carrier, and with the facilities that we have in Miami and partner facilities in New York, Chicago, and Los Angeles, we wanted to take advantage of the ability to clear customs into the US. We originally started and got into the customs clearance or becoming a bonded carrier bonded facility, because many of our European or Chinese clients would transit via Miami, and we would have to do what's called an immediate export. But to do that you had to be bonded. So we decided now to expand and take further advantage of our bonded status, which allows us to clear customs into the US and then handle the final mile nationally. In the same vein, we've opened up Canada and are now offering Canada, we've opened it up with a partner in that region. And those have been very quick, quickly growing markets for us.
Darius 2:52 Excuse me, I have a sneeze coming. Allergies in Southern California. So yeah. So So let's talk about how the business actually works. Let's say a new customer and you want what do you do for customers, like, you know, some ecommerce brands that you work with.
A. J. Hernandez 3:19 So we have different ways to connect. Depending on the technology that the client wants to use, we have API technology, obviously, the larger clients will integrate directly with also we work with open API, we're fully API based, not only to give clients the ability to print final mile labels, but to capture and get any tracking data, information on their packages. And of course, we were put, we can push back to them information on all the points throughout the chain whether package might be we also have for the smaller clients with a less sophisticated technologically we are able to take file uploads. So we try to have enough other options too. We can meet any client's needs. If they want to work with us, even even the smaller. The SMEs that we work with are able to reach us even if they're on the west coast, but we'll give them solutions either the a per piece USPS model wherein they can print the first mile label and send us off, they're in California with you and they only have one shipment a week to Brazil. They can print that first mile label, have it sent to us here in Miami, we'll scan it in and upon scan, we'll be able to put the final mile label on it for these clients. We also give them the ability to integrate with us through platforms such as easy ship. So client wants to connect with us through that or they already work with that. We're a To tie into easy ship as well. So we try to give them a lot of options and make it as simple as possible or as seamless as possible to connect and work with us.
Darius 5:10 Do you work with Shopify? Like those kind of platforms
Unknown Speaker 5:15 yet? Well,
A. J. Hernandez 5:16 we we are open to them. We are we are our API does connect to Shopify. And hopefully, that's going to be a channel of growth for us.
Darius 5:28 Okay, because I would imagine that could be potentially a pretty big channel,
A. J. Hernandez 5:33 massive, and we're actually where we have some, we actually have one of our partners. I cannot say the name, who our work have made a deal with Shopify, and we will be handling all the Latin America shipping that they generate from that partnership. So we're really excited about it.
Darius 5:52 Okay, great. I'm going to so we have a question. I will bring you up Monica in a couple of minutes. Just wanted to ask AJ, a little bit more about local. You also mentioned about like last mile delivery, do you do like local last mile delivery? Or is it only as a store in
Unknown Speaker 6:15 Latin America?
Darius 6:17 anywhere?
A. J. Hernandez 6:19 Well, we do it we do that we do last mile delivery to everywhere that we service. So our service we offer, like I said, for the US and the small clients that needed we help with the first mile, we always say handle the transport to the destination, we handle customs clearance, and then we manage the final mile delivery.
Darius 6:40 Okay. So I have the reason I'm asking is that we have a company ourselves, that is in the shopping space. And we we do mostly local deliveries for retail. And I'm talking to different providers right now about somebody to handle that because we don't want to do it ourselves. Right. So I'm just getting more informed about I mean, for us is pretty much like pick up the item from the shopping center and deliver it to the customer within a 15 mile radius, for example.
A. J. Hernandez 7:17 Right. So we don't we're not in the pickup and delivery. We are, we give the client the ability. In the case of the first mile, we give the status seller, the ability to print a first mile label, in this instance, would be a USPS first class postage label, they would put on their package, they'd hand off to the post office and then the post office was delivered to us in Miami. Now if the client is a larger client, that they have multiple shipments, they're able to print the final mile label and put it on each of the individual shipments and then consolidate them all into a pallet or a bag or a box. However, they want to send it to us. And we can also help with the arranging the transport back to our facility, but we're not going to we don't offer a pickup service for him from a store to deliver to another client in that same city. That's not that's not where we are.
Darius 8:16 Okay. That's too bad.
Unknown Speaker 8:21 That's that's a little out of our core.
Darius 8:25 Because I'm looking for a good partner in that space.
Unknown Speaker 8:28 So in the US, right,
Darius 8:30 yeah, right now in the US.
A. J. Hernandez 8:33 Well, we have some partners that we can definitely recommend, and I'd be happy to do that.
Darius 8:37 Oh, that would be awesome. Yeah, I'd appreciate it. So let's see. Hi, Monica.
Unknown Speaker 8:42 No dias. Hi, AJ, thank you for having me. Welcome.
Darius 8:47 Welcome. So tell us what do you do? Or you're you're an e commerce brand yourself, right?
Unknown Speaker 8:53 Actually, no, I am a founder of a consulting agency for the beauty industry. I have been abandoned big brands to grow scale into a retails I work a lot with Latin America. I have a number of distributor that are located in Caribbean, Central America, Latin America. And I come to this amazing conversation because AJ, you have mentioned that that your skype also is collaborating if I understood correctly, correct me if I'm collaborating or supporting a cross border for Latin America, and specifically, I've had a number of ex colleagues and people in the beauty industry that are from Europe, but they're working in Miami as you certainly are familiar with AJ. They were talking recently about a platform or something that is about to launch. Which that takes care of cross border to Brazil. They, you know, Brazil is a typically very complicated company, country to export, because of the regulations because of the taxes, and so on and so forth. So, I wanted to hear from you, you know, if you haven't heard anything in that sense, if you are already collaborating with someone, because for some of my brands, I would need your support. And this is Monica, and I'm speaking. Thank you.
A. J. Hernandez 10:29 Thank you, Monica. It's a great question. So first of all, Brazil is one of our biggest markets. We've been in that market since 1980. We realize how complicated it is. And we have really focused on finding solutions. Through our platform to help our clients get into that market, one of our biggest markets, we deliver for many, many cosmetics brands. So the plaque that we deliver for platforms that are dedicated to selling to Brazil, not they don't sell just to cosmetics, but they sell their their marketplaces focused on Brazil, and we are their delivery partners, we have various options. And we also have various solutions, such as the ability to capture the client's CPF, or tax ID in Brazil, so you can't clear customs without a tax ID. So we've developed a solution wherein by getting all the client information, name, address, phone number email, we're able to query various databases, and push back a CPF for our clients. Additionally, clients are required to provide what are called the HS code and HS code is the code that customs uses to classify a product. By using artificial intelligence, we're able to take the product description and assign an HS code to that product. So we have a lot of experience in Brazil, Monica, we'd be happy to provide you a proposal to manage or help you and your clients into the region. We have become and I have become because of this an expert into Brazil, because I've been at it now for nearly 30 years. And I do know how complex the market is.
Unknown Speaker 12:23 I can imagine and to be quite transparent with me We have avoided Brazil so far, because of the complexity that you have just described. I'm so relieved that that European sort of volunteering to face a huge amount of review regulations that are with Brazil, as you heard anything concerning the a typical cross border commerce for Brazil, the same way that I can see other cross border happening for China. Have you heard anything in that sense?
A. J. Hernandez 13:04 You're talking about marketplaces dedicated to Brazil?
Unknown Speaker 13:08 Yeah, so I give you an example here in California, and I don't know if Dinesh No, there is a company that is called a boat racks. And it is actually an application. They they address the Gen Z, and millennials consumers in China, and they they have the operation, basically all over Asia, but mainly in China. And but but but the headquarters here in San Mateo, California, and that they do bring if you want the European and American items to declines in China, and so avoiding some of the headaches to go directly to China and distributed to China. So I noticed something similar is happening. for Brazil, if you haven't got a sense of it, totally fine. I might be able myself to put you in contact with the people that are, you know, I heard that they are doing something by the auditor, one developing the platform at the present, and I don't know where they stand with transportation, etc. But I would imagine that that would be an amazing collaboration for us all. So I'm happy to create this connection. If you have not heard of it. I'd
A. J. Hernandez 14:29 love to I'd love to know who it is. And if we can get connected great. We do work with many of these platforms that are more dedicated to bringing brands or bringing cross border items and I get it I get what you're saying. And we do work with some. And that's what their goal is. They'll go to brands and they'll say hey, I'm going to help you get this they help them with the marketing. They help them with how to reach it. They they find the logistics partner, and we are the logistics partners for some of these platforms that are offering This sort of turnkey solution to selling into the region?
Unknown Speaker 15:04 Do you know if there is already some various sort of experience deplatforming beauty industry? I don't have this sense of that either.
A. J. Hernandez 15:13 I do not think so. Right, the problems that I've seen now, I will tell you that to Brazil health are the biggest products.
Unknown Speaker 15:21 Well, that's exactly
A. J. Hernandez 15:23 massive, we handle a lot of cosmetics and a lot of supplements and vitamins. Very, very big market. But to say that there's one focused on cosmetics, I cannot say the ones that we deal with are dealing with various goods. But those are the most popular products
Unknown Speaker 15:45 that you're dealing with directly with the brands, I suppose I would imagine.
A. J. Hernandez 15:49 I deal with brands, I also deal with marketplaces. And I also deal with sellers. So for example, we're very proud to be one of the preferred sellers on the Amazon. We're a preferred SP and seller preferred network, provider network. So we get a lot of Amazon sellers that come straight to us from Amazon. So the beauty of that is that, in this case, Amazon is really making the introduction, but we have the relationship directly with the seller, clear text for better business for everyone, in my opinion, at least.
Unknown Speaker 16:25 So the company that I was talking to you about, I don't have direct connection, but I know that there is some ex colleague from LVMH group that are looking into that. And they are based in Miami, and I'll be happy to introduce you to them to see if there is anything happening over there.
Unknown Speaker 16:45 Great, Monica,
Unknown Speaker 16:46 thank you so much. You're welcome. And I will probably use your services because I have as I said, I have one brand that that I'm onboarding right now they're based in Mexico, I think they already have their transportation method. And maybe I can propose an alternative, if that's okay with you. And I do have an extraordinary distributor that is based in Buenos Aires, and they do have operation over Chee de Argentina, Uruguay and Peru. And, you know, maybe we can do the same there as well.
Darius 17:23 That's a great connection. Those
A. J. Hernandez 17:24 are all big major markets for us. Thank you.
Darius 17:27 Yeah. Awesome. Well, yeah, thank you money, Monica. You know, I hope you you stay connected. I think you do something very interesting. And I'd like to learn more about your business as well.
Unknown Speaker 17:41 Sure. I'm happy to share anything.
Darius 17:44 Yeah. Either. Now
Unknown Speaker 17:46 that actually, you can DM me in my profile. That is my
Darius 17:51 route, correct? Yeah, definitely.
Unknown Speaker 17:54 Otherwise, I'm on LinkedIn, the best medium?
Darius 17:58 Yeah. The so AJ, the What was the name of you said the Amazon SP SPN.
A. J. Hernandez 18:11 provider network. So we're, we were invited to become part of Amazon, Amazon seller provider network. And this is after we were chosen to to be one of the preferred providers for their Brazil and Mexican marketplaces. I think there's only 12 marketplaces for Amazon in the world. Brazil and Mexico are two of those. And we are one of the providers that they recommend to those sellers. But then because of our performance, we were honored to be invited to be part of SPI, which is the seller provider network. So any seller that goes on to their Seller Central, they call that and is looking for service to the regions that we service, they get our information, and it's proven to be a very good source of business.
Darius 19:02 Okay, yeah, that's great to be Yeah, to be able to make the connection. And then the other important, interesting part is the fact that you actually have the relationship directly yourself is not going through Amazon, so that's correct. Even better.
A. J. Hernandez 19:19 Correct. That I agree. So even much better.
Darius 19:23 Yeah.
A. J. Hernandez 19:24 So what's the guy's a lot of credibility. So, you know, we're very thankful and grateful that we're able to do that.
Darius 19:29 Well, it's just a testament to the fact that you're doing a good job. Amazon doesn't work with everybody. So No, they don't. that's a that's a, that's a validation right there. What's the average time that it takes to ship something from the US to Brazil, for example.
A. J. Hernandez 19:47 So Brazil is huge, and it also depends on the server. So so we have services that from Miami can take anywhere from four days out? Up to 15 days business days, depending on the service, the express service you're going to have with delivery between two to six days. The standard service is going to take a little while you're probably looking at eight to 15 days on the more economical service. Okay.
Unknown Speaker 20:23 And that's and Brazil just,
A. J. Hernandez 20:24 that's just the way that that market is. It's just a huge country. Customs can take a couple of days to clear. So from a transit time, that's probably the longest of any of our markets, you know, the other markets were well, within four days, five days, six day averages. from Miami.
Darius 20:48 Okay, cool. We have a new guest on the on top, Matt, how are you?
Unknown Speaker 20:58 I'm doing fine. Thank you. Oh, thank you for bringing me to the stage. I have a question for AJ, about Brazil. We ship a lot of items in Brazil, weekly. My question is, do you visit tracking to the door? Yes,
A. J. Hernandez 21:14 we offer full track and trace all of our service a full track and trace we do not send anything on track. What kind of service? are you? How are you sending it right now?
Unknown Speaker 21:27 We haven't we do we use a consolidated ship the items through their land and go to New York and then ships to the various countries that
A. J. Hernandez 21:38 we should touch on what kind of products do
Unknown Speaker 21:42 we sell on Amazon? We sell all 16 of the Amazon Marketplace. So we sell books, books in media, and then we ship various other items. So pretty much every category that Amazon has, we have at least a few products in each one of those categories. Fantastic. Oh, can I know the name of your company? And I would like to know some more about it. Because right
A. J. Hernandez 22:12 now, my company is named sky postable ky sky POS t L.
Darius 22:21 AJ, by the way, I forgot to tell you this. You need to add that to your profile. clubhouse profile.
A. J. Hernandez 22:29 That's a great idea.
Unknown Speaker 22:30 Yes, I'm new to this.
Unknown Speaker 22:31 This this this clubhouse thing.
Darius 22:34 I know I'm trying to get him to use it more but he's busy. Sky. Yeah.
Unknown Speaker 22:40 Kido s ta l.com
Darius 22:46 Yeah, Sky postal.
Unknown Speaker 22:50 Okay, thank you. My pleasure.
Darius 22:54 Yeah, looks like looks like there's definitely a need for even like the some of these more unique markets like Brazil. It's it's not just a matter of just getting things over there. And getting it shipped. There's like, you have to go through a maze probably
Unknown Speaker 23:13 a couple months ago when they had the postal shut down, man it was. We caught a lot of flack for that with a lot of late shipments. Yeah, and it was it was a mess. Brazil is a very profitable marketplace. It's just Mexico. I haven't tried. I'm very interested. I just have a lot of net nice to go Mexico. How do you guys ship with Mexico. I know. For me, some of the other sellers that I've talked to that do ship in Mexico. They're they're even leery because they ship a prime there are products that they're they usually have averaged about 6040 60%. naked, they're 14 never met. So you've just
A. J. Hernandez 24:01 told me how you're sending stuff to Mexico, you're sending it via the postal service. And this is not to cast a bad light on the USPS. They're only as good as the post that they're sending it to. The Mexican Postal Service is one of the worst postal services in the hemisphere. They probably lose at least 20% of the shipments they did deliver and that's probably being generous. They also have very, very little tracking. None of the deliveries that we make in Mexico are done via the Postal Service. Everything is done via private courier and is fully tracked. So you and your friends that you spoken to about their Mexican woes need to speak to us and look at a private alternative. And it's not it won't cost a lot more but it will certainly save you a lot.
Unknown Speaker 24:52 Okay, yeah, I don't ship USPS international because they are terrible using them you I lost plenty of money with them. Over the years, I learned my lesson with them to finish. And so I'm definitely going to make the driving. But when I get back to the office, I'm definitely going to look at your research on the company. And I'm definitely interested in finding other alternatives to ship our products.
A. J. Hernandez 25:21 Fantastic. Well, I look forward to speaking to you further, Matt. Me,
Darius 25:28 we have Monica backup, I'm sure this is an interesting conversation for you.
Unknown Speaker 25:35 So sorry, guys, I just came up very quickly, because I have to leave the conversation about I was so pleased and so happy to meet you both. Actually, to you to Matt, I have to leave you. But one last things for AJ, AJ, please do put in your profile is a handle, it could be LinkedIn or if you have an Instagram address or something of Twitter, so that the people that are on the application can reach out back to you.
A. J. Hernandez 26:08 But certainly will I appreciate the advice.
Yes. clubhouse right now I'm
learning fantastic platform, but I really don't know what I'm doing.
Unknown Speaker 26:17 No, it's okay, you will figure it out. And the first two lines of your description really need to reflect the reason why you are on the app or why you can offer or who you are, because those are the two lines, and anyone can see our last face pulled down. So you know, with all that wisdom, and I thank you very much for these wonderful exchange. I hope that we're going to be in touch soon. and wish you a great end of the week. To Monica, thank
A. J. Hernandez 26:45 you for your time. And thank you for participation. Thanks,
Darius 26:47 Monica.
Unknown Speaker 26:48 Thank you very much. Bye. Bye. Bye, everyone.
Darius 26:53 So go ahead. Go ahead. My
Unknown Speaker 26:57 question for you, AJ. You guys offer our API? Yeah. Okay.
A. J. Hernandez 27:04 We're all we're fully API based. So your answer? It's an excellent technology. And the truth is, we see ourselves as much as a delivery company of delivery of data as we are delivery of packages. We're an IT company as much as we are a delivery company. And we've dedicated a lot of resources to making sure that our It is always point, I'm always looking for solutions. Without standstill,
Unknown Speaker 27:31 we're always looking to find
A. J. Hernandez 27:32 basically better value for our clients.
Unknown Speaker 27:38 touch on what Monica said, If you also in your profile, if you say that you say you put the different platforms like eBay, Shopify, Amazon, are able to ship these items that helps with the algorithm. Other Amazon sellers or e commerce sellers, right will be able to find you and they'll go in your hallway, which is when you look at if you're looking at the screen to the top left, you'll see all the way and they'll start showing readings with Amazon sellers and things like that.
Unknown Speaker 28:08 Fantastic.
Darius 28:10 Yeah, we need we need to get a class for AJ, for me keeps changing to it's not like constant. I learn new things every day. So yes, sir. But it's Yeah, I'll work out give you feedback on your profile, so you can actually get it updated. So I'm interested to find out about the economics of shipping. So what I heard, so I actually have another room on Friday mornings. 7:30am pacific time, it's an open conversation with a bunch of people that are in the e commerce and retail space. You're both welcome to join. But we were talking about last week that the Amazon is actually starting to not display the same day or two hours, like delivery as much as they used to do before because this is just becoming so expensive.
Unknown Speaker 29:15 Yeah.
Darius 29:16 And then for this merchant as well, like Matt, would also how do you handle the shipping costs?
Unknown Speaker 29:25 I've never opted for that program, because I could never I couldn't justify it. Shipping something I don't have I items that the margins are that great that I can offer same day shipping with Amazon. If I did it with through Amazon through FBA center, there was something different. But I didn't think there was gonna be a program that I was to I think it was more of a gimmick to be able to say, Hey, we can get it there fast. But how can you sustain that over time and Amazon is like further sellers. Amazon just came down recently, I think was last week, a week before last with, we have inventory limits. So for example, depending on how many items you sell, you might say when you might have, for example, just 1000 items, keep an inventory. Two weeks ago, about two weeks ago, Amazon came, came, put a ban, put some restrictions on a lot of the sellers, and drop down those limits down to, I think that maybe some people were slashed in half. Some people were more than that. So but because they were running these warehouses at a loss. So I think over time, even with the like the one day shipping and the prior to this, so many people are shipping the day or is still backed up shipping our items to Amazon before a couple of years ago. But literally we ship a pallet in check checked in within a couple of days. Now they dropped it down, it's probably something that would take a couple of days, this drop down, maybe sometimes a couple of weeks, depending on depending on which warehouse and I can see it getting worse over time until they get a better handle on exactly the amount of stuff coming in. And then more people are shipping, the USPS has has a strain on FedEx as a strain, all these companies have a strain. So I see it as one of those that like, if somebody does figure it out, it can be very lucrative. But is it my doesn't figure it out is one of those things that I don't see getting CVV very hard to kind of figure out that the two day shipping, keep it sustainable. But I think eventually, I know Amazon is building. Meaning where warehouses in neighborhoods, I remember reading a blog about this, right? So put out last mile. So in a sense, I think eventually they're going to like just say for the sellers like myself, they're going to keep the seller where you yourself might be your own warehouse, where we will ship. Like if I live if I have an idea. Just say for example, I'm selling some some keys. And I live in this part of this area, I've been going to start matching that seller up with the zip code in the truck. We just like the blue band will come pick it up. And that will probably cut down drastically from it leaving out of their network and getting quicker to the customer.
A. J. Hernandez 32:40 Request bringing it closer to them to the to the consumer. That's I mean, that's the whole name of the game. Get a closer.
Darius 32:46 Hey, I heard you can even run the trunk of your car these days.
Unknown Speaker 32:53 You can rent the trunk, I wouldn't put it back. I know a friend of mine, he does something like he has his goofy rate bought a couple of cars that he rents out for rent them out to someone who drives Uber. And then he rent spots on the car for advertised also, why while you're driving. or driving in the car, he just bracing cars out to someone else who doesn't have a car well as Uber so one person might have it next time next time another car has you just put spots on it for stickers.
Darius 33:29 So it's the old the old taxi business basically.
Unknown Speaker 33:33 Yeah. Wow, that is brilliant.
Darius 33:35 That's a cab companies do the same thing. Right? They buy the cars and they lease them out.
Unknown Speaker 33:40 Fantastic. Also Interesting.
Darius 33:44 Interesting how things actually come back sometimes to where they I guess, started at or were like, you know, the whole idea of Uber was get, you know, we're better than taxis. But now that the business model is starting to go back to almost like for some people to that point. So I know that the I the drivers are making less than they did. So yeah, I had a I had an interview with another soul with a gentleman that actually does used to be a big amazon seller himself, and now has an agency I think it's called media seven or seven Avenue media. And he was telling me about a lot of challenges that sellers have with Amazon, as far as like getting responses and of course, you know, it's a great program or people wouldn't go millions of people. But it is growing so quickly. I think they can't keep up with all the services and demand or the things that sellers need. And sometimes they do like product launches without letting people know. So he wrote a book called I mean, I love Amazon myself. But I also am sometimes a critic just because I want them to get better. So everybody has room to get better.
A. J. Hernandez 35:12 Oh, absolutely. But I do think that they're kind
Darius 35:14 of they try to be absolute, they're
A. J. Hernandez 35:17 always innovating.
Unknown Speaker 35:18 Well, better. I mean, in order for them to get better, man is a big shift that has to change. I mean, they have created such a demand of just a consumer, a consumer, everybody is in a sense, we want to now how can we get it any quicker than two days a couple years ago would have been 10 years ago would have been insane. unheard of people would look like there's no way in the world you'd be able to get something from California to Virginia today, and now now we're going down to two hour deliveries like yeah, like how can you how do you increase that and get better from there? Uh, you put a bar so high already and to keep making it doing more do with the Coronavirus? It just skyrocket the e commerce businesses tremendously, right?
Darius 36:16 Well, we're gonna start seeing drones probably in the skies,
A. J. Hernandez 36:20 two and a half. And that stuff I started to happen in rural areas.
Darius 36:23 How are you going to deal so AJ, that's interesting, how does that affect your business,
A. J. Hernandez 36:30 but it's not gonna affect mine so much, because I don't think Rosa yet gonna happen in Latin America, you know, Latin America is always a couple years behind the US. But the US is already playing with the idea of not only drones, but autonomous vehicles, which means no one's driving those things, they just some it's all robots. But definitely, especially for you know, having to make a delivery to the bottom of the Grand Canyon, or send it drop it you have to have, you know, a truck pulled down. And then like, for example, the post office, and you'll laugh at this, but they have to get on a
Unknown Speaker 37:06 donkey,
A. J. Hernandez 37:07 get through that thing, because that's how you get down to the bottom of the cars. I gotta get out of there. You know, right, so
Unknown Speaker 37:12 use a drone.
Darius 37:14 But I think it's gonna be even more than those like edge cases. It's especially like, for local pickup and delivery. It can actually be a lot more environmentally friendly as well, as opposed to having these huge trucks all over the place. And always like, going back. Yeah. So. So this is a, you know, a really interesting conversation. I think the topic is top of mind for all ecommerce vendors. And I'm glad that we could connect again, AJ,
A. J. Hernandez 37:52 I was my pleasure. Really, thanks for having me. So happy to get on any other time. And I hope to take a lesson on how to manage this clubhouse thing and get better, at better and get more out of it.
Darius 38:04 Yeah, yeah. So one thing you can do is, and I think I might have already invited you, if there is a on top of the name of the room, there is a little green house. And it says retail Tech Club.
A. J. Hernandez 38:18 I'm sorry. Call came in. And I got cut off there. She said on the top of the name of the room.
Darius 38:24 Yeah, where it says Latin America, you know, ecommerce. above it. It says retail Tech Club and the little greenhouse. If you tap on that, you can follow the club. Okay, and then you get notified when we have rooms and you can see the list of all the rooms that we have, like the one for tomorrow, you can just add tap on the bell. And you'll get notified when that room starts.
A. J. Hernandez 38:51 Fantastic. Great. Well, now I'm falling. So now I'll get notified.
Darius 38:56 Yeah, I mean, I love to have everybody involved. So you know, a lot of rooms that we have is a lot of just like, you know, people consultants. And I want to have not only just consultants, but also people that are in the business like Matt. So to join and, you know, give feedback, a show,
A. J. Hernandez 39:15 I'll be sure to be joining more often. I'd say that my friend Cynthia formerly or still working with in some way with the sharp world has joined us.
Unknown Speaker 39:25 Hey, how are you? I
A. J. Hernandez 39:27 Cynthia, how are you? Cynthia was the CEO of a very successful company called e shop world, which is basically a shop shopping card technology that helps very massive retailers go international and they've done a fantastic job and one of our biggest partners, so
Darius 39:45 nice.
A. J. Hernandez 39:46 Cynthia has always been real supportive of my company. So thanks for coming on, Cynthia.
Unknown Speaker 39:52 Yeah, I just just driving home and I thought I'd pop into clubhouse and see who's going to who's around and there you are. So I'm I'm in Miami now. AJ, I've been down here since the beginning of the pandemic, and I'm working with Chad in momenta. In marketplace technology. Brilliant. You and I should you and I should connect. I'd love to I haven't been with the shop world for about a year now.
Unknown Speaker 40:20 But I don't think I've worked a lot of
Unknown Speaker 40:22 things down here.
Unknown Speaker 40:24 And so last time you and I had lunch was we were at the standard like two years ago. With,
Unknown Speaker 40:30 with with the momenta guy with Chad.
Unknown Speaker 40:34 That's exactly right. Hi, everybody.
Darius 40:36 How wonderful. Cynthia, good
Unknown Speaker 40:41 to meet you all.
Darius 40:42 So what is momentum?
Unknown Speaker 40:46 momentum is a cross border marketplace solution that connects brands into 400 marketplaces around the world. And I believe you work with momentum, don't you? Ha.
Unknown Speaker 40:59 Yes, we do work for the delivery part. Yes, we are one of the delivery right throughout America.
Darius 41:08 That's very interesting. He helps
Unknown Speaker 41:10 he helps brands sell on on 400 other marketplaces around the world and then works on with companies like a chase to actually do the cross border logistics.
Darius 41:23 Oh, that's great. Yeah. Like to learn more about it. That sounds like a very interesting, useful company service.
Unknown Speaker 41:33 It's, you know, I
Unknown Speaker 41:34 don't think that there are any other companies that do that, actually, you know, channel advisor will help you get listed on lots of different marketplaces, but they won't then also help you with the logistics and the and the fat and the, you know, merchant of record part of it.
Darius 41:50 That's Yeah, I know channel is like anybody else does what he does. Okay. That's very interesting. Well, I love to connect with them. And see, maybe we can have chat. Yeah. Maybe bring him on. And talk.
Unknown Speaker 42:06 Will you connect? Will you connect him AJ? I've been trying to get him to come on clubhouse, but he I think he's like Android? Yeah,
Darius 42:16 they just opened Android last week. So.
Unknown Speaker 42:19 Oh, did they? Yeah, it's
Unknown Speaker 42:20 exciting.
Darius 42:21 Yeah, there is the Android version. Now. I think it's open now. I think they've been testing it in the private beta for a couple of months. But last week, they announced in this latest version, that it's open now. So
Unknown Speaker 42:36 I will have to harass all of my android friends and make them come on then.
Darius 42:39 There are no excuses anymore.
Unknown Speaker 42:42 Right.
Darius 42:45 All right. Well, thanks a lot. Everyone again, good to see you, AJ, Matt, Cynthia, and Monica, which is laughter good conversation. I hope to see you guys and ladies, maybe in other rooms that we have tomorrow morning again, 7:30am pacific time we have an open conversation room about anything in retail and latest news. And love to see anybody that wants to join and come and you know, chat with other people and meet that would be great too. Awesome. Well, have a nice day, everybody. I'm going to end the room now. Bye bye.