In this interview I spoke with CB Insights analyst Zoe Leavitt about the new report they published on the Q1 2017 retail tech funding picture.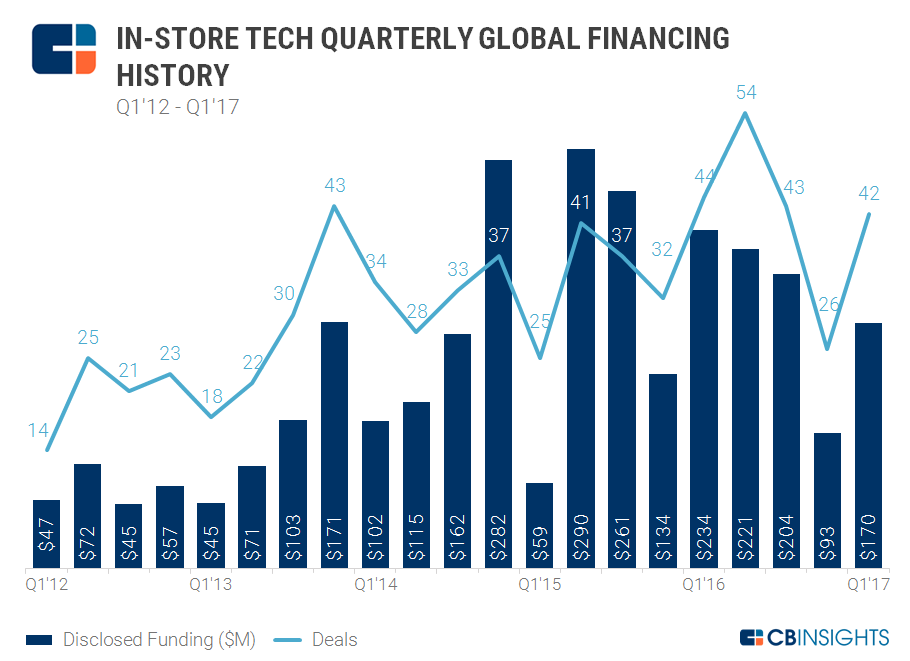 Funding is an important piece of the puzzle for most startups, and retail tech startups are no exception. CB Insights has been accumulating data and releasing reports on the status of retail tech startup funding for a few years now so I spoke with Zoe Leavitt to go over the data from the lates quarter, Q1 2017.
It's important to note the definition of "retail tech" as any company that provide enabling hardware, software or services to the retail industry. These product and services are exploding in numbers with the new technologies including Artifical Intelligence (AI), Augmented Reality (AR), Virtual Reality (VR), Machine Learning (ML), Machine Vision, Analytics, Big-data, digital screens, beacons, WiFi, Bluetooth, the list is long, and these are only the new technologies popularized in the recent year. And of course we have all the traditional products and technologies that still run the majority of the retailer operations.
We discussed which startups are raising the largest rounds early in 2017 and what types of technologies are gaining traction.
Of course, the sources of funding is also important, specially for startups looking for funding. It's important to work with investors who are more experienced and connected in your industry, aka "smart money".
From hardware and software Accelerators to angel investors, super angels and venture capitalists (VC) there are a lot of people dabbling in retail tech investments but only a few have made a track record of focusing mostly on the retail industry's technical side.
You can find the CB Insights 2017 Q1 retail tech funding report here and connect with Zoe on Twitter.
And we hope you will subscribe to our newsletter if you like the content and pass on the info to your friends to also join. And of course if you have any comments or recommendations we'd love to hear from you.