Indiegogo is one of the pioneers of the Crowdfunding movement and after 8 years of helping companies launch new products on their platform they are using the experience helping customers move into full-fledged commerce experiences as part of a new partnership with pre-order commerce platform Celery.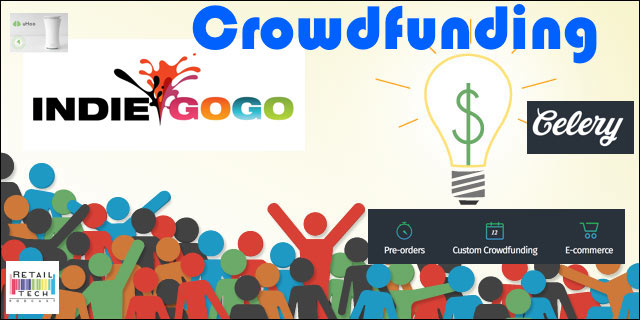 This is from a talk I had with Slava Rubin, co-founder of Indiegogo and Chris Tsai, CEO of Celery at Shoptalk16
Key takeaways:
- Indigogo is launching a new partnership with Celery, a pre-order platform, for manufacturers and makers to extend the functionality and services they provide to their customers.
- Indiegogo created a product called InDemand to help campaign continue beyond the success point in taking orders. Now after a couple of years of using InDemand they are partnering with Celery to add more services and benefits to their customers.
According to Tsai, people selling new products currently have to decide between crowd funding or doing a campaign on their own website which make it more work and inefficient. The new partnership with Celery will hel p Indiegogo customers move into taking pre-orders easily.
As for implementation in the first phase of the partnership current InDemand users can setup Celery page by creating an account on Celery and automatically transfer a lot of the content and assets to that account. This could extend into a more tightly integration in the future based on customer feedback.
- The new combination will provide users the best of both worlds: The massive Indiegogo audience and the extended order capability of Celery.
- Celery charges 2% plus transaction fees or if thru Indiegogo InDemand a 5% flat fee.
- Advantage is customer will get a lot more benefit than 5% being on the IGG platform, some agencies think of IGG for promotion at costs below which is less than other channels.
- InDemand is natural progressions of a campaign. Once the campaigns are over there is delay till you begin shipping products, currently that time is lost but with InDemand companies can continue capturing orders all the way thru and continually.
- Customers wanted help from Indiegogo to stay with them "beyond the campaign".
- Ultimate evolution of the program would extend to "Buy Now" and fulfillment for a complete commerce cycle, or as it's called by some "Crowd Commerce".
- Another major benefit from this integration is that campaigns will not lose all the content, good will and connection with their supporters after the campaign has ended. They will be able to continue benefiting from the already created SEO-juice to get more orders and revenues.
- A case is Bluesmart which is smart luggag case, they did very well on IGG, and wanted to add pre-order to bluesmart.com which celery provided so the combination worked well for a seamless transition.
- On social features Chris mentioned the typical feature are available on order confirmation pages and additional social referrals are under development, specially as they integrate tighter with Indiegogo.
- For Indiegogo social sharing is what made the concept work to begin with so it's a foundational part of what they do. In fact well over 10% of all funding coming thru other social channels.
- Customers can also track users and sharing history through their Indiegogo dashboard you can have you own audience or perhaps reward best referred
- On the new crowd funding rules (Title 3 - Equity Crowd Funding) Slava thought it's a huge impact but the true effect will have to be seen after some time and more companies trying the new rules. It is exciting to see new options created for small business owners and inventors so they can raise funding from other more traditional sources such as banks and VC's. Companies can go to their neighbors, friends, customers. It's a new opportunity also for regular consumers to share in the success of brands they like. Oculus is a good example where initial backers would have loved to had equity.
- And, customers will be more loyal when they own your stock. They think "I'm going to be a part of the future". For example Bluesmart would have been an interesting case as they are at the forefront of suitcase technology and their early customers could invest in the cutting edge. They've had many comments from supporters asking "how can i invest in this".
Contacts:
Indiegogo.com / slava@indigogo.com Celery.com / info@trycelery.com